Australia
A law professor at the University of Sydney fell to the ground as police disbanded student protests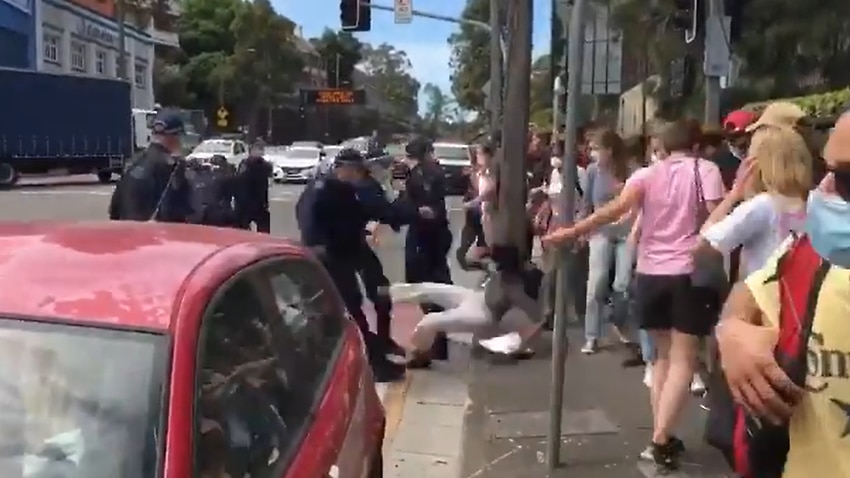 Police filmed at the University of Sydney have been accused of using laborious tactics to disperse student protests, Slammed a senior law professor who was watching the incident on the ground.
Approximately 200 students gathered at the university's Camper Down Campus around 1 pm on Wednesday to participate in a "public teachout" organized by the Sydney Chapter of the National Higher Education Union over a proposed change in higher education funding.
New South Wales police said in a statement that members of public order and morals and riots, mount units and highway patrol commands attended after receiving information on "unauthorized" planned protests.
"Around 1 pm, after a large number of people began protesting on the university grounds, they went out to the surrounding streets," police said.
"Members of the group tried to block traffic many times and were kicked off the road by police."
According to the university student newspaper Honi Soit, students crossed the campus through nearby Victoria Park to City Road, where they were blocked by police officers.
They say they were surrounded by police again when they tried to move to nearby Paramatta Road.
"The riot police pushed us from behind us. We had no choice but to move forward," UNSW student Shovan Bhattarag told SBS News.
"But, of course, there was a police officer in front of us, blocking us from trying to cross the road.
"Students were basically packed and pushed them up. Their reaction to it pushed us back to the curb."
A vision captured at the event and published on social media by Honi Soit shows that two police officers grabbed Ms. Bhattarag and threw her into the pavement.
"They threw me into the air, so when I landed on the curb, I was a few millimeters away from hitting my head," she said.
"I think there are bruise on the top and bottom of the spine and on the left side of the body … As you can see, my elbows are bleeding."
Simon Rice, a law professor at the University of Sydney, was also involved in the quarrel with the police.
Professor Rice, chairman of the university's law and social justice, said he wasn't participating in the protest, but was just observing the case and police response with some students to evaluate the university. I told SBS News.
After asking police officers why the students were being treated by police, Professor Rice said he realized that "frogs had marched" from protests by three police officers.
"I couldn't see the cops pushing me, so I was looking back and asking why they were treating me this way," he said.
"When I turned around and asked, one of them kicked my foot from under me and I fell to the ground with my hands and knees."
The vision of the case shows that a scholar is trying to regain his foot before being pushed down by a police officer against a stone pillar.
Rice said a notice of violation was issued for violating the COVID-19 Public Health Order and was later released.
He said he had never witnessed protesters triggering such a powerful police reaction.
"If I violated, the police had plenty of opportunities to deal with it in advance and they certainly didn't have to use violence," he said.
"There was no violence directed at them anywhere else. They chose to behave that way.
"Anyway, what I saw was unreasonable."
New South Wales police said protesters had been issued a $ 14- $ 1,000 infringement notice for violating a public health order limiting outdoor rallies to 20 people.
A vision published by Honi Soit prior to the event shows that police officers are asking the organizer, who is responsible for the "protest."
The organizers argued that the rally was not a protest, but an educational event within the scope of the university's health exemption.
"I'm doing my normal job here at college … I don't see a flood of police," NTEU organizer Nick Remier told police.
According to a statement from the University of Sydney, the video was "confused" and anyone who was poorly treated by police could file a complaint.


A law professor at the University of Sydney fell to the ground as police disbanded student protests
Source link A law professor at the University of Sydney fell to the ground as police disbanded student protests