Australia
Australia 15-22 Fiji: Rugby World Cup 2023 – live reaction | Rugby World Cup 2023
Key events
The game finishes Australia 15 – 22 Fiji. This means that the Australians have a potentially vital losing bonus point, leaving Wales with the simple* ask of a win next week to go through. Should the Wallabies win next week, then I'll ask ChatGPT to tell me what that means.
*Simple and easy are not the same thing, don't @ me
FULL TIME! AUSTRALIA 15-22 FIJI!
The penalty drifts wide, but no matter! Time is up and the game is won!
80+1 mins. Fiji put in push like a phalanx of articulated lorris and drive the Aus pack off the ball to win a penalty!
Nayacalevu points to the posts!
80 mins. Fiji claim their lineout in the Aus half, but the ball is knocked on at the back of the maul.
Australia will have a chance to go from a late scrum, with the clock in the red…
78 mins. Fiji have a scrum and Ref Brace is once again resetting after it pops up, blaming no team. This eats up further seconds for Fiji before they release the ball to Nayacelevu on the outside drift, who flies forward and feeds Habosi, but Korobeite hunts him down for an outstanding cover tackle in the 22.
76 mins. Fiji have won a lineout! It's on the halfway line, but the ball is then flung behind the entire backline. The ball is booted clear and some kicking back and forth commences with the forwards standing on halfway watching the ball sail over their heads repeatedly.
Time is growing desperately short for Australia. Fiji are minutes away from the first win over the Wallabies since 1954.
72 mins. Fiji's lineout is dissolving into a comedy of lost possession, with two in quick succession nicked to make it six lost in total. The Wallabies use the stolen ball to motor into the oppostion half, but once again, Fiji get out of jail via a breakdown penalty as Radrada gets his mitts on the ball.
TRY! Australia 15 – 22 Fiji (Suli Vunivalu)
68 mins. Lalakai Foketi, on for Kerevi, takes inspiration from Tuisova and clamps on to win a penalty as his first act of the game. From the lineout, Australia get a maul rumbling as under multiple penalty advantages Vunivalu stretches over from a few metres out.
Ben Donaldson converts.
OK, so maybe they may score two tries….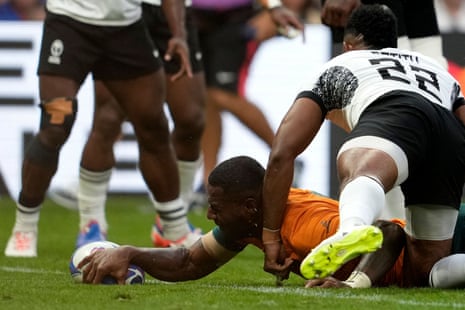 PENALTY! Australia 8 – 22 Fiji (Frank Lomani)
65 mins. A tackle off the ball awards Fiji another penalty, this time pretty much in front and Lomani makes no mistake from the tee.
Australia need to score two tries. Can't see that happening.
63 mins. A catch and drive from a Wallaby linout on the Fiji 22 is contained well by the defence, before the ball is released to the back for Kerevi to drive the ball into the tackle line. Again, though, it's Tuisova over the ball to grab on and win yet another turnover penalty.
Every time Australia have a platform, is burned to ashes by the Fiji breakdown work.
61 mins. Australia continue to have some possession in the Fiji half, but the latest carry off a lineout yields a penalty to the men in white as Cirikidaveta locks onto the ball in the ruck.
58 mins. That knock-on looks even worse a mistake as the Wallabies pile into the 22 from the resulting scrum. They are building the phases under the posts and are painting an ominous picture before Tuisova, all aggression and guile, gets on the ball at the ruck to win a relieving penalty.
Botia is off for an HIA, replaced by Albert Tuisue.
55 mins. Australia actually have the ball for some phases, there's a novelty. They drive a couple of carries up from a lineout, but Frost is caught isolated and a hue Fiji counter-ruck looks to have nicked the ball but Lomani knocks on as he attempts to pick the ball up. That turnover would've put about seven fast and angry cats among lots of tired pigeons had it been held.
52 mins. Fiji are moving the ball through hands and it comes left again in the Australia half, but Tuisova forces a miss-pass towards Radrada that is both forward and into touch.
50 mins. Suli Vunivalu is on for Carter Gordon in the Aussie ranks. This will move Donaldson into outside-half and Nawaqanitawase to fullback as Vunivalu takes a wing berth.
Fiji have a new front row on: Tevita Ikanivere, Peni Ravai, Mesake Doge for Eroni Mawi, Samuel Matavesi, Luke Tagi
MISSED PENALTY! Australia 8 – 19 Fiji (Frank Lomani)
48 mins. Valetini is offside just outside his own 22 as he creeps forward to early on a lineout. A very daft penalty to give away.
Lomani takes over kicking duties and pulls it left.
46 mins. Substitution for Fiji, the excellent Kurivoli is off for Frank Lomani. This is due to an injury as there is no way he'd leave the field if he was still fit.
TRY! Australia 8 – 19 Fiji (Josua Tuisova)
44 mins. Kurivoli puts a simple box kick up that drops between three Aus defenders in the Wallaby half, each of whom give it the full "after you, mate". While they are making their mind up about who should actually grab the ball, it bounces and Tuisova flies in to yoink it and gallop over.
Kurivoli converts from out left.
That was an absolute howling error form the gold defence; Carter Gordon in particular who had full view of the kick.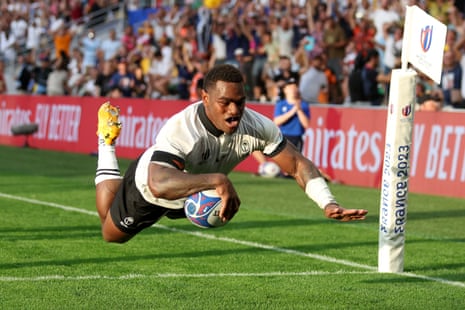 42 mins. It's as you were with Fiji in possession as Botia booms into Valetini, who gives no ground with his big tackle. The ball is recycled, but forcing the ball from the tackle leads to a knock on from Wainiqolo.
That's the last action of the match from the winger as he was injured as he let the ball go. He's replaced by Vinaya Habosi
Teti Tela lumps the ball into the Aussie half to recommence the game.
"Thanks for the coverage." says Nick Parish from the actual stadium!
"It's a cracking atmosphere in St Etienne. To my surprise the crowd – certainly in our stand – are very much behind Fiji. On the downside you promised a high scoring match – where do I go to get my money back?"
No takesie-backsies, Nick.
The game has not quite taken off as it might, however that is testament to Fiji's taking the points that their superior physicality and possession has facilitated. Sometimes all you need to do is get in the right territory and wait for the overworked defence to balls it up either technically or positionally.
Australia have the only try, very much against the run of the match and off the back of a poor decision by Brace after Rory Arnold interfered with the Fiji player placing the ball on the ground.
I, for one, welcome out new Fijian scoreboard grinding overlords.
40 mins. More possession in the Aus 22 for Fiji ends when the ball is chipped into touch by White.
37 mins. Ach! Frost is up and nicking the ball again in the lineout, killing the attack and allowing Gordon to clear. At the next lineout, Matavesi finds his jumper at the back but Botia, of all people, fumbles the ball when taking it out of the maul.
A frustrating few minutes for Fiji.
35 mins. It's a chucking it about few minutes from Fiji, which doesn't really get them anywhere, but it does pull the Aus defence into being a little frantic. They overcommit in the tackle line and are caught offside twice in their eagerness to close the space on Fiji attack.
The Fijians mess up the resulting lineout, losing the ball, but Mawi manages to clamp on to win the ball back with a breakdown penalty. They put it in the corner!
PENALTY! Australia 8 – 12 Fiji (Simioni Kurivoli)
32 mins. That Botia intervention looks even better when the Wallabies infringe when defending a minute later. Kurivoli, peerless from the tee so far, nails it again.
29 mins. It's been Fiji's half so far, but Australia's kicking game is starting to come into play with Donaldson, Gordon and White all putting the Fijian back three under pressure and they don't look too comfortable with it.
But, if you ever need someone to give you some control back, it's Levani Botia, and he does his job here by getting his hands on the ball in an Aus ruck in the 22. Superb intervention.
PENALTY! Australia 8 – 9 Fiji (Simioni Kurivoli)
26 mins. Nic White slaps at the ball and catches Kurivoli's head at the same time. The scrum half shakes it off to put his side back in front.
TRY! Australia 8 – 6 Fiji (Mark Nawaqanitawase)
24 mins. At a Fiji ruck, Arnold looks to have put his hands on the ball while lying on the floor, which dislodges to to Nic White who then puts in a superb 50:22. A quick throw is taken while Fiji are still dazed from the call then the kick, and Nawaqanitawase is over to score.
Conversion is missed.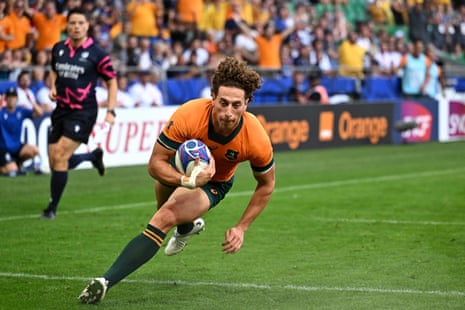 PENALTY! Australia 3 – 6 Fiji (Simioni Kurivoli)
20 mins. Tuisova has a massive run up the centre of the park off a scrum, but Kerevi is up to the task of stopping him. On the next phase Ilaisa Droasese booms a kick deep for Donaldson to return with a kick of his own before McReight is pinged in the next tackle for being off his feet.
Kurivoli takes the kick on and nails it.
14 mins. A huge hit by Mawi on Gordon dislodges the ball on the Fiji 22. The srum is once again crumpling regularly, but Ref Brace is not pinging anyone, instead simply asking for a reset. Either way, the ball is out and Radrada is flying until Kerevi hits him with the force of 100 badgers on the Aus 10m line. Possession is recycled, but on the next tackle Donaldson clamps on the ball to win a penalty.
Looked like the ruck had formed to me before he started handling it, but Ref Brace disagrees.
PENALTY! Australia 3 – 3 Fiji (Simione Kurivoli)
11 mins. Some time wasted as a Fiji scrum takes a few goes to complete, but the carries come in force again once the ball is away with Nayacelevu smashing into the Wallaby half and the defenders are caught lying on the wrong side. Kurivoli calls for the tee and levels the scores.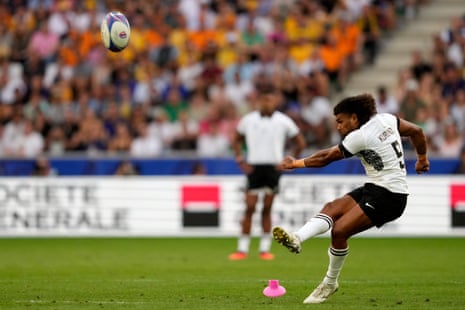 6 mins. Fiji's turn to have the ball in the opposing half and they immediately get to smashing the carries into the Aussie defence, each one driving a few metres over the gainline. They go wing to wing with it, forcing the Wallaby defence to work across, but the men in gold are up to it and eventually Radrada chucks a poor pass forward.
PENALTY! Australia 3 – 0 Fiji (Ben Donaldson)
3 mins. Early penalty for Australia after Matavesi gets his arms too high in the tackle gives them an attacking platform in the Fiji 22. They go off the top of the lineout, but it looks a little frantic before Tuisova takes turn in getting his arm up round a neck in the tackle. This penalty is very kickable, so Donaldson wastes no time putting his side ahead.
Ref Andrew Brace blacks on his horn of instruction and Ben Donaldson lofts the ball deep with his boot and we're away.
Here come the teams, emerging from the blue tunnel into the roar of the crowd in St Etienne. It'll be anthem time, then kick-off.
"So much talk of Wales and Italy being best anthems; surely Fiji is right up there? Fantastic inspiring song and melody." Posits DDJ Stephens.
Pre-match reading
Australia must improve and our man Angus Fontaine has some thoughts on this.
This should be a cracker, let me know your thoughts on this, the Pool, or anything else on the artist formerly known as Twitter or the email.
Eddie Jones has made three changes with James Slipper and scrum-half Nic White coming into the side to replace injured Taniela Tupou and Tate McDermott. Nic Frost is in the second row.
Fiji coach Raiwalui moves centre Semi Radradra to the left wing to bring in Josua Tuisova, who was a scoring replacement vs Wales. Tuisova will face Samu Kerevi in a monstrous battle at inside centre.
AUSTRALIA Ben Donaldson; Mark Nawaqanitawase, Jordan Petaia, Samu Kerevi, Marika Koroibete; Carter Gordon, Nic White; Angus Bell, David Porecki, James Slipper, Nick Frost, Arnold, Tom Hooper, Fraser McReight, Rob Valetini
Replacements: Jordan Uelese, Blake Schoupp, Zane Nonggorr, Richard Arnold, Robert Leota, Issak Fines-Leleiwasa, Lalakai Foketi, Suli Vunivalu
FIJI Ilaisa Droasese; Jiuta Wainiqolo, Waisea Nayacalevu (captain), Josua Tuisova, Semi Radradra; Teti Tela, Simione Kuruvoli; Eroni Mawi, Samuel Matavesi, Luke Tagi, Isoa Nasilasila, Te Ahiwaru Cirikidaveta, Lekima Tagitagivalu, Levani Botia, Viliame Mata
Replacements: Tevita Ikanivere, Peni Ravai, Mesake Doge, Temo Mayanavanua, Albert Tuisue, Frank Lomani, Vilimoni Botitu, Vinaya Habosi
How do you best get over heartbreak? Spend long hours listening to your Spotify "Downer" playlist, take four weeks on a hedonistic pursuit of something to fill the yawning chasm inside you, quickly find another partner even though you know it's not fair to them or you?
Fiji will not be taking any of these options, instead choosing to focus on the (hopefully) less emotionally damaging task of hammering Australia. The victory vs Wales may have agonisingly slipped through Semi Radrada's butterfingers, but there was much in the action of that brilliant match to suggest a Fiji win today – the first against the Wallabies in the Rugby World Cup – is well within their, ahem, grasp.
Australia arrive with a comfortable win over a disappointing Georgia in the pocket, but have disruptions aplenty to contend with in the build up, particularly in the front row and the hokey-cokey selection of captain Will Skelton. Even without all this, the kindest way to sum up their whole year thus far is that they have struggled for consistency in both results and performance.
The picture in Pool C could not be better poised, with this game now taking on significance particularly for Simon Raiwalui's Fiji, who cannot afford to lose both fixtures against their main rivals for progression to the quarters; while Eddie Jones and his Wallabies will want to have the points from this win banked prior to facing Wales next Sunday. It's also a real possibility that Wales-Australia-Fiji each take a win from this mini round-robin, at which point bonus points will be precious commodities. Expect a few today – a low-scoring affair this will not be.
Settle in, this should be a belter.


Australia 15-22 Fiji: Rugby World Cup 2023 – live reaction | Rugby World Cup 2023 Source link Australia 15-22 Fiji: Rugby World Cup 2023 – live reaction | Rugby World Cup 2023