Australia
Australian Open 2023: Novak Djokovic v Alex De Minaur result, highlights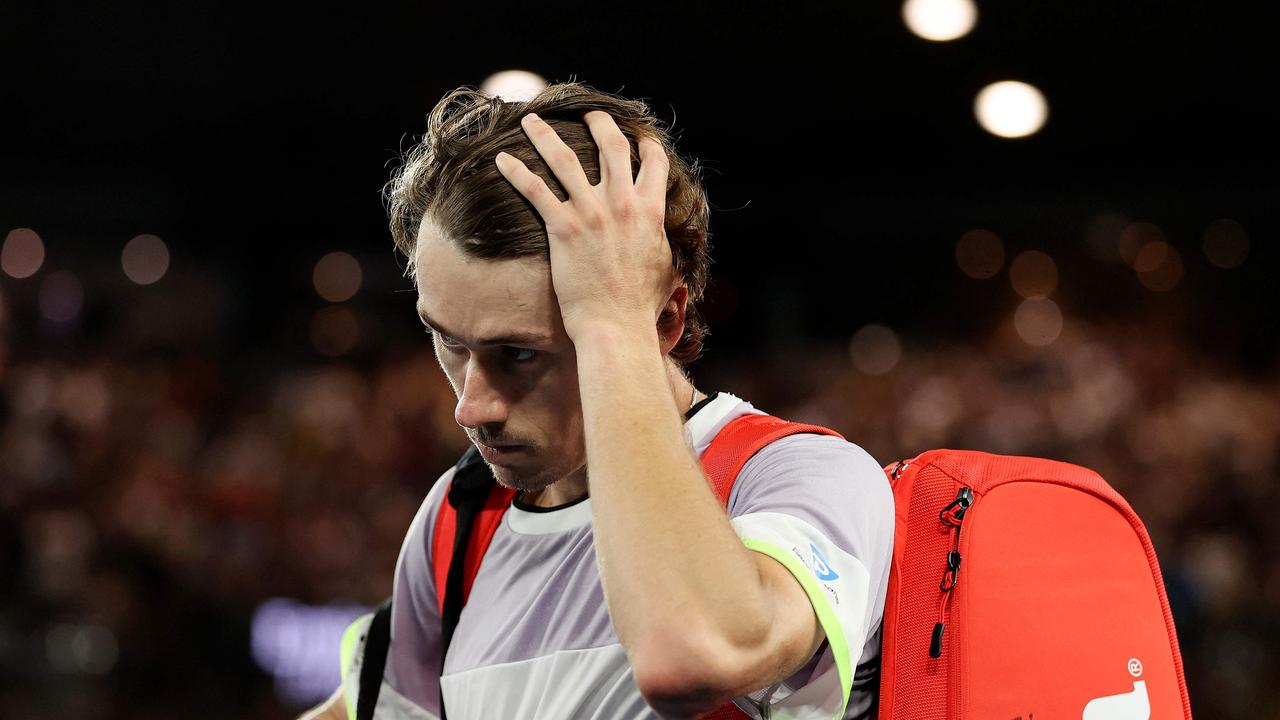 So much for the new kids on the block being the story of this year's Australian Open.
The master of Melbourne Park reminded everyone why he has nine Australian Open titles with a three-set blitz against Alex de Minaur on Monday night.
Novak Djokovic crushed the last Aussie singles hope 6-2 6-1 6-2 to set up a quarter-final against fifth seed Andrey Rublev.
Maybe Rublev had a sense of what was to come as he talked about his last-eight match against Djokovic before he had even taken the court on Rod Laver Arena.
De Minaur had no answers for Djokovic's accuracy on serve and hitting depth in rallies, never looking like troubling the Serbian superstar.
Recap every key moment from the match in our blog below
Asked why he defeated de Minaur "so convincingly", Djokovic said: "Because I wanted to."
The fourth seed said he was determined not to give de Minaur a way into the match and ensure he was not pushed beyond three sets.
"I cannot say I'm sorry that you haven't watched the longer match to be honest. I really wanted to win straight sets," he said.
"Obviously you never know what is going to happen on the court. Once you're on the court obviously you've got to deal with a lot of things that are on and off the court…I felt maybe he was a bit more nervous towards the end of the second and beginning of the first. I felt like it's my opportunity to try to capitalise on those chances.
"Tennis is a very quick, very dynamic sport. Things can change in a matter of moment, matter of points. Kept my focus all the way through. Just played the best match of this year so far."
In commentary, Jim Courier said Djokovic's rivals would be fearful of the level he produced against De Minaur, which the Australian said would make him unbeatable.
"I would want to turn this horror movie off. I would thot want to see this. If I thought I might have a chance to play Novak this is not what you want to go to sleep thinking about," Courier said.
Djokovic has been managing a hamstring issue throughout the tournament but said tonight "it wasn't obvious I was dealing an injury".
"I mean…I didn't feel anything today. Today was great. I thank my medical team, my physio. Thank God anybody that really helped me. Yeah, I keep on going obviously," he said.
"I don't want to celebrate too early. I'm still in the tournament.
"I was feeling very good in the first match second match not so great. So I know that things can change really quickly. I don't take anything for granted. I'm really pleased with the way I played and the way I moved today. The way I hit the ball. So let's keep it going."
READ HOW DE MINAUR REACTED TO THE LOSS BELOW
He said anti-inflammatory pills had helped him through the early rounds of the tournament but in an ominous sign for his rivals Djokovic produced one of his most commanding displays at Melbourne Park to win a fourth-round canter.
DJOKOVIC V DE MINAUR REACTION
10.48PM DJOKER ONE WIN FROM AUS OPEN RECORD
Novak Djokovic is one win from equalling Andre Agassi's record of 26 consecutive singles victories at the Australian Open.
If he reaches the final, he'll move past Agassi's mark and set the record on his own.
DE MINAUR PRESS CONFERENCE
Tim Michell
Alex de Minaur concedes only time will tell whether he is left with mental scars from a fourth-round drubbing at the hands of Novak Djokovic.
The Australian 22nd seed was blown away in three sets by the nine-time Australian Open champion, losing 2-6 1-6 2-6.
De Minaur declared Djokovic unstoppable in his quest for a 10th Australan Open crown if he reproduces the level he displayed against the shell-shocked Aussie.
"I dont think I have if I am completly honest. I think what I experienced today was probably Novak very close to his best. To me, if that's the level, I think he's definitely the guy that's going to take the title," de Minaur said.
The signs were ominous from the opening set as Djokovic dominated on serve and regularly threatened de Minaur on his reply.
Any suggestions of a hamstring issue which de Minaur's counter-punching style could expose were forgotten by the end of the first set as Djokovic ran riot.
His performance was one which will leave his rivals on edge, including next opponent Andrey Rublev.
De Minaur said Djokovic was "on another level to mine" and left him "trying to hang on".
So good was the fourth seed De Minaur said he "didn't really know what to do out there" after starting with a plan to be aggressive and try to move Djokovic around the court.
"I tried to be aggressive…really test where he's at and I didn't get much joy out of it. Two things happened really whenever I got him on the move he was pretty good out there…then he made it quite tough for me to be aggressive as well," he said.
De Minaur said he would not be content with reaching the Round of 16, declaring he wants "to do better than the fourth round at a slam".
He was coy when asked about Djokovic's injury, saying: "You tell me how you thought he looked out there. Playing him, I thought he was moving pretty well. I don't know.
"It's the only thing everyone's been talking about…either I'm not a good enough tennis player to expose that or it looked good to me. He was just too good in all aspects."
10.08PM WIMBLEDON WINNER'S PRAISE FOR NOVAK
The 2013 Wimbledon champion Marion Bartoli tweeted tonight: "Djokovic ne fait pas le même sport que nous". It translates roughly to "Djokovic does not do the same sport as us". You can understand why fellow tennis professionals would feel that way after watching tonight.
10PM COACHING LEGEND LAUDS DJOKER `
The former coach of Serena Williams Patrick Mouratoglou might have summed it up best when he tweeted that Djokovic was "on another planet tonight". Meanwhile, injured Aussie Nick Kyrgios was left wondering how he has a career victory against Djokovic.
THIRD SET
9.38PM GAME, SET, MATCH DJOKOVIC
The master of Melbourne Park with an absolute masterclass. Way too good in the rallies and de Minaur had no answers to his dominance. Djoker to face Andrey Rubliev in a quarter-final after a 6-2 6-1 6-2 win.
9.34PM DJOKOVIC 5-2, THIRD SET
de Minaur survives a match point to bank his second game of the third set. Djoker only a few minutes away from the last eight you'd have to think.
9.25PM DJOKOVIC 5-1, THIRD SET
Djoker got out to 40-0, lost a point going for the big second serve but then closed out the game. He's one game away from reaching another Australian Open quarter-final.
John Millman says in commentary: "The tough thing is you run out of superlatives when you talk about Novak. You talk about his strength and weakness. Well he doesn't have a weakness. You can only have so much air time to mention his strengths."
9.18PM DJOKOVIC 4-1, THIRD SET
Relief for de Minaur as he gets on the board in the third set.
MEANWHILE:
And for the Tommy Paul fans…he's won in four sets against Robert Bautista Agut and will face fellow American Ben Shelton in the quarter-finals. That match finished 6-2 4-6 6-2 7-5.
9.13PM DJOKOVIC 4-0, THIRD SET
Again another slight opening for de Minaur at 30-30 but Djokovic wins the key rally of the game and holds. You must wonder how Andrey Rublev is feeling watching this masterclass.
"He (de Minaur) needs a pulled hammy is what he needs on the other side of the net. That seems to be the only thing that will slow him down," says Jim Courier.
Right now I'm not even sure that would stop Djokovic in this sort of form.
9.06PM DJOKOVIC 3-0, THIRD SET
Alex de Minaur tried a few different things in that game and looked much better. He got out to 40-15 but Djokovic still managed to reel him in and broke again. Jim Courier goes as far as saying Djokovic is "showing off" as he goes 3-0 up with a double break.
"If I was still on the tournament and I happened to be home right now and I had dinner, came back. Let's see what is going on, on the TV," Jim Courier says.
"I would want to turn this horror movie off. I would thot want to see this. If I thought I might have a chance to play Novak this is not what you want to go to sleep thinking about."
8.58PM DJOKOVIC 2-0, THIRD SET
Demon had his chances in that game, getting to 0-30 and then deuce. The key moment came when Djokovic wore him down in a 23-shot rally to get an opening to close out the game. From there, there was little doubt about which way it was going and he consolidates the break.
Todd Woodbridge sums it up well: "There is a look from Demon as if to say "What do I need to do to win a point here?"
8.52PM DJOKOVIC 1-0, THIRD SET
The Novak demolition continues as he breaks de Minaur again — with some luck. He runs down a drop shot and his crosscourt backhand hits the net, only to drop safely on de Minaur's side. "He's got to do something different…but it's just not that easy," says Lleyton Hewitt.
SECOND SET
8.48PM SECOND SET DJOKOVIC 6-1
Jim Courier says in commentary Novak Djokovic has Alex de Minaur at his mercy and who are we to argue. That set was a canter from the nine-time Aussie Open champion.
8.43PM DJOKOVIC 5-1, DEMON ON BOARD
Alex de Minaur finishes with an ace to get himself on the board in the second set.
8.39PM DJOKOVIC 5-0 SECOND SET
We've barely been on court an hour and Novak almost has the first two sets wrapped up. His serving has been way too good.
8.36PM DJOKOVIC 4-0, SECOND SET
Alex de Minaur has been broken again — and one of his backhands landed about three metres wide of the line in that game. De Minaur did save three break points but Noak didn't miss out facing a second serve on the fourth. The depth of his shots is causing de Minaur all sorts of problems. I've lost count of the numbers of balls the Aussie has crashed into the net. Djokovic clearly has him rattled and you can understand why. This has been an absolute clinic in this set.
8.25PM DJOKOVIC 3-0, SECOND SET
Djokovic forces the error again from de Minaur at 40-30 to consolidate the second set break. The Aussie needs to find something and fast or this match might not get to 9.30pm.
MEANWHILE:
If there are any Tommy Paul fans following, he's just won the third set against Roberty Bautista Agut to lead 6-2 4-6 6-2. Another American heading to the last eight?
8.18PM DJOKOVIC 2-0, SECOND SET
Another break point for Djokovic but this time de Minaur found the first serve when he needed it at 30-40. In the end it doesn't matter though as Djokovic produces a powerful forehand when de Minaur stretches for but sends metres long. Aussie fans who were planning a late night watching the tennis might need to come up with other plans…
Here's Lleyton Hewitt's take on the first set on Channel 9: Novak faultless in that first set. He is serving well over 70 per cent. Over 75 per cent at the moment and get cheap points. When Alex gets in a rally takes his chance and go line forehand and backhand to get Novak moving as much as possible. Alex not getting enough first serves, cheap points. It is the weight of shot at the moment from Novak. His depth and weight of shot is completely different to anyone else on Tour.
8.12PM DJOKOVIC 1-0, SECOND SET
Another cruisy service game for Djokovic who got to 40-0 before de Minaur won his first point of the second set. de Minaur got it to 40-30 but then sent a slice backhand long to surrender the game. de Minaur's serve has been below-par and Djokovic will be aiming to put him under pressure again. Djokovic has 78 per cent first serves in compared to de Minaur's 54 per cent. That's making a big difference.
FIRST SET
8.08PM FIRST SET DJOKOVIC
Djokovic has produced a near-fautless 35 minutes and clinches the first set 6-2 when De Minaur sends a forehand long. Novak forced the error by hitting deeper into the court. The signs are ominous!
8.03PM DJOKOVIC 5-2 FIRST SET
Todd Woodbridge says the intense focus on this match has only fired up Novak Djokovic more and boy is it showing. He's one game away from banking the first set and is absolutely cruising on serve. "You sometimes get the feeling with Novak, when there are occasions that come along, like tonight because he is playing an Australian Open, there is playing an Australian Open, there is a lot of talk about can the Demon beat him and everybody's behind him, the country, that actually makes Novak so focused. He has come out tonight, I feel, hitting the ball as well as he has hit it all tournament," says Woodbridge.
8PM DJOKOVIC BREAKS 4-2 FIRST SET
Novak is being allowed to dictate points from the middle of the court which is exactly what De Minaur didn't want. He breaks to love when de Minaur sends the ball crashing into the net. "Djokovic is hitting the ball so cleanly for a guy who is probably spending a lot of time worrying about his body," says Jim Courier in commentary.
7.55PM DJOKOVIC 3-2, FIRST SET
De Minaur challenged at 30-30 but it's been hard to fault Djoker's serve so far. He's delivering in the key moments and has the advantage again.
7.50PM DE MINAUR HOLDS, 2-2 FIRST SET
Djokovic wins the first point to put the pressure on De Minaur. The nine-time champ sends a forehand wide after a long rally at 30-30 to give De Minaur game point but Djokovic forces an error to set up deuce. De Minaur withstands huge pressure to hold and keep things on serve.
7.40PM DJOKOVIC 2-1, FIRST SET
De Minaur gets it to 40-30 but the wide serve comes up trumps again as his return of serve lands metres long. "I also think that he will try to use the lineball a bit more to shorten these points, right? Taking on that line it gets the opponent, it gets to Alex a lot quicker," says John Millman on Channel 9.
"I don't think that Novak wants to enjoy, especially early on with his hamstring, in these long drawnout rallies."
7.37PM 1-1 FIRST SET, DE MINAUR HOLDS
That was a promising service game from De Minaur who raced to 40-0 and then nailed an ace out wide to hold. "I am sure that he was a little edgy earlier in the day. He had a good warm-up and looked relaxed walking out," says Lleyton Hewitt in commentary.
"As Jim said he is still favourite out here and nine-time champion. Alex can come in and really try to hunt him down tonight. Great start so far."
7.35PM 1-0 DJOKOVIC, FIRST SET
Novak Djokovic untroubled on serve in the opening game although Alex de Minaur showed good aggression to snatch a point at 40-0.
7.21PM PAUL LEADS SPANIARD
Tommy Paul has a one set lead over Spain's Robert Bautista Agut.
The match is on serve deep in the second set with Paul serving at 3-4.
RUSSIAN'S SLAP FOR DE MINAUR UPSET HOPES
Owen Leonard
Alex de Minaur is no chance against Novak Djokovic tonight – at least according to Andrey Rublev.
Quizzed on whether he was aware of what could lie in ahead after defeating boom teen Holger Rune in a five-set epic, with the winner of the de Minaur-Djokovic clash to meet him in a quarter-final, Rublev indicated that he'd done his research on his side of the draw.
"Of course, I have to play Novak, no one wants to play Novak!" Rublev replied.
The problem was he forgot Djokovic actually had to beat de Minaur first.
Reminded of their match tonight, Rublev politely apologised, laughing off the awkward moment as 'The Demon' geared up for his own centre court clash.
DEMON URGED TO GET RUTHLESS WITH HAMPERED DJOKER
Alex de Minaur needs to target Novak Djokovic's injured hamstring if he wants to secure a quarter-final berth at the Australian Open.
Compatriot and Davis Cup teammate John Millman said Demon was relaxed as could be ahead of his blockbuster showdown against the 21-time grand slam champion.
Djokovic has made no secret of the fact he is "walking wounded" having complained about a hamstring issue since he played in Adelaide.
It has significant hampered his movement and flexibility this tournament and will be key to Demon getting through, according to his mate.
"I had lunch with him yesterday and I thought he was calmly confident," Millman said.
"He seemed relaxed which is where you want to be if you are Alex de Minaur. I'm backing him in. I might be bias but I think he is a good shot.
"First and foremost, I think he needs to make it physical from the onset. Let Novak know he is ready to test that hamstring as much as possible. Alex is one of the fastest guys on tour. He does such a good job of shrinking the court, using his wheels to get into those points and I think early on we will see some really physical rallies as he looks to draw the line in the sand."
Demon will have the 15,000-strong crowd of Rod laver with him all the way tonight, an advantage Millman said will be priceless.
"He loves it. He feeds off that crowd. He did great in the United Cup where he beat Rafael Nadal," Millman added.
"If you looked at the scenes there, he was using that crowd. Using that energy. No doubt he will have a really supportive and vocal crowd behind him and he will need every bit of it."
6.54PM SHELTON WINS
The breakout star of the Australian Open Ben Shelton is into the quarter finals.
Shelton comes from two sets down to defeat compatriot JJ Wolf 6-7 6-2 6-7 7-6 6-2.
VICTORY FOR THE AGES: RUBLEV'S THIRD TIME LUCKY
Scott Gullan
A LUCKY net cord on his third match point handed Andrey Rublev a victory for the ages over teenage sensation Holger Rune in one of the more extraordinary matches of the Australian Open.
The momentum changed a handful of times in a pulsating fifth set before the Russian No.5 seed prevailed in a 3hr 37min classic 6-3 3-6 6-3 4-6 7-6 (11) which involved saving two match points and coming back from a five-point tie-break deficit.
Rublev refused to die despite 19-year-old Rune being seemingly in control of the final set when he led 5-2. The Dane then served for the match at 5-4 but couldn't convert.
Then at 5-6 on his own service game Rublev was in all sorts with Rune having two match points but he got tight and the more experienced Russian steadied.
However, the 10-point tie-break looked seemingly over when the young gun raced to a 5-0 lead. He was then just three points away from victory at 7-2 before Rublev came again.
He reeled off seven straight points to have his own match points at 9-7. But Rune saved the first before producing one of the shots of the past week, a ridiculous double-handed backhand down the line to level the scores at 9-9.
Rublev delivered on his serve to set up a third match point which he converted in a way not worthy of the contest, a net cord with the ball just trickling over Rune's side of the net.
"When I hit it at the beginning the ball clearly hit the net on my side," Rublev said about the final point. "I don't know how it went over.
"I have no words, I'm shaking. I have never in my life been able to win matches like this, it is the first ever time I won something like this.
"To be in a quarter-final now, this is something I will remember all my life."
Rublev, 25, momentarily forgot Australia's Alex de Minaur was coming up against nine-time champion Novak Djokovic given he was already thinking about the Serbian as his next opponent.
"No-one wants to face Novak, I prefer to be on the other side of the draw," he said before being reminded that Djokovic still had to get past the local hero.
It will be Rublev's seventh appearance in a grand slam quarter-final and his second at Melbourne Park. He lost to eventual finalist Daniil Medvedev in the final eight in 2021.
If he was a racehorse Rublev's form guide coming into the Australian Open would have read: Capable type, out-of-form and may be in need of the run.
He lost both opening matches in Adelaide, falling to Roberto Bautista Agut in his first match on Australian soil and then getting taken down by Thanasi Kokkinakis in the second week.
But he managed to get past a dangerous opening round match-up against Dominic Thiem and then took four-sets to get past Emil Ruusuvuori before stepping up his level in a dominant display against Great Britain's Daniel Evans winning comfortably 6-4 6-2 6-3.
While many in Australia probably didn't know much about Rune before, they do now as he confirmed he was a star in the making.
He was playing just the second five-set match of his career against Rublev and had first announced himself at last year's French Open where he made the quarter-finals, taking down Stefanos Tsitsipas in the fourth round.
Rune was one of the hottest players on tour at the end of last year going on a 19-2 which included winning the Paris-1000 title in November, defeating Djokovic in the final.
6.47PM HOW THE RUBLEV-RUNE MATCH TIEBREAK WENT DOWN
Holger Rune won the first five points of the match tiebreak against Andrey Rublev before the Russian rallied to get back to 6-3.
Rune won the crucial next point as the match ticked over three and a half hours.
But Rublev hit back again, dragging the tiebreak to 7-6 after an unforced error and millimetre perfect shot which just caught the line — it was in by three millimetres!
Rublev served down the tee to make it 7-7.
"You have to pick Rublev now," John Fitzgerald said in commentary.
He then hit the front for the first time with a 207km/h ace.
Another error from the Dane gave Rublev two match points as he reeled off nine of the last 11 points.
Rune defied the first with a big serve and then produced a stunning shot down the line from a Rublev smash to tie it at 9-9 — INSANE TENNIS.
Rublev grabbed another match point as a wide serve allowed him to control the next point and go to 10-9 when Rune's backhand lob was long.
And then after all that in the cruellest finish, the ball trickled over the net from Rublev's backhand to seal an 11-9 tiebreak.
Post-match, Rublev said: "It's like they put gun to your head. Rollercoaster is more easier (than tennis).
"I never in my life, I never was able to win matches like this and this is first ever time I win something like this.
"Especially on a very special tournament like ao to be in quarter final it's something I'll remember all my life. I'm shaking.
On the last point, Rublev said: "The ball clearly hit the net and was on my side…that ball was exactly on my side and I don't know how he went over."
The fifth seed said he would prefer to avoid Novak Djokovic in the last eight — and a few million Australian fans agree.
6.31PM MATCH TIEBREAK!
Rublev saves two match points and we're heading to a match tiebreak to decide this fourth-round stoush.
6.23PM RUBLEV LEVELS IN FIFTH SET
Andrey Rublev has found a way back into this match and is level at 5-5.
Are we about to have another match tiebreak at the Australian Open?
6.20PM SHELTON WINS TIEBREAK, FIFTH SET BECKONS
This kid is going to be something — in fact, I think he might be the world No.1 some day.
Ben Shelton holds his nerve in the fourth-set tiebreak (the third of this match) to send his match against fellow American JJ Wolf to a fifth set.
He's 20 years old and this is his first trip outside America which is just wild when you consider how much tennis players travel the globe!
The match has gone 7-6 2-6 7-6 6-7 and John Cain Arena seems to be in Shelton's corner.
6.08PM RUNE BREAKS EARLY IN FIFTH SET
Holger Rune has seized control of the fifth set against Andrey Rublev, breaking in the fourth game to open a 4-1 lead. Some of his ground strokes have been sizzling in the last 15 minutes.
6.02PM SHELTON, WOLF LOCKED IN TENSE FOURTH SET
The all-American match up between JJ Wolf and Ben Shelton could be heading for a fifth set as the compatriots duke it out on John Cain Arena.
Shelton, who knocked out Alexei Popyrin, is serving at 4-5 in the fourth set and with Wolf leading two sets to one after taking tiebreaks in the first and third sets.
DOCTOR CALLED FOR STRUGGLING STAR
Andrey Rublev and Holger Rune are locked in a fifth set after the ninth seed broke in the 10th game of the fourth set.
Rune butchered a chance to serve for the set in the previous game but produced some brilliant defensive tennis on Rublev's serve to break back and seal the set 6-4.
The match is locked at 6-3 3-6 6-3 4-6 and has already gone two hours and 40 minutes — which actually doesn't sound like a lot in the context of this tournament.
Earlier in the set there was drama when Rune had his blood pressure checked during a medical timeout.
Commentator Jim Courier said Rune had been "chugging Gatorade" since the scare.
He later added: "We know what Rune – we know that he is dealing with something, and it seems physical, clearly."
The temperature is about 28 degrees at Melbourne Park but would be hotter on court.
TANKING TALK PUT TO BED AS FOGNINI REVEALS INJURY
The first week of the Australian Open saw a tanking controversy hit local hope Thanasi Kokkinakis's opening round clash after Fabio Fognini seemed a shadow of his normal self.
Somewhat unexpectedly, Kokkinakis stormed to a two set lead and was winning the third 4-2 before play was suspended due to rain.
He wrapped things up several minutes after the resumption the following day, 6-1, 6-2, 6-2 but even before the match was complete there was tank talk surrounding the Italian.
Turns out he wasn't imploding, he had a fractured foot.
Fognini, who is now back in Italy, took to social media to give his fans an update.
"I was not able to compete as I wished," he wrote.
"My left foot gave me some issues, doctors discovered a fracture.
"My goal is to gets back as soon as I can."
4:30PM VEKIC IS THROUGH
Donna Vekic ended the fairytale Australian Open of Linda Fruhvirtova in the fourth round, eventually overcoming the 17-year-old 6-2, 1-6, 6-3.
Croatia's unseeded Vekic plays fifth-seeded Aryna Sabalenka of Belarus for a place in the semi-finals at Melbourne Park.
The last-16 match was uncharted territory for the Czech Republic's Fruhvirtova, the youngest player left in the draw.
The teenager reached the second round of the 2022 US Open on her Grand Slam debut and her run in Melbourne was more proof of her rich promise.
But in the end it was 64th-ranked Vekic who is into a maiden Australian Open quarter-final after a terrifically entertaining 2hr 7min tussle at Margaret Court Arena.
"I didn't really feel like I had much control in the second set to be honest, but I just had to keep fighting and hoping and believing that I will win," said the 26-year-old Vekic.
3:23PM 'EVIL AND DISGUSTING': STAR CALLS OUT FAT-SHAMING TROLLS
Jelena Dokic has taken social media trolls to task for the second time this Australian Open after being fat shamed by "evil and disgusting" people.
The 39-year-old, who made the quarter-finals of the Australian Open in 2009 and has been open in her experiences with family violence and mental health, took to Instagram on Monday morning to expose the sickening messages she is being sent.
Dokic – who revealed in June that she had considered taking her own life last April – said the vast majority was coming from women
"The 'body shaming' and 'fat shaming' over the last 24 hours has been insane," she wrote on Instagram.
"Coming from everywhere in the world and a special shout to so much of it coming from Serbia as the last picture confirms.
"And yes a lot of them are women too. So much for 'women supporting women'.
"Here are just a few examples confirming just how much body shaming I am being subjected to in Serbia as well. And this first picture? EVIL. There is no other word for it.
"Disgusting. People should be so ashamed. The most common comment being 'what happened to her, she is so big'?
"I will tell you what happened, I am finding a way and surviving and fighting. And it really doesn't matter what I am doing and what happened because size shouldn't matter.
"What matters is your online abuse, bullying and fat shaming. That's what matters because those of you that do it are just evil,bad, mean and ignorant people."
It is not the first time Dokic has called fat shaming out as an issue on social media, nor is it the first time she has aired abuse this tournament.
Last week she exposed what she called "a new low" after being sent the following message: "Now that the Australian Open is starting, will Jelena Dokic try to kill herself like she does every year," a commenter wrote to her in Serbian, with a laughing emoji."
2:53PM LINETTE IN TEARS
Tears on Rod laver Arena from 30-year-old Magda Linette who has just reached a slam quarter-final for the first time in her career.
The Polish star beat Caroline Garcia in straight sets 7-6, 6-4.
I don't really believe it. I don't know, I still can't believe it really. I don't know what happened.
"I'm speech less, really. I don't know what to say," Linette said.
"I – I don't want to say it was unexpected because coming on the court I was confident with how well I am playing.
"She is such an amazing opponent and such a tough one especially on the big stage. I knew it was going to be super tough and I'm glad that I stayed composed during the first set and managed to come back again."
1:45PM REVENGE IS COMING….
A confident Jiri Lehecka has warned Stephanos Tsitsipas he wants revenge and knows how to play against him ahead of their Australian Open quarter-final.
The rising Czech 21-year-old is one of the tournament surprise packages, racing into the last eight at a Grand Slam for the first time after being knocked out in the opening round at all four majors last year.
Ranked 71, he plans to make the most of his moment in the spotlight, with unfinished business against the Greek third seed.
In Lehecka's biggest breakthrough before his dream Melbourne Park run, he made the semi-finals last February in Rotterdam — before being beaten by Tsitsipas.
"I will go for that revenge, for sure. I know that he will remember how we played last year in Rotterdam. One set I was the better player on the court. Then he overtook the match," he said.
"But I think that he will remember, and he will know what my strengths are. He will feel that I can get him under the pressure."
1PM TERRIFYING FORM
Public service announcement to the entire WTA tour…Aryna Sabalenka is in devastating form.
The world number 5 has just secured her spot in the Australian Open quarter-finals for the very first time after an incredible recovery against olympic champion Belinda Bencic.
Sabalenka, took it in straight sets 7-5, 6-2, winning 11 of the last 14 games.
She is 8-0 in 2023, 16-0 in sets
12:05PM WHERE IS PENG SHUAI
Shuai Zhang said she is "just waiting for good news" when it comes to compatriot Peng Shuai and the women's tour returning to China.
Peng is not believed to have been seen or heard from since November 2 2021 after she went public with allegations that a former senior vice-premier and high-ranking member of the ruling Chinese Communist Party, had sexually assaulted her 10 years earlier.
The allegations were posted on social media website Weibo before being deleted 30 minutes later.
Global fears for her safety followed and have continued to this day despite video and interviews being released by Chinese authorities purporting to be from Peng.
Not satisfied with the authenticity the videos, phonecalls and stories of Peng's safety, the WTA suspended all competition in China – a decision expected to cost the tour hundreds of millions of dollars in broadcasting and sponsorship.
Even their 2023 calendar is blank after the US Open in September.
11:34PM INSANE COMEBACK FROM THE BRINK STUNS AUS OPEN
WTA chief executive Steve Simon said in April 2022 that the stance would not change until a resolution is found regarding the former world number 14.
"I don't know about this question," Shuai said when asked about the WTA returning to her home country being dependant on Peng's safety.
"I focus on myself so much, and I don't know too much about this, and it's not in my control.
"I'm just the same as everyone.
"I just know from the news or the WTA website.
"But I'm totally the same as everyone.
"Just waiting for [more] good news."
International Olympic Committee (IOC) President Thomas Bach was pictured on a number of occasions with Peng during last year's Winter Olympics in Beijing yet many continue to question the legitimacy of them.
Earlier this month The WTA said it had received confirmation Peng was safe but were yet to meet with her personally.
"We continue to hold firm on our position and our thoughts remain with Peng," they said in a statement. "The WTA continues to work towards a resolution.
"While we have always indicated we are hopeful we will be in a position to again operate WTA events in the region, we will not compromise our founding principles in order to do so."
We've seen some comebacks at the Australian Open but this surely goes down as one of the most unexpected.
In the second round of the women's doubles, Czech pairing Marketa Vondrousova and Miriam Kolodziejova defeated Beatriz Haddad Maia and Shuai Zhang after saving an incredible nine match points.
At 3-6, 7-6, 5-0 and 40-0 up, victory for the Chinese-Brazilian duo looked a foregone conclusion.
Surely there was no way back into this?
Vondrousova-Kolodziejova won five straight games before the deciding set was forced into a tie-break which eventually finished 16-14 in their favour.
They play their third round clash against Kostyuk and Ruse later today.
10:05AM 2:16AM FINISH: AUS OPEN SLAMMED AS DJOKER DEMANDS CHANGE
Two-time Australian Open champion Victoria Azarenka reached the quarter-finals at 2:17am on Monday after winning a bruising late-night encounter against China's Zhu Lin.
The 24th-seeded Belarusian won 4-6, 6-1, 6-4 and will play Jessica Pegula of the United States, the highest remaining women's seed left in the draw at three.
Tournament organisers were widely criticised days ago when Andy Murray and home player Thanasi Kokkinakis did battle until 4:05am.
The match between Azarenka and unseeded Zhu started late at Rod Laver Arena because the preceding encounter between Stefanos Tsitsipas and Jannik Sinner went to five sets.
It turned out to be a gruelling clash, which started late on Sunday and concluded in the early hours of Monday, in front of what was a nearly empty stadium by that time.
"It was two hours and 40 minutes of complete pressure," the 33-year-old Azarenka said afterwards.
Asked what time she would get to bed, she replied: "I don't even know what time it is.
"Probably I'll be up till 6:00am, then mask on and sleep during the day."
Broadcaster and former player Pam Shriver questioned the starting time of the encounter, which was caused by the preceding game.
Earlier in the tournament, Andy Murray and Novak Djokovic both called on Australian Open officials to seek change in the schedule with the amount of late night games.
Players' input is always important for tournament organisation," Djokovic said. "Whether it's decisive, we know that it's not because it comes down to what the TV broadcasters want to have. That's the ultimate decision-maker.
"For the crowd, it's entertaining, it's exciting, to have matches [at] midnight, 1, 2, 3am. For us, it's really gruelling. Even if you go through and win, prevail in these kind of matches, you still have to come back. You have your sleeping cycle, rhythm disrupted completely, not enough time really to recover for another five-setter.
"Something needs to be addressed in terms of the schedule after what we've seen this year."
8:25AM GREEK GOD'S NOD TO ROCKET
Stefanos Tsitsipas took inspiration from the watching Rod Laver to stay calm in the face of an onslaught and battle into a third consecutive Australian Open quarter-final.
The Greek third seed extended his win streak this year to eight matches with a 6-4, 6-4, 3-6, 4-6, 6-3 triumph over Italian 15th seed Jannik Sinner on Rod Laver Arena as the clock ticked over four hours.
Victory set up a clash against surprise package Jiri Lehecka for a place in the semis after the 21-year-old stunned sixth seed Felix Auger-Aliassime 4-6, 6-3, 7-6 (7/2), 7-6 (7/3).
That upset put the Czech into the last eight at a Grand Slam for the first time after being knocked out in the first round at all four majors last year.
"I just stayed really calm, just like Mr Rod Laver used to do in his day," said Tsitsipas as the crowd roared their approval and Australian legend Laver saluted the Greek player from the stands.
"It was a long match, I felt like I spent an entire century on this court playing tennis.
"What a great night. That was superb, 'a ripper' as they say here. I'm really excited to be sharing moments like this on the court, especially in Australia.
"I'm trying to do my best out here, it's not easy. I had an unbelievable opponent on the other side of the court today," added Tsitsipas, the highest remaining men's seed.
7:43AM IS SINNER THE KEY?
Forget reading the form, there's a new theory in town.
Jannick Sinner could be the key to identifying the Aus Open champion and here's why.
7AM BAD BOYS BEHAVED: DID KYRGIOS LOSE AUS OPEN $105K?
Owen Leonard
All-night matches, flag bans and bathroom break denials aside, the Australian Open is reclaiming its 'happy slam' status with tennis' bad boys behaving, the fines tally shows.
The men have thus far been fined a total of A$23,700.60 – just 18 per cent of last year's A$129,276 recorded by the end of week two.
The women have combined for just A$6463.30 in comparison, meaning they will draw closer to their 2022 tally of A$13,645.80 but remain a long way off the umpire abuse and racquet smashes seen in the men's.
Fines collected are reinvested into the grand slam player development program, which gives grants to selected players early in their careers.
The men, however, have been far more tame than previous years, a trend expected to continue given the early exits of serial offenders Denis Shapovalov and Daniil Medvedev as well as the absence of Nick Kyrgios.
Shapovalov in 2022 was fined A$21,546 – nearly this year's week one total – but did not violate in this tournament at all before his third-round departure.
Medvedev was fined A$17,236.80 last year and was one of four players to have copped $4309.20 this tournament but was sent packing by Sebastian Korda in a boilover.
The other three fined that same amount – Oscar Otte, Stan Wawrinka and Adrian Mannarino – are now all out of reckoning.
The PG-rated feel of the tournament has no doubt been aided by Kyrgios' withdrawal, with the crowd favourite fined A$14,364 in 2022.
Kyrgios was also fined more than double that at Wimbledon, which included a fiery stoush with Stefanos Tsitsipas – who is typically one of tennis' greatest donors himself.
However, the Greek star is yet to be fined a cent at this year's Australian Open, probably courtesy of the fact he won all of his first three matches in straight sets.
When his tournament heats up in week two, history shows there's every chance his attitude will, too.
For now, officials appear on track for an unusually meagre collection.
But with the most heated matches to come, racquets, chair umpires and fans evading balls angrily whacked into the crowd aren't out of the woods just yet.
Originally published as Australian Open 2023 day 8 live scores: Novak Djokovic blows Alex de Minaur away in three sets
Australian Open 2023: Novak Djokovic v Alex De Minaur result, highlights Source link Australian Open 2023: Novak Djokovic v Alex De Minaur result, highlights