Australia
Australian squash player Donna Robin faces her Scottish husband in the quarterfinals of the Birmingham Commonwealth Games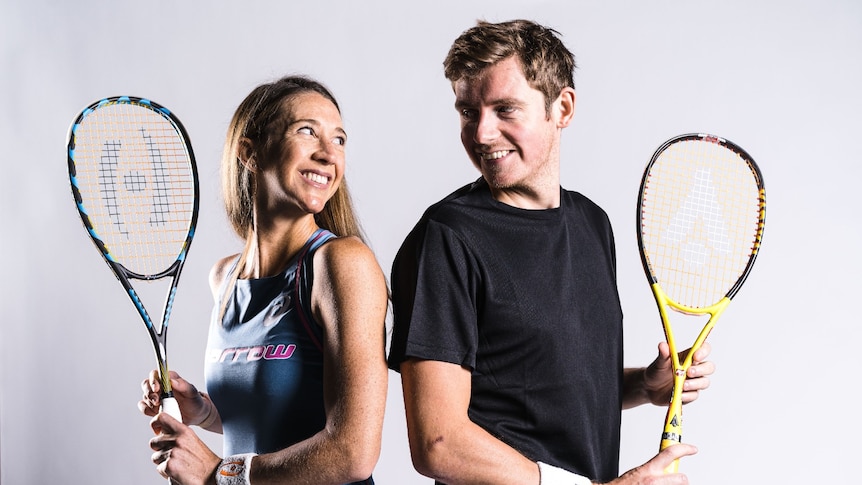 Australian squash player Donna Robin says she has already launched a campaign of 'mental warfare' against her Scottish husband, whom she plans to meet in the mixed doubles quarterfinals of the Birmingham Commonwealth Games.
Key Point:
Donna Robin, who will face her cousin Cameron Pirie for Australia, will face husband Greg and partner Lisa Aitken in the mixed doubles quarterfinals.
Australian standard bearer Rachel Grinham and her mixed doubles partner Zach Alexander also qualified for the quarter-finals after defeating England.
In women's doubles, Roban and Grinham defeated India to win the next round.
Playing with cousin Cameron Pirie, Robin faces off against husband Greg Roban and partner Lisa Aitken tonight.
"I've already started the mental warfare," Robin said.
"I already started winding him up. I was telling him we were fist pumping when we drew."
Donna Robin and Pirie are defending the Commonwealth Mixed Doubles Champions.
The pair defeated India's Joshana Chinappa and Harinder Pal Singh Sandhu in straight sets 11-8, 11-9 in Round 16 on Thursday.
A few hours later, Greg Roban and Aitken won the Scottish showdown.
Pilley said other pairs would be increasingly wary of the Australians on their way to a medal.
"Every team is a potential speed bump," says Pilley.
"We're not seeded in the top four, so we're probably seeded…if they see us along the way, they're probably more concerned that we're the defending champions.
"When I go to Comm Games, I don't expect medals, I go for gold.
"Doing it once was the best thing we've ever done. So we're doing it again."
Australia's standard-bearer Rachel Grinham and her mixed doubles partner Zach Alexander also secured victory in the round of 16 on Thursday, defeating England's Georgina Kennedy and Patrick Rooney 11-8, 11-6. rice field.
Alexander and his men's doubles partner Ryan Caskelly defeated Cayman Islands duo Jake Kelly and Jace Jarvis 11-2, 11-1.
In the women's doubles, Australia's Alex Hayden and Jess Turnbull lost in the 16th round while England's Georgina Kennedy and Lucy Turmell won 11-4, 11-7.
However, the Australian women's doubles team of Lovan and Grinham continued to advance, beating India's Sunaina Sala Kurvira and Anahat Singh 11-4 11-4.
AAP
Australian squash player Donna Robin faces her Scottish husband in the quarterfinals of the Birmingham Commonwealth Games
Source link Australian squash player Donna Robin faces her Scottish husband in the quarterfinals of the Birmingham Commonwealth Games