Entertainment
Bali 2002 TV Series: Trauma Reenactment by Richard Roxburgh and Claudia Jessie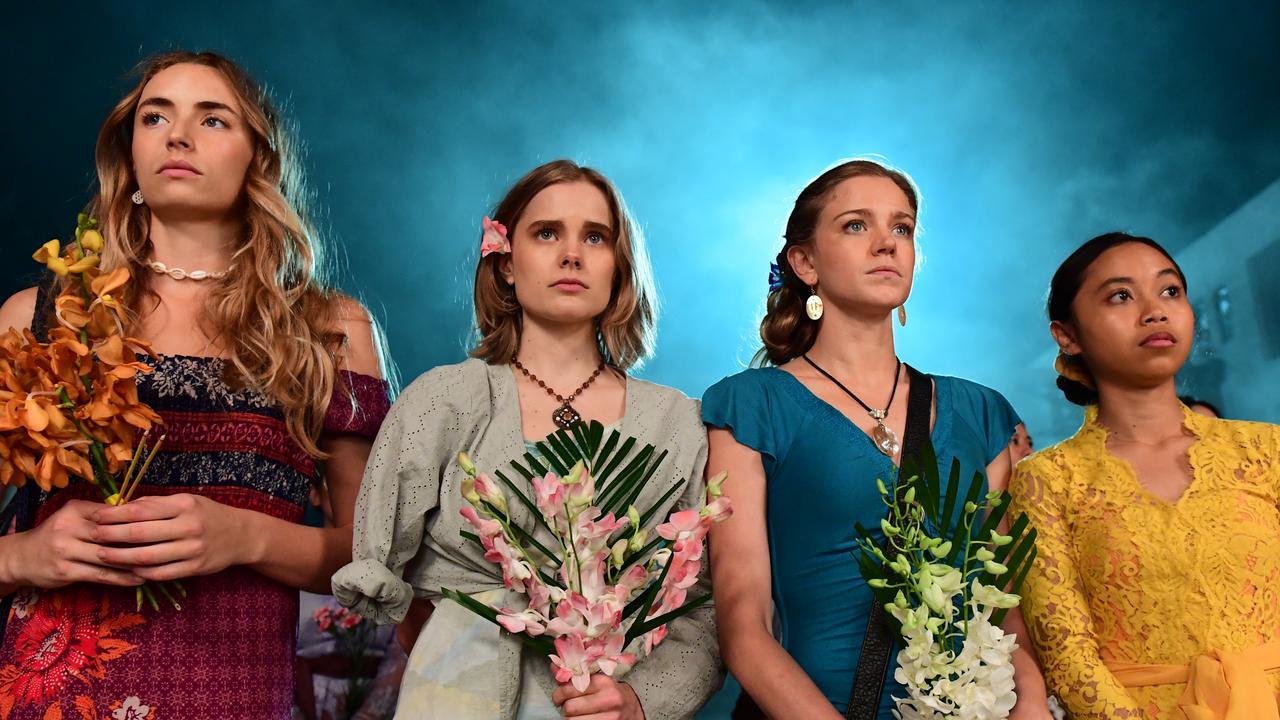 The air was damp and thick and smelled of incense. Burnt-out 90's sedans littered the streets everywhere.
Smashed car hoods, blown windows. Everything was charred and black.
On one side is the corpse of a building that appears to have been destroyed by violence. Debris and shrapnel crumbled underfoot, threatening to open up the gray sky above.
Actor Richard Roxburgh worked in the scene dressed in a police uniform with official-like insignia embroidered on Navy epaulettes worn over his shoulders.
However, when it started to rain, his blue shirt and glasses were marked with obvious water droplets.
A staged scene of disaster and horror was for a four-part Bali bombing miniseries. bali 2002We were not in Bali, but in a normally empty lot in the Sydney suburb of Rose Hill, 22 kilometers west of the CBD, known mainly for its racecourses.
The goal was to make it like Bali but without leaving the country. It was too much. Of course, filming in Sydney during months of La Niña-hit storms was a burden in itself.
No one in the production said it, but given the sensitivity around the project to revisiting horrific historical events, it may have been easier to shoot in this isolated location in Sydney.
When a double bomb exploded in Bali in October 2002, 202 people were killed, including 88 Australians.
Twenty years after the event, the emotions are still raw, and there are always questions about whether the screen depictions are purely exploitative entertainment, or whether they add something to the public's understanding of trauma and human resilience. .
bali 2002 It was not the first Bali bombing project involving Roxburgh. In 2005, he starred in another screen title about a terrorist attack, to be directed by Michael Jenkins, who flew to Bali to start his work, but it fell apart.
It was to be a different character than the AFP commander Graham Ashton, whom he now plays.
"I got a promotion," Roxburgh told news.com.au.
Roxburgh was drawn to the story of the real-life Ashton, who led an Australian investigation on the ground in Bali and worked closely with his Indonesian counterpart to forge a strong coalition between the two bruised nations.
Roxburgh understands the value of communicating this particular aspect of the story: how relationships can deepen the aftermath of tragedy.
"It's about the beautiful things that come out of it," he said. "People reaching out across cultural divides to do something, a complex policing effort unprecedented in Australia's history.
"It was a very complicated operation, but there was also some diplomacy that had to happen to make sure it did. [the investigation] It could have prospered, and there was also a deal with many grieving Australians. "
Roxburgh didn't get to meet Ashton in person due to covid restrictions, but he spoke at length with the former cop.
At Ashton Roxburgh, I was blown away by Ashton's range of skills. Ashton had previously been stationed in Indonesia and spoke Indonesian, attuned to the cultural sensitivities of the place.
"H was a unicorn figure in AFP at the time."
Roxburgh said he also wanted to clarify the Indonesian side of the story, in which he said he was "satisfied with that."
"I thought there were some really beautiful threads about complex culture coming together. In a big way, that's what the series is about."
About British actor Claudia Jessie, she admitted: bali 2002 It can be "incredibly painful" that many people experience.
But what mattered was respecting the story and the people involved, including Polly Miller, the real-life survivor she played in the series.
"Stories like this mean so much to people, and this show isn't here to capitalize on something that huge and painful," Jesse said. A truly beautiful piece of work that shows strength and resilience and commemorates the heroes who lost their lives in this tragic event.
"And those who survived. It's about compassion and altruism."
Jessie said she wanted to portray Miller as a wonderful, funny, charming person with a surprisingly dry sense of humanity and a hunger for life. and talked about what they were watching on TV.
In some ways, knowing Miller made Jessie's job more difficult. "She's amazing and I want to do it fairly. was very present in
When Jesse filmed the scene in the immediate aftermath of the explosion, Jesse was overwhelmed with emotion as he crawled through a makeshift Sari club built on a vacant lot in Rosehill.
"I crawled through the rubble and did one take and they called the cut and I just broke down crying. [extras] Around me everything is burning and people are screaming.
"A lot, but we're doing it right, so it's good. It's something to be proud of."
Roxburgh said you have to trust it bali 2002 It is not exploitative or exists purely for entertainment purposes.
"I thought it was in the writing, otherwise I wouldn't have been comfortable doing it. That's the leap of faith."
The 2002 Bali Games will come under heavy scrutiny for many. Among them are many Australians still reliving the trauma of the earth-shattering tragedy. Which brings us back to the question of what is the purpose of recreating a catastrophe?
"These are stories about how people survived and how they were forged through great hardship. is.
"It completely reconstructs you as a person. But in living it, it destroys the very fabric of your being, creating these extraordinary humans."
Roxburgh was talking about individual survivors followed by a four-part miniseries, but it could easily apply to Australia and Indonesia.
"Those are stories worth telling, even if they are difficult."
Bali 2002 is now streaming on Stan
first published as Bali 2002 TV Series: Richard Roxburgh and Claudia Jesse on Trauma Reenactment
Bali 2002 TV Series: Trauma Reenactment by Richard Roxburgh and Claudia Jessie
Source link Bali 2002 TV Series: Trauma Reenactment by Richard Roxburgh and Claudia Jessie