World
China launches 'unprecedented' military exercises around Taiwan after US visit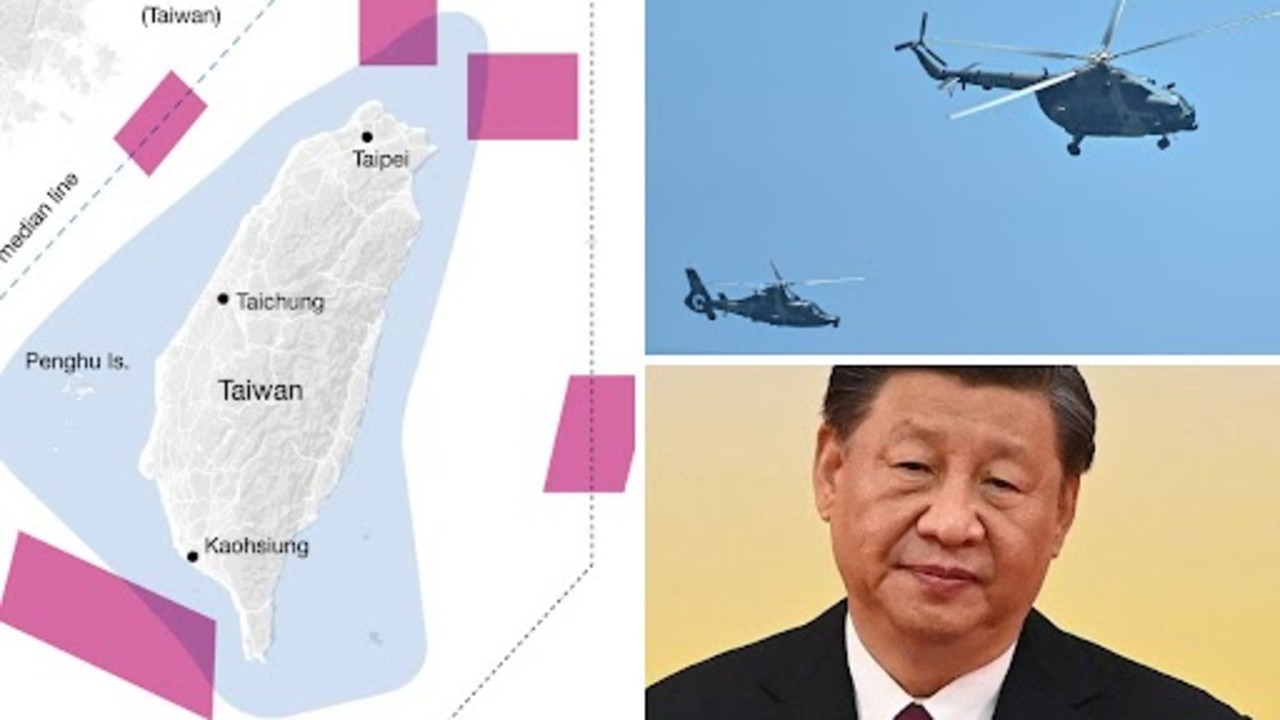 China, enraged by senior US politician Nancy Pelosi's visit to the island, has launched large-scale military exercises near Taiwan.
The Chinese military launched a live-fire drill today at noon local time and declared six no-go zones around Taiwan. Three of these zones are within 20 km of the island, meaning they violate Taiwan's territorial waters.
Long-range artillery training was conducted in the Taiwan Strait. CHINA said the "expected results" had been achieved.
"The Chinese People's Liberation Army is conducting important military training exercises and systematic live-fire," state broadcaster CCTV said.
"During these combat exercises, six key areas around the island have been selected, and all ships and aircraft should not enter the relevant waters and airspace during this period."
Taiwan's defense ministry said China had launched "several" ballistic missiles into waters off its northeast and southwest coasts.
Military exercises will continue at least until Sunday.
They came after Chinese Foreign Minister Wang Yi described the visit of Pelosi, the third-highest-ranking US politician, as a "complete farce".
"The irreversible course of history of Taiwan's return to the motherland cannot be changed. Those who offend China will certainly be punished," he said.
during her travels Pelosi reaffirmed America's commitment It is about maintaining solidarity with Taiwan and "not giving up" an independent island China has long claimed as its territory.
China's nationalist state-run tabloid global timesciting military analysts, said the military exercises were "unprecedented" and included missiles flying over Taiwan for the first time.
Using the official name of the Chinese military, the People's Liberation Army, the newspaper said, "This is the first time the People's Liberation Army has fired live-fire long-range artillery across the Taiwan Strait."
Taiwan has described the exercises as "an irrational move that challenges the international order."
The seven industrialized nations also condemned the exercise, saying there was "no good reason to use the visit as a pretext for offensive military activity in the Taiwan Strait."
Taiwan's Maritime and Port Authority on Wednesday warned ships to avoid waters used for China's training.
Taiwan's cabinet said the exercise would disrupt 18 international routes passing through the Flight Information Area (FIR).
Beijing has defended the military operation as "necessary and justifiable," blaming the United States and its allies for escalation.
"In the current struggle over Ms Pelosi's visit to Taiwan, the United States is the provocateur and China is the victim," Foreign Ministry spokeswoman Hua Chunying said at a regular press briefing on Wednesday.
A Chinese military source also told AFP that the exercise would be "prepared for a real battle".
"If the Taiwanese military deliberately contacts the PLA and accidentally fires its guns, the PLA will take severe countermeasures and all consequences will be borne by the Taiwanese side," the source said.
After breaking through the Central Line, China was 'dispelled'
Shortly before the exercise, about 10 Chinese naval vessels reportedly crossed the center line of the Taiwan Strait.
Taiwanese sources briefed on the issue Chinese ship briefly crossed, Reuters reports A line that unofficially divides Taiwan from the mainland before being 'shunted' by ships from the Taiwan Navy.
"They sneaked in and were chased off by us," said the source.
Before that, multiple Chinese planes also crossed the Central Line, forcing Taiwan to scramble its fighter jets to follow its movements.
"They dove in and out again and again. They continue to harass us and increase pressure on our air defenses," the source said.
Officially, Taiwan stressed that it wanted "no escalation" of today's events.
"But when it comes to security and sovereignty, we will not yield," Taiwan's defense ministry said.
"We support the principle of preparing for war, not seeking war," he added.
Taiwan's President Tsai Ing-wen said on social media that she was "dedicated to maintaining the status quo and defending our hard-won democracy."
Bonnie Lin, director of the Center for Strategic and International Studies, told the BBC that China's encroachment into Taiwan's territory could lead to dangerous accidents.
"If China decides to fly over Taiwan, it is possible that Taiwan will try to intercept them. It could be deployed," she said.
"Whatever China does with these drills over the next few days, I think it won't be the first and only time China will conduct them. Trying to."
China's provocative activity really began on Wednesday.
Rear Admiral Zhang Zhongsong of Taiwan's Kinmen Island Defense Command confirmed that drones operated by China made two evening flights over the Kinmen area around 9 p.m. local time.
"We immediately fired flares to warn them and chase them away. Then they turned around. They came into our restricted area and we shun them. he said.
Analysts continue to say China's President Xi Jinping doesn't want war to break out, but the recent escalation has made the future more uncertain.
"pour oil on the flame"
Pelosi decided to leave Taiwan on Wednesday, ignoring a series of harsh threats from Beijing to land there.
Former Australian Prime Minister Kevin Rudd said the US House Speaker's visit would undermine Taiwan's national security and criticized his views as "adding fuel to the fire".
Pelosi, the second-ranked U.S. presidential candidate behind Vice President Kamala Harris, was the first U.S. public official to visit Taiwan in 25 years.
He said her presence "clearly" showed that the United States would "not abandon" a democratic ally like Taiwan.
Taiwan's 23 million people have long lived with the prospect of invasion, but the threat is intensifying under Xi, the most assertive Chinese ruler of a generation. .
Only 130 km wide at its narrowest point, the Taiwan Strait is a major international shipping lane and everything between democratic Taiwan and its gigantic authoritarian neighbors.
It's now a flashpoint among leaders in the United States, Taiwan, and China, eager to show their strength ahead of an important ruling party meeting this fall.
Amanda Xiao, senior analyst for China at the International Crisis Group, said: "China's announced military exercises are consistent with the existing baseline of China's military activity around Taiwan and the last Taiwan Strait warfare of 1995-1996. It represents a clear escalation from a crisis."
"Beijing is suggesting it rejects Taiwan's sovereignty." Nonetheless, analysts told AFP that China is not looking to escalate the situation out of control, at least for now. .
"Obviously they are aware of the limitations of what they are trying to do," Chung Ja Ian, an associate professor at the National University of Singapore, told AFP.
— AFP
first published as China launches 'unprecedented' military exercises around Taiwan after US visit
China launches 'unprecedented' military exercises around Taiwan after US visit
Source link China launches 'unprecedented' military exercises around Taiwan after US visit