Australia
Commonwealth Games 2022 live results, medal tally, Matt Denny gold , Rohan Dennis, bellyflop, England netball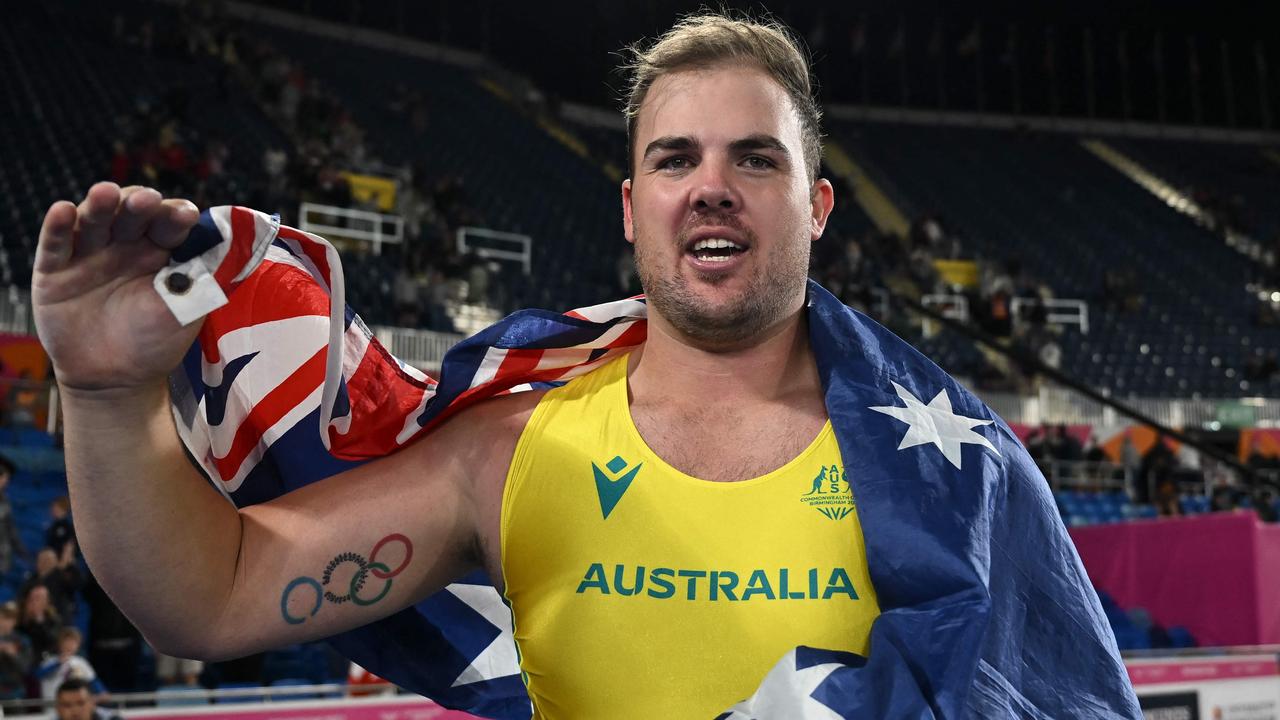 In terms of how to win gold medals, Matt Denny laid down the perfect blueprint in the men's discus final.
The Aussie powerhouse obliterated his rivals with every one of his six throws – two of those were new personal bests – better than the second placegetter.
It was a clinic from Queensland's favourite plate thrower who celebrated in style with a victory lap at speed although he says he needs work on the final 100m.
The stunning win is confirmation of the 26-year-old's rise up the ranks given he finished fourth – just 5cm from the podiuum – at last year's Tokyo Olympics.
In perfect theatre, Denny left his biggest throw for last with a career best 67.26m and by this stage he already had the title with England's man mountain Lawrence Okoye (64.99m) taking the silver and Jamaica's Traves Smirkle bronze (64.68m).
Okoye, who weighs 127kg and has tried out for a number of NFL teams, was pumped for his Aussie mate afterwards.
"F..k this guy, Matt Denny, Matt Denny," he screamed into the TV microphone as Denny was being interviewed.
Denny replied: "You think I'm big, look at this dude. That's a thick boy."
Denny was loving every moment inside Alexander Stadium.
"That's my best competition ever, consistency and just delivering. I am stoked," he said.
"I have never run a 300 so fast (in the victory lap), I got a bit gassed on the last bend but I will learn to kick at the end for next time. I am over the moon. It's been great.
"I thought I had a 68m there but coulda woulda shoulda, I threw it pretty high on that last one but I was over the moon I replicated on that last one even though you could have gone and packed it in.
"But I wanted to make that statement again and finish off that series. This is my first senior title other than world unis, you live for these moments."
Denny, who finished sixth at last month's world championships, started with a throw of 65.26m and gradually got better as he put a space on his rivals.
"I think to have that bit of a statement to continually put it in and get those performances I think I am pretty sure that would have come close to a medal at worlds," he said.
"That's frustrating. I have done it late but I really pride myself on doing what is needed when it counts and to do that six times in a row today and to really dominate the comp has been great.
"This is just the start, there is more of this to come."
Denny' fiance Mia was in the crowd with the pair to get married later in the year but before that he will be seeking some spending money for the honeymoon in the Diamond League final.
Four years ago at the Gold Coast Commonwealth Games, Denny dabbled in the discus and hammer throw where he won a silver medal.
After that he turned solely to discus where he has been a model of consistency over the 65m mark, finishing sixth at the 2019 world championships in Doha.
In Tokyo Denny made a statement early, taking the early lead before delivering a then personal best 67.02m on his last attempt to finish fourth which was Australia's best ever result at major championships in the discus.
KOOKABURRAS CLEAN SWEEP
By Joe Barton
Even on a night of upsets, the Kookaburras refuse to follow the narrative.
Australia kept their perfect record intact with a fourth-straight win to complete a Pool A clean sweep after their 7-0 victory over Pakistan.
It immediately followed South Africa's shock win over New Zealand – which breathed life into the semi-finals, and made Australia's match very much a live one. Victory for Pakistan by two or more goals would've secured a spot in the medal rounds.
But Colin Batch's group showed they have little time for sentiment, and only eyes for a ridiculous seventh straight gold medal.
The only hurdle in front of Australia and the gold medal match now is local hopes England, who set up Saturday's semi-final clash by finishing second behind India in Pool B.
TITMUS REVEALS HOW LOVE TRIANGLE IMPACTED SWIM TEAM
Australian Swimming superstar Ariarne Titmus has opened up on how the 'love triangle' had impacted the Australian team's performance at the Commonwealth Games.
Despite leaving every other nation in their wake scooping up 65 medals – 25 of which were gold – the additional focus had been a distraction.
Fresh from her four-gold-haul, Titmus shed light on what had been happening behind the scenes.
"We all certainly hear about it and it's affecting our teammates so it affects us emotionally," she said on The Project.
"But I think we try to block it out. We're such a close unit and we want to have each other's backs and I think we did that this week.
"We want everyone to be happy and not going through those things so it did affect us but we certainly got through it."
With the swimming part of the Games now over it is finally time to relax after a gruelling nine weeks on the road, concluding with a packed program at the Games.
For Titmus it's three weeks out of the pool and time to travel around Europe.
"My best friend Ellie is meeting me in London this week which I'm excited for. I hardly get to see her but we are about a month away, and we are London, Paris, French riviera, Rome, Barcelona, Majorca, very much looking forward to switching off.
"I haven't had a holiday in a long time, so it's going to be good. Not sure how much mischief the two of us are going to get up to."
With one gold already under her belt, Madison de Rozario has backed up her marathon victory with a win in the T53/54 1500m.
Her victory at the track ensured she emulated her results from the Tokyo Olympics where she also won both events.
In a hard fought contest Scotland's Sarah Kinghorn challenged de Rozario down the back straight before the Australian prevailed showing her usual grit.
Kinghorn's early challenge meant she faded in the final stages allowing Rozario's teammate Angela Ballard to clinch silver with a late burst.
"It was a cagey race and a bit tricky towards the end there," De Rozario said after her 3min53.03sec victory.
"It wasn't what I was expecting and it was definitely surprising but I'm happy to come away with that one.
"I've not done a lot of track work and the track is so technical and so you get out of the habits of it. I was trying to come in from the marathon this weekend and I definitely made a few mistakes out there but it all came together and I'm really happy about that."
JUDGES BOOED AFTER BELLYFLOP FOR THE AGES
Competing in the 1m springboard qualfifying rounds, Fernando completely misjudged his dive and entered the water completely horizontal.
Gasps greeted his bellyflop and the crowd were less than impressed with the judges after the awarded Fernando just one point.
Not the perfect dive but Fernando won over the fans.
The Games are a redemption mission for Fernando, 23, who missed out on qualifying for the Gold Coast Games in 2018.
Visa issues have prevented him from competing at any international diving event since – making Birmingham his first major competing in four years.
Fernando moved to Australia to study in 2021 and qualified for Birmingham after pulling off personal best performances in the 1m and 3m springboard events at the Australian Age National Diving Championships held across Melbourne and Brisbane.
Fernando didn't have a great start to his Games campaign but with 12 divers able to qualify for the final and only 11 lining up to compete he will get another chance in the final.
4:45AM
Tina Rahimi is guaranteed a medal at the Comm Games after beating England's Sameenah Toussaint in the women's 57kg bout in a unanimous decision.
4.30AM COACH COMES OUT OF RETIREMENT TO CLAIM SILVER
By Erin Smith
Australia's Shixin Li has secured a silver in his debut Commonwealth Games.
The 34-year-old, born in China, was recruited to be an Australian diving coach but was later convinced to come out of retirement and pull on the green and gold togs.
He made his first international debut under the Australian flag in Tokyo finishing 27th in the 3m springboard event.
Li topped the table in the preliminary round and continued his fine form into the finals.
Going into the final dive he was 10 points behind England's Jack Laugher.
Both divers had to execute the same dive for their sixth dive of the event.
Laugher didn't cave under the pressure, collecting 80.85 points.
Li also didn't falter earning 80.65 points to finish second.
England's Jordan Houlden finished third.
12.15AM: Finally Rohan Dennis has a gold medal at an Olympic or Commonwealth Games.
After claiming three minor medals at the two multi-sport games, the 32-year-old Dennis made breaking this drought at the Commonwealth Games and standing atop the podium a big goal of this year.
And the Australian star did exactly that as he took out the time trial in Wolverhampton with a dominant effort, but he was aided by some crashes to his two main rivals.
The two-time world champion from Adelaide received an early boost when his main rival Geraint Thomas of Wales took a corner too quickly and crashed into a barricade just two minutes into his ride.
Dennis got an early 30 plus second lead on Thomas into the first checkpoint of the 37.4km course at the 8.9km mark.
But Thomas, who was third at the Tour de France, came back charging despite the crash and began to make some time on Dennis.
But his luckless race continued when Thomas encountered a mechanical issue at the halfway point of his ride and he couldn't bridge the 30 plus second gap between the two.
As well as Thomas, England's pre-race contender Dan Bigham crashed himself into a barricade and required a new bike.
It was Dennis' first bike race since June when he and his team Jumbo-Visma had to abandon the Tour de Suisse because of Covid-19.
3:20AM PEATY REGRETS ONE THING
Reality TVplayed a part in Adam Peaty's shock upset at the Commonwealth games accordingto the Olympic swimming champion who has vowed to cut out "the noise" until theParis Games in 2024.TheEnglish superstar, who drew criticism of his comments suggesting the Games werenot as important as the Olympics, was pushed into fourth place in the 100mbreaststroke in Birmingham. But the27-year-old bounced back in style to win the Commonwealth 50m title for thefirst time in his illustrious career, thumping the water in delight as the homecrowd went berserk. The last twoyears have been full of action outside of the pool for Peaty. His son George wasborn in September 2020 and a year later he announced he was taking part inStrictly Come Dancing where he finished 9th.Thecelebrity distractions however will not be happening again."Absolute no. It's business time now," he said when asked ifanother reality show was on the cards. "I just need to reduce the noise. Training has to bethe priority now because I have missed two winters."The annoying thing about sport is I don't know how much this(pointing to his foot which he fractured in May), or how much not training inthe winter took out of me. I just want to completely reset and go hard inSeptember."Whilerefusing to commit himself to the next Commonwealth Games – in regional Victoria2026 – Peaty insists the anger of missing gold in Birmingham will be his "jetfuel" for Paris. "I get angry thinking about it. It hit me hard. Reallyhard. I'll think of it for the next two years," he added."What other kind of jet fuel do I have? I've done everything inthe sport that I needed to do. I broke the world record that I didn't eventhink I'd get anywhere near."Now in my career, it's about how can I finish in the bestpossible way, whether that's two, four or six years."
2:45AM 'NOT SEXY': BROWNING'S SAD TAKE ON 100M FEAT
There's nothing sexy about finishing sixth, according to Australia's favourite Flying Mullet who was struggling to see the positives from the men's 100m final.
After a stunning heat win 24 hours earlier and a promising semi-final performance, Rohan Browning didn't have the legs to go for it in the race that mattered.
Browning knew he'd lost a medal chance after 20 metres when he was slow out of the blocks and from there it was a bridge too far.
He clocked 10.20sec with the gold medal going to Kenya's Ferdinand Omanyala in 10.02sec from defending champion South Africa's Akani Simbine (10.13sec). Sri Lanka's Yupun Abeykoon took bronze in 10.14sec.
"I think I leave Birmingham feeling pretty bittersweet," he said the morning after the night before.
"First, you know, major final in my career, but there is nothing particularly sexy about sixth place, you always want to be on the podium. Lots of lessons to take away.
"I think my confidence had taken a bit of a knock. No-one is really immune to that. But you know, you always want to leave high, you never want to peak too early, and that was the narrative I was telling myself leading into the Commonwealth Games."
Browning, 24, has had an interrupted season through illness and injury which he believes didn't have him ready to do three races in two days at a major championships.
So where to from here?
It's back to basics and looking for the positives.
11.30pm: DISASTER FOR AUSSIE CYCLIST
By Simeon Thomas-Wilson
A mechanical issue at the worst possible time has cost Australian Luke Plapp any chance of a medal in the individual time trial.
The 21-year-old young gun came out absolutely firing in the early stages of the 37.4km course around Wolverhampton.
But disaster struck at around the 20km mark when Plapp's chain first came off and then was jammed when he tried to fix it.
He had to get on a new bike, losing a minute, and with it his chances of a medal.
"Yeah look I was all in today. I was willing to put it all on the line and I wanted the fastest equipment and I took the fastest lines I could," he said.
"But unfortunately there were a few potholes on that, my chain came off and it got jammed.
"Look I really wanted to stay on that bike and get it working but I just couldn't get the chain out and one I knew I couldn't use that bike it was pretty much over from there."
11.20pm: AUSSIE DIVES TO THE LEAD
By Erin Smith
Australia's Shixin Li has breezed through to the final of the men's 1m springboard topping the leaderboard in the preliminary round.
He accumulated 388.7 points,1.15 points ahead of Scotland's James Heatly in second place.
Shixin Li's fifth dive was his best, scoring 73.10 points off his inward 2 1/2 somersault.
The Aussie 10m women's platform divers, Nikita Hains, Emily Boyd and Emily Meaney are up next at Sandwell Aquatic Centre.
WORLD CHAMP WANTS GOLD
By Scott Gullan at the track
World high-jump champion Eleanor Patterson is confident she can keep the momentum flowing and add another Commonwealth gold medal to her burgeoning trophy cabinet.
Patterson had her first look at Alexander Stadium in Thursday's qualifying where she was required to only do one clearance of 1.81m before putting her tracksuit back on.
The 2014 Commonwealth Games champion she said had come down to earth after her historic victory at the world championships in Eugene, Oregon, two weeks ago.
"I think I've come down to earth and have my feet firmly planted on the ground," Patterson said. "It's been nice to swing straight into another team environment.
"Going onto another major has been especially good. If it was any other competition maybe it would have been harder to come down.
"But being here in Birmingham and the excitement around it, I'm just continuing that excitement, to compete and to keep on going."
Patterson said she wasn't concerned about the unusually early starting time of 10.17am for Saturday's final.
"It's very strange for a major final but I'm not mad about it," she said. "We had a morning final at world indoors and I train in the mornings every day.
"I'm a morning person so I can wake up and be prepped and ready to go whatever time it is."
She stalled coming out of the blocks but it didn't matter for Australia's Grace Brown as she obliterated the field to claim the gold in the Commonwealth Games women's individual time trial.
The pre-race favourite Brown had a shocking start to her ride at West Park in Wolverhampton.
But that didn't matter one bit as Brown blitzed the field.
She was the quickest at the first checkpoint of the 28.8km course at 8.9km in, 4.53 seconds ahead of England's Anna Henderson.
The lead was over 20 second 19.2km in.
Despite the last rider on the road, Brown mowed down multiple opponents as she blitzed her way around the streets of Wolverhampton.
One of the riders she caught started three minutes ahead of her.
Her time for the 28.8km route was 40:05.20, 33 seconds ahead of Henderson.
By Erin Smith
Australia's hearts were broken in the dying minutes of the Diamonds showdown with Jamaica.
Four years after beating their Carribbean rivals to secure a gold-medal play-off against England, Australia was on the receiving end of a cruel defeat this time, going down 57-54.
it was the first time in netball history that jamaica had ever beaten the Diamonds sparking incredible scenes of jubilance and celebration as the siren went.
Kate Moloney moved around the court like an F1 driver manoeuvring a Ferrari around Silverstone – her engine, which didn't miss a beat – but it fell just short.
Moloney, who starred at centre, was at the heart of every play, offensive and defensive and was vital to the Diamonds' securing them second spot in their pool.
It was always going to be a close encounter with both sides familiar with each others' style of play thanks to the Super Netball competition.
Neither team had dropped a match heading into the game – with Australia amassing 331 goals across their first four games – The Sunshine Girls just behind on 321.
Injured Aussie midcourter Paige Hadley has once again been ruled out, leaving Diamonds with just 11 players on the team sheet.
NETBALL: SHOULD HADLEY BE IN BIRMINGHAM?
By Emma Greenwood
Former Diamonds captain Caitlin Bassett has backed Australia's decision to carry midfield ace Paige Hadley into the Commonwealth Games with a calf injury and still believes group is on track to advance to the gold medal game. Bassett, who was part of Australia's heartbreaking one-goal loss in the 2018 Commonwealth Games, revealed she headed into the Gold Coast Games with an almost identical calf injury to the one that Hadley brought into Birmingham.
"So I completely understand the reason why they kept her in because they obviously had been managing it, " Bassett said.
" I guess you just don't know what's going to happen in the game."
Hadley appeared to exacerbate the injury in the Diamonds' clash against Wales on Tuesday but Bassett, who recovered from her own issue in 2018 to play a key role for the Diamonds, backed Hadley to do the same.
" I've actually been in her situation, and so she would have been doing all the right things in the lead-up," Bassett said.
"I know it's tough for her but she's getting it looked at all very well by the physios and medical staff and they manage that.
"No doubt we'll see her back for finals and she will be doing everything to get out there."
NETBALL: THIS MATCH IS NUTS
Q3 34-32 apiece with 10 to go
If you're not watching the Diamonds against jamaica you're missing on of the fiercest netball contests I have seen in a very long time.
Be gone the cricket scores we have seen in the early pool matches this Comm Games, there is nothing in this.
The first quarter of the Diamonds v Jamaica clash had it all – but the Aussies fought back from being four goals down to taking a one goal lead into the break.
Centre, Kate Moloney is thriving off the intensity and has been involved in every play.
Diamonds will have to dig deep if they want to get the win. They go into the break up 14-13.
Still no sign of Paige Hadley for anyone wondering.
IS THIS THE BEST RIG OF THE GAMES?
The pin-up of world swimming Ben Proud powered to win 50m freestyle at the Commonwealth Games.
England's Proud, who won the world title in Budapest in June, qualified third fastest for the final but the result was never in doubt.
Another thing that was never in doubt was the sprinter's status as the owner of the best rig in Birmingham.
With his signature windmill freestyle, the popular swimmer was third quickest in the heats, but he easily led the final and never looked back. It was the 27-year-old's third straight 50m freestyle Commonwealth title.
"This is what the whole thing's about," he said after the semi final.
Proud finished ahead of Lewis Burras and third was Canadian Joshua Leiendo Edwards, who has had a breakthrough international meet.
Australia's Tom Nowakowski finished sixth and Grayson Bell eighth.
Diamonds ready for first real test
– Erin Smith
More than 9000 fans have filled the stadium at NEC Arena tonight to watch Australia and Jamaica fight for the top spot in their pool.
It will be both sides' first real test of the Games after cruising through the round games.
Diamonds have scored 331 goals across their first four games – The Sunshine Girls just behind on 321.
Injured Aussie midcourter Paige Hadley has once again been ruled out leaving Diamonds with just 11 players on the team sheet.
It will be an interesting game with both sides familiar with each other due to the majority of players all starring in the Super Netball league.
The match, due to start at 6pm AEST, will be the 50th Test cap for Australian defender Jo Weston.
Regardless of the result Australia and Jamaica are both through to the semi-final and will play off against England or New Zelaand depending on how their match plays out later tonight.
Starting line up:
Diamonds
GS: Gretel Bueta
GA: Steph Wood
WA: Liz Watson (Captain)
C: Kate Moloney
GD: Jo Weston
WD: Ash Brazill
GK: Courtney Bruce
Substitutes: Kiera Austin, Sunday Aryang, Sarah Klau, Cara Koenen
Sunshine Girls
GS: Jhaniele Fowler
GA: Shanice Beckford
WA: Khadijah Williams
C: Nicole Dixon-Rochester
WD: Jodie-Ann Ward
GD: Latanya Wilson
GK: Shamera Sterling
Substitutes: Shimona Nelson, Kadie-Ann Dehaney, Shadian Hemmings, Rebekah Robinson, Adean Thomas
Swimmer reveals SpongeBob diet
What does every athlete crave once a major competition has ended? Fast food apparently and that's just what Aussie swim champion Elijah Winnington sought out after his impressive medal haul at the Commonwealth Games.
Fresh from winning gold in the 400m freestyle and 4x200m free relay and then bronze in the 200m, Winnington admitted that it was all pizza, ice cream and SpongeBob.
"I will put my hand up, I think I've had pizza every meal since I finished swimming on Day 4," he told Channel 7. "So I've had about…I mean, it's only been, what, two days and I think I had maybe seven or eight pizzas.
"I actually went straight to the village where there's a little shop, you can buy these massive tubs of Ben & Jerry ice-cream. (I thought) Alright, I'll get one, treat myself. It will last me two days…I sat down and watched an episode of 'SpongeBob' and it was gone by the end of it."
Winnington is well known for posting SpongeBob SquarePants content on his Instagram account. An avid fan of the cartoon, it's his go to show pre- and post races.
"Everyone knows that's my thing," he added.
"Calms me down, gets me ready. No-one can hate on me, it's the greatest show on earth. It's all over my Instagram.
"People actually think that I'm just having a laugh, but it's actually a good show. I think I just find it so hilariously funny."
Originally published as Commonwealth Games 2022 day 7: Cult hero Matt Denny wins gold and sets personal best
Commonwealth Games 2022 live results, medal tally, Matt Denny gold , Rohan Dennis, bellyflop, England netball Source link Commonwealth Games 2022 live results, medal tally, Matt Denny gold , Rohan Dennis, bellyflop, England netball