Australia
Commonwealth Games 2022 live results, medal tally, Peter Bol time, Netball Australia Diamonds v Jamaica, schedule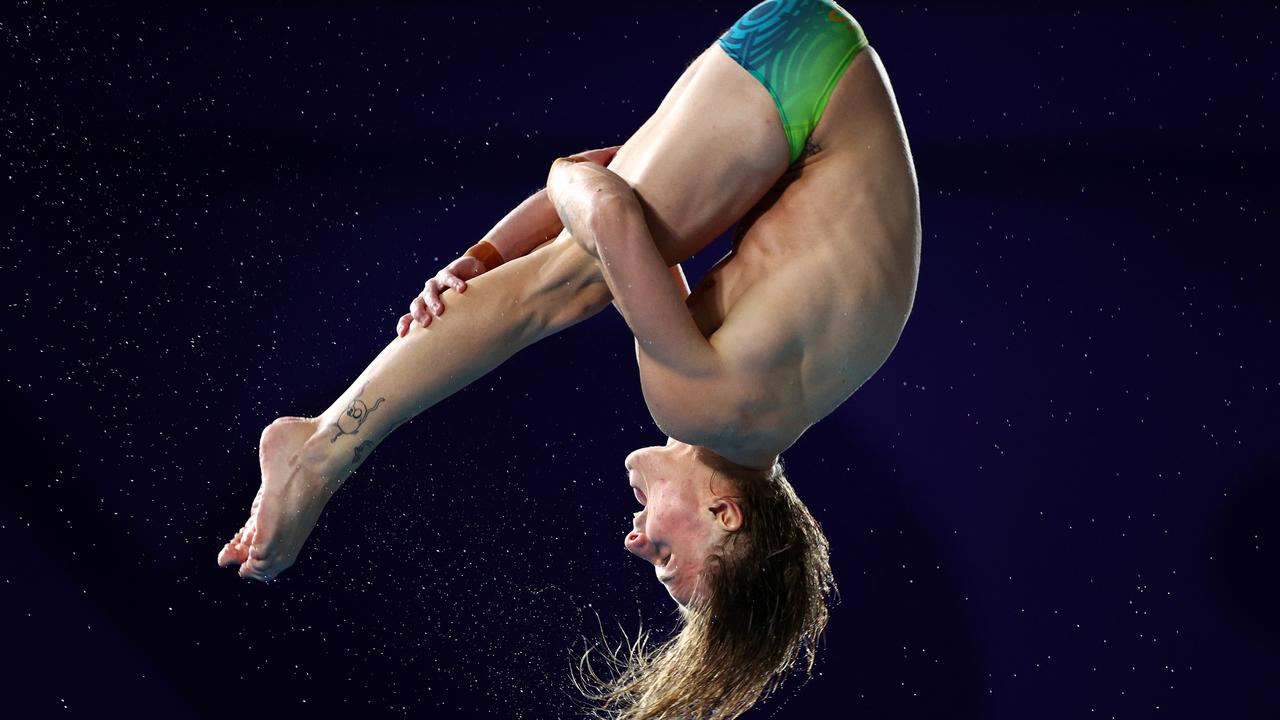 Taking his lead from Olympic swimming champion Kaylee McKeown, who dropped the F-bomb after winning in Tokyo, there was only ever going to be one way Australia's Cassiel Rousseau could describe his incredible gold medal winning dive at the Commonwealth Games.
"That was f***ing insane," he shrieked. "What the f*** was that? Holy s**t."
Rousseau wasn't the only one blown away by his astonishing last dive that won him the gold medal in the men's 10-metre platform final in Birmingham.
One judge gave him a rare perfect score – 10 out of 10 – while the rest gave him the highest score for any dive in the competition when he nailed a four and half forward somersault, one of the trickiest and most dangerous dives off the high tower.
But the 21-year-old pulled off when he needed to to win the gold ahead of Canadian Rylan Wiens, who had also impressed the judges with his last dive, leaving Rousseau needing someone extraordinary to win the competition.
"There was a lot of pressure on that last dive and I think I handled it pretty well," said Rousseau.
"I said to myself, 'if I land on my stomach or if I do actually land on my head, I'm not going to care at all'. I'm going to give it my all and see what I actually have in store. Before I was about to run, there was absolutely nothing in my head and I just went for it.
"I did know straight away. As soon as I hit the water, I knew that I was going to get some bloody high marks."
FOLLOW THE DIAMONDS v JAMAICAN FOR GOLD IN THE NETBALL
By Scott Gullan
Peter Bol has finished second in the Commonwealth Games 800m final behind defending champion Wyclife Kinyamal.
In a slow race Bol settled second on the shoulder of the Kenyan but Kinyamal kicked with 250m to go and got an important break.
The Australian chased hard down the home straight but had to settle for second with Kinyamal winning in 1min47.52sec with Bol coming in next 1:47.66sec.
England's Ben Pattison was third in 1:48.25sec.
"What an environment and atmosphere, so close but will take second today," Bol said afterwards. "And pretty happy with that, to be honest. It is a strange race again, super slow but the 800 is super tactical.
"I thought, stay relaxed, stay relaxed but he is so strong and kept going and going. It's just racing, I raced the best I could and came up short but… Silver medal in the Commonwealth games we are second which is really good.
"There is a lot pressure, a lot of noise but that is what we do for an sport and what we love. Very happy to go up against them. To be favourite and come second, I'm happy.
"I want to say a massive thanks to my family, especially my parents for about three years I'm so grateful for them. This is for them, this is for my family, this is for the country."
AUSSIE HEARTS BROKEN
By Joe Barton
The Hockeyroos have had their hearts ripped out for the second time in four years, repeating their Gold Coast anguish with another gold medal match defeat – this time to England.
After New Zealand broke their hearts to consign Australia to silver in 2016, England twisted the knife a little more with a clinical 2-1 win in front of a parochial crowd at the University of Birmingham.
Undefeated through the tournament, Australia's players were left devastated after the match – but in truth they were thoroughly outplayed for 60 minutes in energy-sapping conditions.
Whatever they tried, Australia were simply unable to create chances to pressure England's Madeleine Hinch in goals.
Rosie Malone slapped home a tight chance with 19.4 seconds to go, giving Australia the slimmest of chances. But there was to be no miracle this time.
Even the normally watertight defence, that conceded no goals for the first 289 minutes of Australia's campaign, had holes for the first time all week.
England's opener, through Holly Hunt midway through the second quarter, came when the midfield star was left all alone at the top of the circle with enough time to trap the ball and thunder home a goal low and hard past Aleisha Power.
Within five minutes, England had gone 2-0 up after another Australia error.
This time a loose back pass was intercepted by England, triggered an attacking raid that finished with a classy deflected touch from Tess Howard into the roof of the goal.
At 2-0 down at the break Australia faced a mountain to climb, having not scored three goals in a match – let alone a half – since their 5-0 win over South Africa in their second pool game.
And England came within a whisker of securing an insurmountable lead when Anna Toman thundered a penalty corner goalwards shortly before the three-quarter break, only for it to clatter into the post and zip across the goalface to safety.
With 90 seconds to go the crowd broke out into a chant of "hockey's coming home", to borrow from the tune that met the England women's football team's throughout their success at the Euros last month.
By Will Swanton
There's drama at the T20 cricket final at the Commonwealth Games, with Australia's gun allrounder Tahlia McGrath testing positive to Covid before being allowed to play against India at Edgbaston. Australia made 8-161 after captain Meg Lanning won the toss and elected to bat in front of a full house of 20,500.
The toss was delayed for 12 minutes amid claims India wanted McGrath to be ruled out. Her name appeared on the team sheet but she was nowhere to be seen during the national anthems … or in the Australian dugout. She sat alone on a chair in the players' tunnel, wearing a mask, awaiting her turn to bat.
Commonwealth Games Australia said in a statement: "McGrath presented to team management with mild symptoms on Sunday and subsequently returned the positive test. She was named in the starting XI at the toss and the International Cricket Council (ICC) approved her participation in the final."
Australia lost Alyssa Healy (seven) cheaply before Lanning hit a sparkling 36 from 26 deliveries, only to be run out by centimetres when she had to get her bat around India bowler Radha Yadav. McGrath walked well away from Lanning when it was her turn at the crease but she did a mid-pitch conference with Mooney. Arguably Australia's most valuable T20 player, she made just two runs before returning to her seat. Mooney peeled off a measured 61 from 41 balls before falling to the catch of the tournament by Deepti Sharma. Ash Gardner belted 25 from 15 deliveries as Australia reached a decent total.
There was drama at the T20 cricket final at the Commonwealth Games, with Australia's gun allrounder Tahlia McGrath testing positive to Covid before being allowed to play against India at Edgbaston.
The toss was delayed for 12 minutes amid claims India wanted McGrath to be ruled out but she's on the team sheet. Australia has won the toss and batted.
McGrath was absent from the lineups when the teams sang the national anthems.
She was pictured sitting alone in the stands with a mask on while Australia batted.
By Eliza Barr
Australia has saved three match points to clinch a thrilling victory over Canada in the men's beach volleyball final.
Chris McHugh, who also took gold at the Gold Coast games, and his debutante partner Paul Burnett slumped to the sand in excitement and relief after securing their nerve-racking win.
The Canadians won the first set, and Australia the second, before a point for point contest in the tie breaker finishing with Australia triumphing 20-18.
Both teams battled 40 degree court temperatures in a contest that tested the nerves of supporters from both teams.
Even the umpire was feeling the heat and had to be replaced during the match.
England have also taken the bronze medal after their contest with Rwanda, who were defeated by Australia in the semi final.
CLUTCH KELSEY-LEE DELIVERS WHEN IT MATTERS MOST
By Scott Gullan
Kelsey-Lee Barber has done it again, waiting until her final throw to claim the Commonwealth Games javelin gold medal.
It is the third time in her career that Barber has delivered at the very last moment, this time throwing 64.43m to overhaul her Australian teammate Mackenzie Little by 16cm.
In 2019 at the Doha world championships she won her first world title with the last throw of the competition and at the Tokyo Olympics she surged into the bronze medal position with her last throw.
Adding to her performance in Birmingham was the fact she has spent most of the past week in isolation after catching Covid when she arrived at Australia's team camp in Tonbridge.
Barber wrote her name into the history books last month when she became the first woman to win back-to-back world titles in Eugene, Oregon.
Little seemed destined to win her first major title after again showing her penchant for delivering big at the start of competitions.
The former NCAA champion opened up the final with a personal best of 64.03m.
It was exactly the same thing she'd done in Eugene, launching a personal best 63.22m with her first throw before slipping down to fifth as Barber and others passed her.
But this time Little, 25, threw another career best, 64.27m, with her second-last throw to have the Commonwealth title at her fingertips.
Enter Australia's greatest clutch performer.
Barber, 29, got the crowd clapping behind her and then calmly did what she does best, delivering when the pressure was at its highest.
She had revealed in the lead-up to the final that she was still testing positive to Covid when she arrived in Birmingham.
A Commonwealth gold medal was missing from her career CV given four years ago on the Gold Coast she had to settle for second behind her Australian teammate Kathryn Mitchell.
12:43AM HOCKEYROOS HEARTBREAK?
By Joe Barton
Heartbreak is on the agenda for the Hockeyroos again, with Australia trailing 2-0 in the gold medal match against England.
In warm conditions, Australia have been thoroughly outplayed through to halftime, conceding twice in the space of five minutes in front of a raucous home crowd.
Australia lost key defender Karri Somerville before kick-off, with the young star unable to recover from the facial injury suffered in Thursday's semi-final win over India.
After a cagey first quarter, England struck first midway through the second when Holly Hunt found herself in acres of space at the top of the circle, trapped and fired low and hard past Aleisha Power.
Australia's defence was breached again when a back-pass error led to a powerfully struck pass – and then deflection into the roof of the goal, by Tess Howard.
Four years ago Australia were hot favourites to win the last Commonwealth Games title on home soil, but were shocked 4-1 by fierce rivals New Zealand.
By Eliza Barr
Olympic gold medallist Ma Lin has narrowly missed out on yet another gold medal, taking silver in an intensely competitive men's singles para table tennis match at the Commonwealth Games.
Ma is a serial gold and silver medallist in para table tennis for China, competing at the Beijing, London and Rio Olympics before switching to represent Australia in 2019.
He has been searching for his first gold for Team Australia ever since after picking up silver in the men's class C9 at the Tokyo Olympics in 2021.
After a fiercely competitive first game that went Stacey's way at 25-23, Ma cruised through 11-5 and 11-9 in the second and third games, before Stacey struck back in the fourth with 11-6.
Stacey was too good again in the fifth and final set, winning 11-5 and taking the gold medal.
'RED-HOT RACING': PAINFUL DEJA-VU FOR JENNEKE
Michelle Jenneke missed out on a Commonwealth Games medal by just 0.09 seconds.
The Australian hurdles star, plagued by injuries in recent years, was agonisingly close to a spot on the podium and produced a time just 0.02 off her personal best.
Defending champion, world champion and world record holder Tobi Amusan won the gold in a Games record time of 12.30 seconds.
The result is something of a deja-vu for Jenneke who missed out on a medal at the Gold Coast Games by just 0.01 seconds.
On paper fifth place mightn't be the result she wanted but Jenneke couldn't be happier about her career resurrection.
Australia's dancing hurdler produced another fast time in a hot field which she says is more important than where she finished.
History says Jenneke would have possibly won or definitely medalled at previous Commonwealth Games with that performance.
"That is by far the fastest race that has ever been at a Commonwealth Games," she said. "The previous Games record was 12.65 and that was just absolutely obliterated.
"So it's like fifth at the Commonwealth Games probably doesn't sound that impressive but in that field I tell you what it really is because that was red-hot, all the girls are absolutely incredible.
"(My time) would have won or come second at most Games but it shows the depth of the field here. I much prefer that, it's always nice to come away with a medal but to be out here performing at my best, I'm really happy with it."
By Julian Linden
Veteran Australian boxer Kaye Scott has won the silver medal at the Commonwealth Games after being beaten up in the gold medal bout by Rosie Eccles of Wales
Scott, the oldest fighter in the Australian team, was stopped in the second round after getting a third standing count.
The 38-year-old Scott, a former dancer, shook her head in disappointment when the referee called an end to the contest but she had already taken a lot of punishment and Eccles was in complete control.
Eccles, 12 years younger than Scott, also beat the brave Aussie in the semifinals at the last Commonwealth Games in 2018 when they were both welterweights.
Australia has also won three bronze medals in the ring at Birmingham and is guaranteed a fifth medal – either gold or silver – when teenage middleweight Callum Peters fights Scotland's Sam Hickey,
DEVASTATED AUSSIE STAR SPEAKS AFTER 'AMATEUR HOUR' SLEDGE
An Australian sprinter has spoken of his devastation after a freak accident ended any hope of a medal in the men's 4×100 relay.
Jacob Despard, one of Australia's four athletes to compete in the heats, took to social media after the world was left stunned as Rohan Browning hit the floor as he went to pass the baton.
The team had a top-three finish and qualification in their grasp.
A shattered Despard posted on his Instagram stories saying: "Hey guys, obviously pretty raw what's just happened. Thanks for all the messages of support and everyone sliding into my DMs.
"I probably won't reply for the next few hours but I'll get to you guys in the next couple of days. I just wanted to jump on and say positive still. Obviously what happened is a freak accident and to work this hard and then not get a result is very devastating to say the least. "Love you all and appreciate every single one of you for all the messages and comments and everything for the last few days and leading in. I'll speak to you soon and thanks from me."
By Simeon Thomas-Wilson
Australia's dominance of the road cycling program has continued at the Commonwealth Games with Georgia Baker winning the road race in Warwick.
It is Baker's second gold medal of the Games after she won the points race on the track and made the seamless transition to the road, winning in Warwick in a sprint.
Baker's win came after a dominant performance by the strong Australian team in the road race, completely setting the tone throughout.
The flatness of the 112km course around Warwick meant it would be hard for any breakaway group to emerge.
But that didn't stop England's Anna Henderson from trying, as she attacked again and again in the first 50km in an attempt to break the peloton.
It did whittle away the lesser riders, but with the strong Australian team cool and collected at the front of the peloton they were able to bring the Englishwoman back.
Henderson, along with five other riders including Australia's Ruby Roseman-Gannon, did get away for a brief period with less than an hour racing to go.
Their lead did get to 16 seconds over the main bunch, but a counter by Australia's Grace Brown brought the peloton back up the road.
With one lap to go Australia of the 16km course to go the Australian team was in a strong position as the kilometres ticked down to a bunch sprint.
Scotland's Anna Shackley tried to make a move with 10km to go but as what happened throughout the race she was reigned back in by the peloton and Australia went to the front and started to dictate it.
England also came into the final three kilometres in a good position with the two fierce rivals taking control of the race in the closing stages.
Individual time trial winner Grace Brown did a mountain of work for the Australian team at the front of the race, with Brodie Chapman taking over from her with 1.6km to go.
Ruby Roseman-Gannon, Alex Manly and finally Sarah Roy then took turns to lead-out Baker, who put in a long dominant sprint to take out the race ahead of Scotland's Neah Evans.
A Games record in the women's hurdles with Tobi Amusan obliterating the time 12:30. Charlton with silver and Cindy Sember with bronze.
Australia's Michelle Jenneke finished 5th 12.68 and Celeste Mucci 7th.
Great run by Jenneke she's having a terrific season.
By Simeon Thomas-Wilson
Australia's mens cycling team has suffered another huge blow with Rohan Dennis withdrawing from the road race after he was taken to hospital.
Dennis won the individual time trial on Thursday but AusCycling has announced that he woke up on Friday in "discomfort".
He was taken to a local hospital for tests and assessment.
AusCycling said as a precaution, Dennis was advised to withdraw from today's road race, but remains comfortable and under observation.
It follows on from Caleb Ewan withdrawing from the race after shoulder surgery.
THE UNLIKELY STAR LEADING AUSSIE HOPES
By Emma Greenwood
The Diamonds path to netball redemption rests on the shoulders of a woman that seemed unlikely to even make the squad at the start of the year.
Few would have bet on Kate Moloney being the woman to lead the midcourt charge in Birmingham after she was left out of Australia's line-up for the Quad Series final in England, seemingly behind Paige Hadley and Jamie-Lee Price in the Diamonds' pecking order.
But she won a tight race over Giants player Price for the final midcourt spot in the Commonwealth Games squad and was thrust into a starting role after Hadley exacerbated a calf injury early in the tournament.
The Melbourne Vixens co-captain has won plenty of fans for her stirring speeches and poise under pressure in Australia's Super Netball league.
And while there are seven players on court, Moloney's Diamonds status will be forged under the pressure of the final, with her role in helping control the match tempo and feeding the Aussie shooters crucial to the outcome of the match.
Hadley was one of the stars of the Diamonds' Quad Series win in January but even if she is able to make a miraculous recovery after being completely rested from the semi-final and pool game against the Sunshine Girls, there's little chance she will be able to run out a full game.
Commonwealth Games gold medallist and former Vixens captain Bianca Chatfield is among those backing Moloney though, saying her passion and effort will be crucial for the Diamonds.
"When it comes down to a clutch game and a clutch final, I would want her out there on the court because I know she will give it everything," Chatfield said.
"I know that's such a cliche in sport. Sometimes that energy and effort is to her disadvantage but in this scenario, I think it's working so well for them and what would be a very calming influence for her would be having Liz (Watson) there.
"They know each other so well."
RETURN OF THE KING: CHALMERS' AFL LINKS AFTER TIGERS POST
Kyle Chalmers has wasted no time settling back into Aussie life after returning from Birmingham.
The swimming champion was snapped catching up with Richmond AFL star Marlion Pickett at Adelaide Oval after the Tigers' victory over Port Adelaide.
Chalmers has long been tuoted as a potential AFL talent and he reportedly met with two clubs last year about the possibility of being listed as a category B rookie.
Chalmers, a die hard footy fan, was snapped playing with a ball on the pool deck during day one of the Commonwealth Games.
'AMATEUR HOUR': AUSSIES BLASTED FOR RELAY CALAMITY
Dual Commonwealth Games gold medallist John Steffensen has savaged Australia's calamity in the men's 4×100 relay, calling Rohan Browning's fall "amateur hour".
The Australians missed out on the final after 'flying mullet' Browning stumbled and missed a changeover when they had a top-three finish and qualification in their grasp.
Steffensen, who won two gold medals at the Melbourne Commonwealth Games in 2006, said he could not fathom Browning's approach to the race.
"If that was a final, I'd kind of accept it because you really want to push your relay change zone passovers," he said on Channel 7.
"You really want to push them out a bit, you want to take a bit more risk because you're running against the best, or some of the best in the world, in the Commonwealth.
"But that was amateur hour last night. To see what happened with Rohan, I don't know what was going through his brain."
Steffensen described the fall, which left Browning shattered, as "very weird".
"Accidents happen, mistakes happen track and field, yes, I get it.
"But it's one of those things, I've done it (many) times in training. Sometimes you want to push, you really push the barriers and the angle you want to come out of your drive because that's how you go fast.
"In training you sort of go low, low and you will sort of work your way back up. Then you find a comfortable position that you can take off from."
Four-time Commonwealth gold winner Jana Pittman said any suggestion Browning had stumbled due to running on the bench would be wide of the mark.
Fellow sprint star Matt Shirvington said he knew how Browning would feel after being involved in a similar incident at the 2006 Commonwealth Games.
The Australians appeared certain to finish in the medals in the 4x100m relay in Melbourne when Shirvington took off too early at the last changeover.
He said Browning and his teammates would be "gutted".
"Rohan more than most of them because the other boys have been there waiting to compete," Shirvington told Channel 7.
"Rohan knows that coming into this he was going to have quite a bit of speed, he's in good shape.
"I kind of laugh at it though, because I have been there, pretty much if you have run relays as a sprinter you have been there at some point. We have seen everything in relays.
"But what I love about this is Rohan gets back up and starts running to try and make the change. I love that he didn't quit there.
"They were probably going to be disqualified anyway."
Shirvington said "about 25 per cent of teams" were disqualified in relay races.
"I have been there before, I've been there a couple of times," he said.
"I have been there at a packed MCG at the Commonwealth Games at the same change in the final and we haven't made it happen."
COMM GAMES HISTORY BECKONS FOR AUSTRALIA
Australia is on the cusp of Commonwealth Games history as it closes in on becoming the first nation in the event's history to win 1000 gold medals.
The Aussies finished Day 9 of competition in Birmingham with 59 gold medals, requiring a further seven to reach the historic mark.
Confidence will be high among the Australian team that the 1000-gold record can be achieved at this year's games, with several strong medal chances still to compete.
Australia is in contention for gold in the men's and women's beach volleyball and men's and women's hockey and has reached the women's T20 cricket and netball finals.
We also boast a host of strong medal chances in the track and field in coming days, headlined by 800m star Peter Bol.
It promises to be an exciting end to the Birmingham games as Australia eyes 1000 gold medals and beyond.
Scroll down to see the full medal tally below.
COMM GAMES' ANSWER TO 'ERIC THE EEL' WINS CROWD OVER
Tim Michell
Solomon Islands athlete Rosefelo Siosi has become a Commonwealth Games cult hero after his gutsy performance in the final of the men's 5000m final.
Sioisi was the last of 18 runners to finish in a time of 17:26:93 secs, more than four minutes behind winner Jacob Kiplimo of Uganda.
The 25-year-old had the track to himself for more than two and a half minutes after Tebello Ramakongoana finished 17th and the Birmingha crowd lapped up his resolve to finish the gruelling race.
Siosi was willed on by loud cheers in his final lap, providing memories of Eric 'The Eel' Moussambani's efforts in the 100m at the Sydney Olympics.
Siosi was congratulated by several of his competitors after crossing the line.
Yeshnil Karan (Fiji) and Avinash Mukund Sable (India) were the two runners who did not finish.
Kiplimo finished ahead of Kenyan pair Nicholas Kipkorir Kimeli and Jacob Krop to clinch another gold.
Originally published as Commonwealth Games 2022: Latest news, results and medal tally from Day 10
Commonwealth Games 2022 live results, medal tally, Peter Bol time, Netball Australia Diamonds v Jamaica, schedule Source link Commonwealth Games 2022 live results, medal tally, Peter Bol time, Netball Australia Diamonds v Jamaica, schedule