Australia
England v South Africa: first Test, day three – live! | England v South Africa 2022
Key events
Lunch: England 38-2, 123 runs behind
Have you got tickets for day four? You might not get to use them as South Africa have ripped two English wickets for just 38 runs to leave their hosts staring up at a mountain. Maharaj has two, Rabada could have had one of his own had Petersen not dived in front of Markram in the cordon and drop Lees in the third over.
Lees endures and is on 12 but he'll be desperate for a meaty partnership with Root who once again has to dig his team out of a deep hole.
That's lunch. I'm going to grab a bite. Will stick a few bits up in the interval and will catch you after the break.
Wicket! Pope lbw Maharaj 5 (England 38-2)
What in the what! Keshav Maharaj is tearing up the script with yet another wicket! He generates a little extra zip off the surface and it rushes past Pope who is on the back foot and looking to push it into the leg side. Umpire Richard Illingworth doesn't think it's hitting but the South Africans are convinced and review immediately. It proves the right decision. It's sliding on to hit the top of leg and Pope is gone. He joins Crawley as an unlikely victim of a remarkable cameo from Maharaj.
11th over: England 37-1 (Lees 11, Pope 5) Rabada is generating extra lift. One ball to Pope angles in sharply and takes the thigh pad for four byes. Rabada adjusts his line and the rest of the over is a challenge for the right hander. But he handles it with relative comfort but that seam and bounce is promising for the the Proteas' premier paceman.
10th over: England 33-1 (Lees 11, Pope 5) South Africa's seamers denied Maharaj a chance to bowl in England's first innings and English fans will be more familiar with Simon Harmer, but for those not in the know I firmly believe that Maharaj is the best spinner SA has ever produced. This is another lovely over with drift and turn and bounce. Lees gets a sweep away for a single and Pope, who plays spin well, nurdles a single off the back foot. Will be an interesting to see how the England batters handle Maharaj. They'll want to target him but that might play into the Saffa's hands.
"How long's an over?" The first time I took my partner to the cricket I met with this question. Perhaps a better query would focus on the nomenclature instead.
Thankfully Nick Lewis offers some alternatives:
"Thinking on, "over" is an odd collective noun for six deliveries. Pedantry be damned! Cluster, bag, bunch. All acceptable alternatives. Although I find myself leaning towards something altogether more militaristic. Phalanx, maybe. Fusillade. Salvo! Broadside? A Broad broadside. For the ages. Yep."
Quality, Nick…
9th over: England 31-1 (Lees 10, Pope 4) Lees gets forward and punches Rabada down the ground for three. It deserved four, it really was a wonderful shot. Pope is at it again, busy at the crease, working a couple past backward point and another one wide of mid-on. One of these fellas needs a daddy ton if England have any designs on winning. They can't just bank on Root-Bairstow-Stokes again.
8th over: England 21-1 (Lees 7, Pope 1) Keshav Maharaj didn't bowl a single ball in England's first innings of 45 overs. He comes into the attack in the 8th over , much to everyone's surprise and immediately gets the first wicket. Big job ahead of England. They really needed a solid opening partnership but Crawley fails yet again. Surely they can't stick with him any further. At this point they're doing him more harm than good.
Wicket! Crawley lbw Maharaj 13 (England 20-1)
Just as I was typing my shock at Elgar's decision to bring on Maharaj in the 8th over he goes and bags the breakthrough. It's a gif really and could be the last we see of Crawley in an England shirt for some time. It's not a particularly special ball, just full and flighted around a middle stump line. Crawley gets down early and looks to play a swishing sweep but misses it by a mile and he's dead in front. Doesn't review the decision. He knows he's cooked. England one down and 141 runs behind.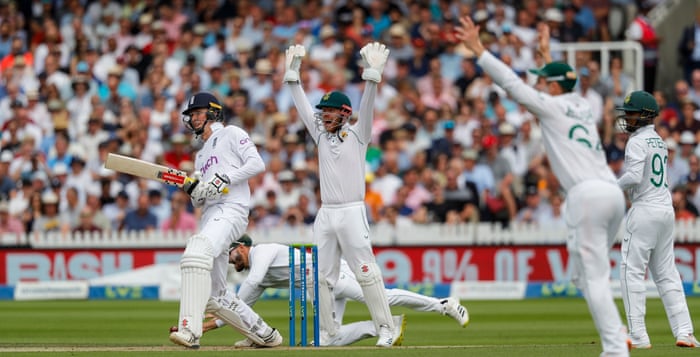 7th over: England 18-0 (Lees 7, Crawley 11) Rabada keeps probing on that good area except when he gives Lees a little width and it's bunted, not timed, through the covers for a couple. It looked good though. Sort of Lara-esque (I said sort of, don't get cross with me).
"South Africa's bowling attack really is impressive and covers so many bases. It's a shame they've had to wait so long to tour here again, and it's lovely to be able to watch them go about their work in good bowling conditions. With that in mind it's really grating to see people crowing about England's approach being found out – they weren't noticeably overagressive in the first dig with only a couple of wickets gifted with reckless strokes. Maybe credit the opposition bowlers for once"
100% William Vignoles, I couldn't agree more. Though I think almost everyone would agree that this SA bowling unit is one formidable force. And you're right, it's such a shame the schedule is what it is. I'd happily watch this team bowl with a red ball all year round.
Jonathan McKinley is the first today to mention the 'B-word'. Fair play to you all. I thought it was coming a lot sooner than this:
"Dean Elgar may pooh-pooh the phenomenon formerly known as Bazball, but South Africa scored their first innings runs at exactly the same rate as England, a racy 3.66 per over. He has some explaining to do."
6th over: England 16-0 (Lees 5, Crawley 11) Crawley plays one terrible shot and gets two and one very good shot and gets nothing. The first is a howler as he looks to flick Ngidi through square leg with the angle but gets a thick edge and it pops high towards cow corner. Later in the over the tall batter gets abig stride and meets the ball with the middle of his bat but drive goes straight to the man at short extra cover. Anyone who has held a bat will tell you that those good shots for nothing might not add to your score but they do boost the confidence. And Crawley will need all the help he can get.
"When you said I was 'squeezing' onto the bandwagon are you saying I'm a bit too short for my width? Ok I may have put weight on during that prolonged tea interval (covid)."
No judgment here Nigel Smith. My belt buckles have felt the impact of lockdowns and a first child.
5th over: England 14-0 (Lees 5, Crawley 9) Rabada spins Crawley round as he squares him up from a back of a length prover. It takes a leading edge but plops harmlessly towards cover. Crawley then takes two past point and a single down to fine leg. Lees sights a bit of width and goes chasing it, narrowly avoiding an edge that would have made him ill had it cost him his wicket.
4th over: England 11-0 (Lees 5, Crawley 6) Ngidi has got one to jag back into Lees who leaves well despite it almost kissing his off peg. Ngidi was miserly in the first innings and he's nice and tight here again. Good line, good length, around the top of off stump. Ngidi has made a name for himself over the last few years with the white ball but he's proving his all round skills. Often the forgotten seamer in this attack. I for one love watching him bowl.
Oh, the cricket. Right. Crawley takes the only run from the over with a little dab past short leg.
Pete Salmon is keeping the cricketless OBO chat going (still a bit odd to me, but then this is an odd tribe we have, isn't it?)
"Just got to jump in again about picking teams for dice cricket (11.52) – I think the OBO host chooses teams, so we can argue about selection, normal style. Oh, and given this is OBO, no franchise-type selections! The teams will be called things like England, Australia, India, South Africa… Yes, the occasional Best of XI, but still called England, Australian, India, South Africa… Fight the power."
You know what, I'm coming round to the idea actually.
James Cavell in Amsterdam has come to our rescue:
"Barring the first day of any Test match, it is the batting team captain who dictates the rolling conditions. According to the Law 10. (a) of the ICC Rules of Cricket written and interpreted by the Marylebone Cricket Club (MCC), which entails "Preparation and Maintenance of the Playing Area": "During the match the pitch may be rolled at the request of the captain of the batting side, for a period of not more than 7 minutes, before the start of each innings, other than the first innings of the match, and before the start of each subsequent day's play." Further, Law 10. (c) elucidates on the 'Choice of rollers' as: "If there is more than one roller available the captain of the batting side shall choose which one is to be used."
Ta very much.
3rd over: England 10-0 (Lees 5, Crawley 5) There's a dropped catch in the slips! Petersen at third slip dives in front of Markram at second and shells what should have been a routine dismissal. Rabada is seething as Lees should be on his bike.
It won't help the bowler's temperament that Lees played a lovely back foot punch to the extra cover fence earlier in the over or that the entire set (that's for you Nick) cost seven runs. England will need a bit of luck as they go.
"Unlike some I have nothing against The Hundred. It's cricket. It's on my telly. No complaints. But whilst test match cricket still exists….. Stuart Broad did not just bowl a set!"
Sorry to upset you Nick Lewis. But we don't police language on these pages. I for one like calling an over a 'set' on occasion, it helps keep things fresh in my opinion. I could also use a cluster, a bag or a bunch. Who knows. I'm just getting warmed up!
2nd over: England 3-0 (Lees 0, Crawley 3) Ngidi is on the money immediately, getting it to nip sharply with the slope from the Pavilion End and cramp Crawley. There's an appeal for lbw but it's always going over. There's also a squeezed couple backward of square on the leg side which has the man at short leg interested. Crawley rounds the over out with a more confident dropped single to the off side. Good start from the Saffas.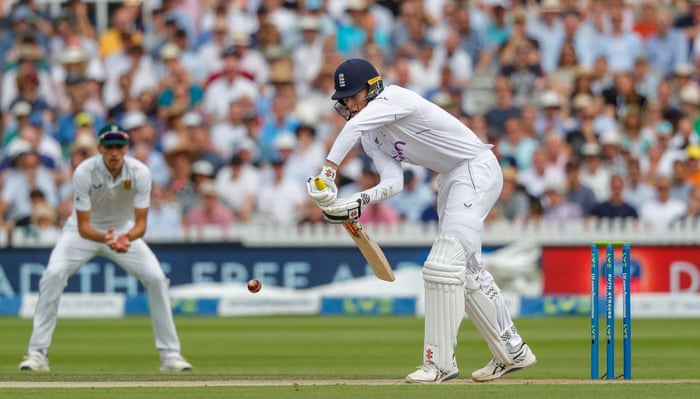 George Dabby has noticed something and poses a challenging query:
"I can see on the television that the ground staff have brought out the heavy roller ahead of England's second innings in order to take some life out of the wicket.
Is this gamesmanship or cheating? Given test cricket's long standing problem with excessive home advantage, isn't this something that the ICC should outlaw?"
I won't claim to understand everything that the heavy roller does but both teams are in control of it before their innings. Elgar also opted to use it before his team's go with the bat.
Any badgers out there happy to lend an opinion on this one?
1st over: England 0-0 (Lees 0, Crawley 0) Rabada is on the hunt to match Makhaya Ntini's 10-for he collected here in 2003. That ended with the Mdingi Express kissing the pitch for one of the most enduring images in the game's history.
But first Rabada needs another five in this second innings. He starts with a maiden to Alex Lees is watchful and conscious to keep his bat coming down straight.
"Afternoon Daniel, afternoon everyone. I like to imagine that Anrich Nortje is a keen cricket history badger, but that his recall of Sam Cooke lyrics can occasionally leave him befuddled. In this spirit, I'd be keen for him to pop his head into the England dressing room between innings in order to inform our boys that "you guys are geography".
That, Harkarn Sumal, is a banger. Quality work mate.
Peter McDonald is showing his age here.
"Those Oboers as ancient as me will recall the Pools Panel, which predicted football results when football was off, for what reason I can't remember. There was a great sketch about the members of said panel inventing commentary for the matches, culminating in a centre forward of the day lashing the ball into the net, only for a quiet voice in the background saying. "Offside"."
Sounds, interesting…
"Surely it wasn't just the brilliance of Bairstow and Root (and a few others) that saw us home against NZ. It was the tactics wasn't it?"
I mean, it was partly individual brilliance, Steve Wolton.
"SA making those tactics look a bit sorry now. C'mon boys, it's not the Hundred, let's show a bit of application if we get the chance to bat again today."
Simple as, eh?
Wicket! Ngidi c Bairstow b Broad 0 (South Africa 326 all out)
And that's that. Broad's first ball in the 90th over is full and Ngidi can't help himself. He pokes at it without moving his feet and it takes the outside edge. Bairstow in the cordon makes a dog's breakfast of it, fumbling an absolute sitter but he's able to pluck out a hand and grab it before it hits the turf.
Dean Elgar would have wanted a little more but with a lead of 161 he's in control. Big innings (I mean, they all are, aren't they?) coming up. England were bowled out for 165 in their first dig. They'll need a lot more than that to make a game of this.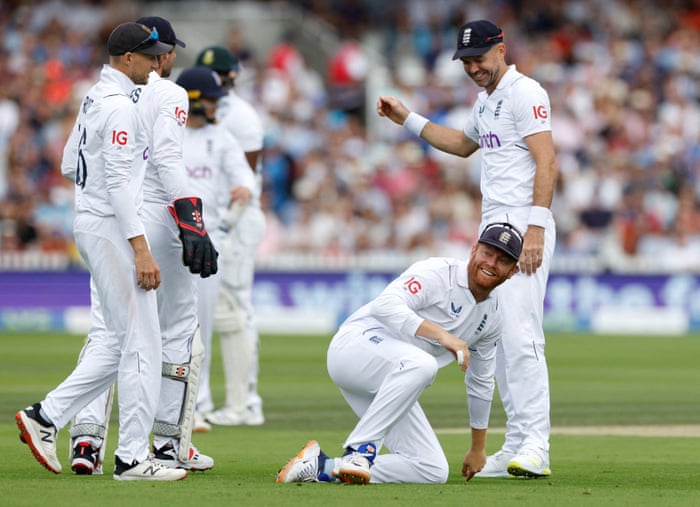 89th over: South Africa 326-9 (Nortje 28, Ngidi 0) Oh yes! Nortje takes back to back fours off Stokes (who is still bowling instead of Anderson) with two delightful strokes. The first is cute, and expertly played, dab down to deep third and the next is a swooshing drive down the ground. Stokes kicks the turf theatrically but he only has himself to blame. He's missed a trick tactically this morning.
You wouldn't like him when he's angry.
"Nice to see that as well as not getting Nortje out we're also winding him up nicely", that's a good point Neil Parkes. Nortje is absolutely making mental notes of all these bumpers.
88th over: South Africa 318-9 (Nortje 20, Ngidi 0) A wicket maiden for Broad who is having a handy morning after that great catch in the first over. It's a full ball that does for Jansen with his first ball in this set but he can't locate the stumps of Ngidi who survives the remaining five deliveries.
This OBO concept with no actual cricket is taking on a life of it's own.
"Love the idea of an OBO commentary when there is no cricket actually being played! Perhaps we could chose our own teams? I do have questions though…..
Who decides when a player is out?
What score the batter got?
Dropped catches?
There us so much to think about, maybe crime and strong alcohol are the only answers."
That's from Nigel Smith who is squeezing on to the bandwagon.
Wicket! Jansen c Crawley b Broad 48 (South Africa 318-9)
It's a full ball that bags the breakthrough (I know, right?). Broad tempts Jansen with a bit of width and the batter, conscious he's just one blow away from a half century, takes the bait. It's a soft dismissal and an easy slip catch for Crawley who takes it around chest height. Jansen will be annoyed with himself now but he can reflect on a job well done.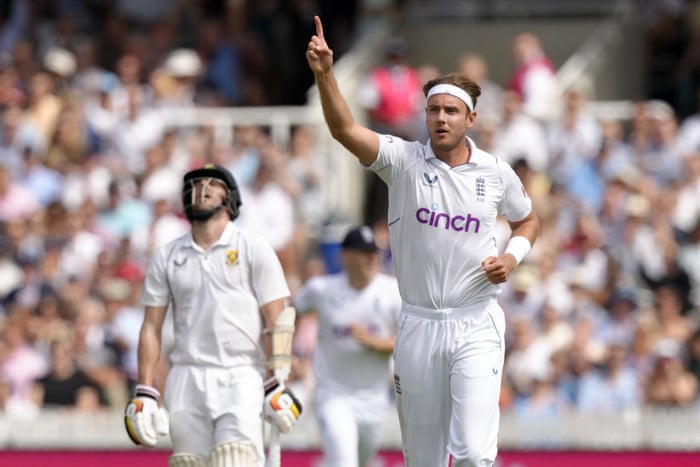 87th over: South Africa 318-8 (Jansen 48, Nortje 21) Ben Stokes is still bowling. That's seven overs with the new ball and we've yet to see Jimmy Anderson. Anyway, Stokes is at least fuller than he has been but Nortje is equal to it with a sumptuous on-drive that would make any top order batter proud. It skips to the boundary and takes his score to 20 (he has a career average of 6.76 btw)
Oh, but that is a nasty bouncer but you know what, Nortje plays it well, taking his bottom hand off the bat as he rides the bounce. But that's what a consistent full length does. It makes the bumper less predictable.
Pedantry Corner, entry #2
"Per Sports Amaze at 10.24. Yesterday, Broad did not take 100 Test wkts at Lord's. If he had, England would have won multiple test matches, which does not appear to be the case."
When you're right, you're right, David Taylor.
86th over: South Africa 314-8 (Jansen 48, Nortje 16) Broad replaces Potts and he'll definitely look to pitch it up. Oh, what's that? A short leg, a man in the deep on the leg side? Oh. More short stuff then. 'Fine with me' says Anrich Nortje who backs away and whacks Broad up and over the infield towards cover. He doesn't time it but takes three, a perfect result for a No 10. Broad then goes over the wicket to Jansen with two slips in place but the lanky Saffa gets forward and nudges a single down the ground to inch his way to what would be a mightily impressive milestone batting at 6. Nortje takes a single himself to take the partnership to 25.
85th over: South Africa 309-8 (Jansen 47, Nortje 12) More short bowling, more nothingness from an English perspective. Stokes continues but that must surely be that. A couple of singles for Nortje who looks more than happy riding the bounce and bunting it away. There's also a leg bye off Jansen's pads the lead now reaches 144.
Mate…
"Hi Dan"
Hey Peter Salmon.
"Have to agree with Tine about OBO continuing when there's no matches, but rather than you lot making things up, why not use one of the many cricket board games available? I know there will be fans of Test Match Cricket (TM), with the actual playing field and figurines, but to be honest as a traditionalist I still don't think you can go past Owzthat – two dice, a pen and a scorecard. Vast periods of tedium coalescing in sudden periods of high excitement, like the very game itself. Of course open to other suggestions…"
I'm not sure about OBO'ing when there's no cricket on but I can say that I LOVED that dice game!
84th over: South Africa 306-8 (Jansen 47, Nortje 10) Oooh, there's a for Zak Crawley at deep third after Nortje's slash to a Pott's short ball takes the top edge and flies away to the deep. Crawley, running in from the boundary, can't get there despite a lunging dive and the ball trickles to the cushioned rope for four.
Nortje takes another swipe at a Potts half tracker and gets three with a lob towards a vacant cover-point. 10 off the over. This strategy isn't working. Why is no one pitching it up!?
John Starbuck from the 'Pedantry Corner' is here to correct me:
"Dan, Over 82: 'gully' not 'gulley' in cricket. Don't worry, the OBO Collective will advise you of just about every grammatical/spelling slip they encounter from you."
Fair enough John, and thanks for putting me straight. One of those ones that I just always forget. You'd be amazed how many times my fingers automatically misspell the word 'length'.
83rd over: South Africa 296-8 (Jansen 45, Nortje 2) I think that may be the last of Stokes for a while (at least it should be). Banging it in short he makes a mess of one and tidy work from a diving Foakes down the leg side prevents it from going to the boundary. Instead it's one bye to get Nortje off the strike. He's back on strike though as Jansen's full-faced bunt down the ground adds one more to his score. Nortje is growing in confidence and once again happy to get out of the way of yet another inept bumper.
82nd over: South Africa 294-8 (Jansen 44, Nortje 2) Potts starts his over with another short ball and though he looks a little uncomfortable doing so, Nortje worms it away for a single. Potts then wises up and brings his length up and gets the tall Jansen coming forward. A few keep a little low and there's also a beauty that just misses the outside edge. Potts looks a lot better when he pitches it up.
Word from Trevor Tutu who is indeed related to the great Archbishop.
"That's certainly my mother's story," he says, "and she is sticking to it!"
81st over: South Africa 293-8 (Jansen 44, Nortje 1) Stokes with the new ball digs in a short ball and takes Nortje's edge. But it flies past the man at gulley for single. England getting their tactics wrong here, if you're asking me. Pitch it up fellas! Thwack those pads and stumps!
Here's a lovely mail from Tone White in its entirety. This is what the OBO family is all about:
"Good morning monsieur Gallan from a breezy and rather fresh but sunny S of France where I would fancy a spinner's chances (!), England, at least 200 behind on the first innings and maybe a less than eventful ending to the test …. who knows with this strange, enigmatic game.
But more importantly I sense the end of the cricketing season. There will be news from abroad but nevertheless there will be long periods of … cricketless misery. And not just cricketless, OBOlessness!
However. Since cricket is so unpredictable and unrepeatable and therefore open to any possibilities, why not continue with OBO even if there are no real matches in play? You, the commentators can make things up as you go along, you know how games progress and how teams do or don't play, so you could just invent a series of tests to see us through the down periods. And we, the avids out here in OBOland will be able to contentedly read about batters and bowlers even though they are only playing in fantasy matches, and continue to write in and enjoy the virtual comradeship, the shared jokes, wisdom, insights of the OBO tribe.
The alternative is alcohol, drugs, crime, violence, and worst of all, politix (please, none of that, or at least not all of that). I think Fantasy OBO is morally correct, and since you, the commentators, bare total responsibility for the batting, bowling, umpiring, even the spectator contributions, I think you should consider new contracts with increased financial rewards.
I look forward to your first innings!
Anthony."
Thanks Anthony. What a weird and wonderful
80th over: South Africa 291 -8 (Jansen 43, Nortje 0) Potts will be a little annoyed by that I reckon. The only ball that's targeted at the stumps is easily nudged up the ground for a single by Jansen. He had four balls to Nortje but failed to hit the sticks. There's a mean looking bouncer but Nortje is comfortably underneath it.
The new ball has been taken. Strap in!
79th over: South Africa 290-8 (Jansen 42, Nortje 0) Stokes is on and he's charging in with all the intent you'd expect from the bristling skipper. Jansen looks solid and is able to turn a single to square. Nortje, though, looks less at home and is roughed up by a short one that rises towards his ribs. Credit where it's due though. Nortje rides the bounce and bunts it with his bat. He won't shy away from the challenge, that's for sure.
"Hi Dan," Hi Trevor Tutu (any relation to the great Archbishop?)
"Greetings from a cold and wet Cape Town. I am shocked, shocked that you can have any doubts. The Proteas are obviously on course to a famous victory. They'll sprint to just about four hundred by lunch, and have England reeling this afternoon with 5 -6 wickets down by stumps. We'll clean up the tail in the morning tomorrow, and have won by and innings and 60 odd runs."
Steady now Trev, let's not count our chickens just yet.
78th over: South Africa 289-8 (Jansen 41, Nortje 0) A successful start for England as Potts kicks things off on Day 3 with a wicket maiden. He's mostly short to Rabada and then to Nortje who is the new man in.
We've been chatting all morning about pitching it up to the tailenders but it's the short ball that sends Rabada packing. Though only because of a wonder grab from Broad.
Wicket! Rabada c Broad b Potts 3 (South Africa 289-8)
Stuart Broad! You cannot do that! What a grab by the big man. Rabada takes on Pott's short ball – the third delivery of the day – but doesn't middle his cross-bat hoick towards the leg side. Still, it's sailing over Broad's head at mid-on, except, no, it isn't! Broad shoots out his arm and the ball sticks in his hand. What a beauty that is and exactly what England needed first up.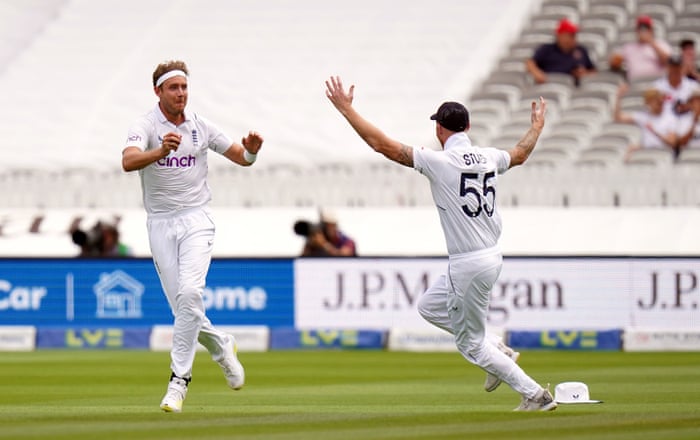 Right then! Potts has the ball in his mitts. Here we go!
Inane bowling, that's the attention grabbing headline from Neil Parkes' email which reads:
"The worry I have is that in the same way that the batting strategy is obviously taking pointers from one-day techniques, the bowling strategy seems to be doing the same.
The difference is that an aggressive batting side can impose themselves on a bowling attack, it's risky but it might work. The reason it's risky is that the fielding and bowling restrictions that support this approach in a one-day context don't exist in tests, and a composed and skilled bowling attach should prevail. In practice that doesn't seem to have happened this Summer, and it's great!
When fielding in a one-day innings the approach at the end of the match is to compensate for restrictions by bowling at the head or bowling yorkers. The idea being that the batters are going to swing anyway and might hole out on the boundary. In tests though, there are no such restrictions, and the batters aren't in such a hurry. The sneaking suspicion is that we're bowling like this because that's the end of the innings one-day way, and of course bowling at the head looks "aggressive" and hence is "exciting"?"
Yeah, I think you're on to something. I wouldn't advocate for six yorkers in a row. But I'd want to see some more
There's a Zak Crawley joke in here, I just can't see it.
"Morning Dan, morning everyone"
Morning Dan Ward. Good to hear from a fellow member of the House of Dan!
"In response to Mike D (10:26), while I freely admit to playing a strictly village level of cricket, some of the most wonderful moments of the Test Summer so far have had a villagey feel to them – juggled catches, preposterous and unfortunate dismissals, captains deciding to wallop it immediately with no thought for the position of the game."
100% with you mate. It's the absurdity that keeps this game alive.
"So, perhaps the notion of 'bowl it at the stumps' and that age-old captain's entreaty to the bowler to 'ask the question' isn't so far off the mark? At the village level, the question is often 'what is 2+2' and the batter usually knows the answer. But you can't bowl them out if you don't threaten the stumps, and you have to feel that Anderson, Broad, Potts, Stokes and Leach can do enough with the ball to beat a less experienced tail and at least keep the pressure on?"
You'd think so. One might argue that the English attack lacks the genuine pace that the South Africans have and we know that that tailenders hate that extra oomph. Still. Hit those sticks!
"The Guardian, like the English team, is reverting to type," says Adrian Goldman. Uh, cheers mate.
"We had two days of a modern interface, where we could write comments directly rather than sending them through mail – and now no more! Based on this, I fully expect SA to get 400 and England to lose by 100 or so. There won't be a fifth day. :)"
Let's see. Looks like a good day for batting. England might yet post a tricky target for the Saffas.
Our first correspondence of the morning comes from Mike D who touches on something that absolutely irks me:
"It was quite dispiriting to see England, immediately after Broad removed Verreynne with a masterclass of length bowling, reverting to trying to bounce out the tail. A bit of Mikey Holding "You Miss, I Hit" is called for this morning, I think. Here's hoping."
Right you are Mike. It baffles me that bowlers – who are very skilled white ball bowlers – don't target the stumps more to the lower order.
I remember watching Broad and Wood cart the SA seamers around the Wanderers a few years back and it was staggering to behold!
Elite company
Stuart Broad's solitary strike puts him in a select group of bowlers who have nabbed 100 scalps at a single ground.
Preamble: new ground for New England
Four Tests. Four remarkable fourth innings chases. Four swashbuckling tons from Johnny Bairstow.
The start of the summer felt like the breaking of a new dawn for England's red ball team. It was a period where everything seemed to thrum with a frenetic energy as they swatted aside New Zealand and then India to reshape the parameters of this ancient game.
Now they face a new challenge and must find a way of keeping the good times rolling. After being bowled out for 165 with Kagiso Rabada's 5-52 leading the vanguard, England watched on as opener Sarel Erwee registered 73 and then Keshav Maharaj and Marco Jansen plundered a pair of 41s to drive South Africa to 289-7 and a lead of 124.
Ben Stokes snared three wickets, including that of Erwee with a ripping bouncer, to drag his team back in the fight, but they'll need a blockbuster third day to have a shot of winning.
Jansen remains unbeaten and he's got Rabada for company. Anrich Nortje and Lungi Ngidi are up next so England will want to wrap this up quick sticks and get the pads on.
My name is Dan. I'm really looking forward to this. They say the third day of a Test is 'moving day'. Which way d'ya reckon this one's going?


England v South Africa: first Test, day three – live! | England v South Africa 2022 Source link England v South Africa: first Test, day three – live! | England v South Africa 2022