Entertainment
FIFA World Cup 2022: Live scores, results, Ronaldo insulted by South Korea, Graham Arnold responds to rumours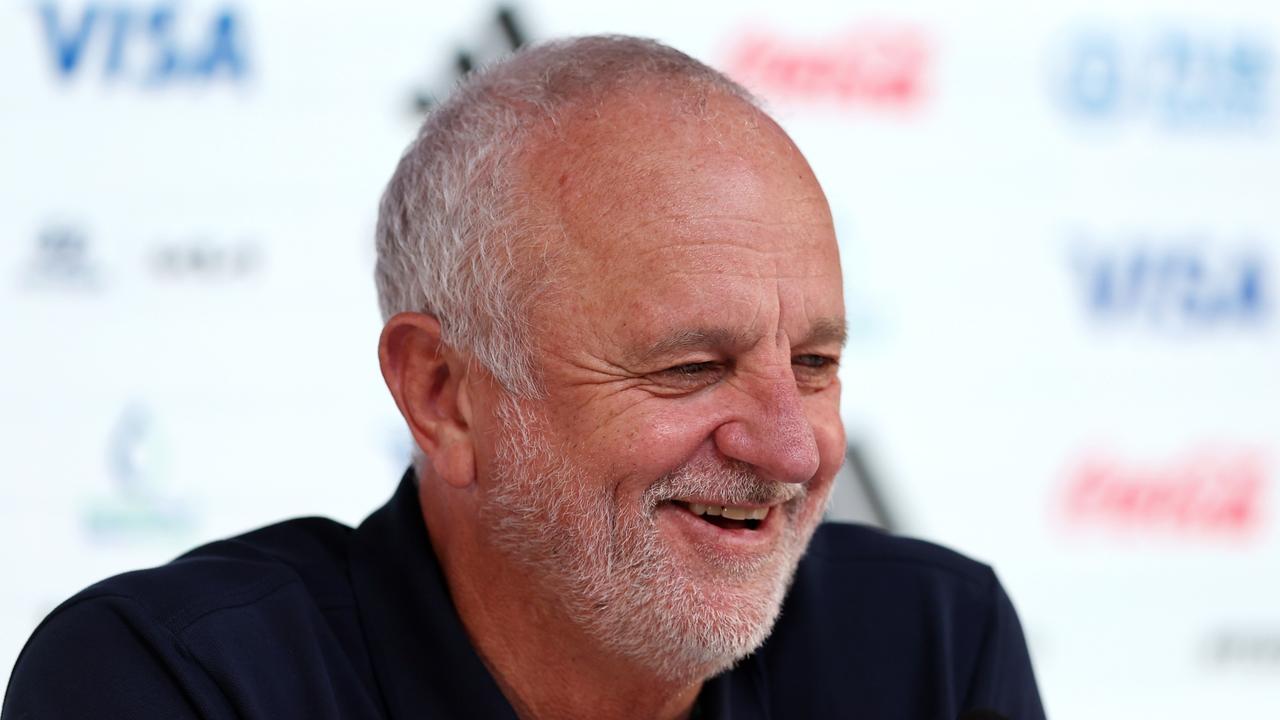 Serbia 2 v Switzerland 3
Cameroon 1 v Brazil 0
Ghana 0 v Uruguay 2
South Korea 2 v Portugal 1
Switzerland and Brazil qualify from Group G. South Korea and Portugal qualify from Group H.
5:00 PM: ARNIE DISMISSES DOPING CLAIMS FROM MEDIA
Adam Peacock
Graham Arnold has been right about many things this World Cup, but after comically wild information spread on social media today, none more so than his proclamation social media is, to quote him directly, "shite".
Arnold's distaste for the digital distractions that unsettled athletes' minds, but it took a strange twist in today's pre game press conference when Arnold received a question in Arabic from a Tunisian journalist who wanted to know about the failed drugs tests in the Australian camp.
Arnold, wearing a translation earpiece, screwed his face up and shook his head, disbelieving of the question that was being asked.
"I don't know what you're talking about," Arnold casually replied back to the journalist, with another shake of the head.
Turns out, all afternoon, rumours had been bouncing around social media platforms in Arabic about a breaking story 34 Australian's had failed drugs tests.
Maybe Tunisia would be back in!
Erm, no.
The story in question was actually a report from 2014. And, wait for it, not even about the Socceroos. Or football.
It was … the Essendon saga. Y'know, the one in which 34 AFL players were found guilty of using banned substances. Y'know, the one that ruined lives, and careers, and had gave Melbourne radio enough to talk about for a century. Y'know, the one that had absolutely nothing to do with football.
Someone, somewhere, had put two and two together and got a chicken.
Didn't stop the story being shared, and commented on, until websites across Arab nations, such as misbar.com denounced the claims.
Don't worry, the Socceroos will play Argentina tonight. No-one is under investigation.
Arnie is right. Social media is full of it. Sometimes. #gothesocceroos
1:30PM: RONALDO
Cristiano Ronaldo doesn't like to be rushed.
The Portuguese megastar appeared to be upset as he was substituted off during the team's World Cup loss to South Korea in the 65th minute on Friday. Although it appeared he might have been unhappy at manager Fernando Santos, Ronaldo clarified who his displeasure was directed at.
"The Korean player was telling me to leave quickly and I told him to shut up because he has no authority," Ronaldo told reporters after the game. "There is no need for controversy. It's the heat of the match. Whatever happens, things always stay on the pitch."
As he walked off the field, Ronaldo got into a verbal altercation with South Korea's Cho Gue-sung before Ronaldo put his finger to his lips, shushing him.
It didn't become physical, and Ronaldo was replaced by Andre Silva.
"The player from Korea was insulting him telling him to go away, so that is the reason why he was angry, everyone saw that …" Santos said. "He was not aggressive, he was only verbally aggressive, he was speaking in English to Cristiano, and Cristiano said, 'Perhaps he had a bad day.'"
Although Ronaldo told them to "shut up," South Korea had the loudest moment of the game. Hwang Hee-chan's 91st minute goal lifted South Korea to a 2-1 win and to the knockout round, although Portugal still won the group.
9.50AM: WORLD CUP FANS WARNED OVER CHANTS
Fans at the high-stakes World Cup group match between Serbia and Switzerland were told to "stop all discriminatory chants and gestures" as tensions on the pitch boiled over.
It was not immediately clear what triggered the announcement during a match that the Swiss won 3-2 to advance to the last 16 and eliminate Serbia, but it followed a confrontation between Swiss captain Granit Xhaka and Serbia players.
The argument in the second half drew in Switzerland forward Breel Embolo and Serbia substitutes ran onto the pitch at Stadium 974 to remonstrate with Swiss players before the referee brought the situation under control.
Serbia coach Dragan Stojkovic said he did not know what sparked the incident.
"Something was said to the players maybe. I don't know what happened really. I can't tell you the reason why and what happened exactly," Stojkovic said in the post-match press conference.
"Sometimes the tensions come and some maybe bad words can create some uncomfortable behaviour, but it's nothing special. It's normal let's say for this kind of game." It is not the first time that a World Cup match between Switzerland and Serbia has been played in a tense atmosphere.
At the 2018 tournament in Russia, Xhaka and Xherdan Shaqiri celebrated their goals in Switzerland's 2-1 win by making the two-handed eagle gesture to mimic the Albanian flag, enraging the Serbia players.
Xhaka and Shaqiri come from families with roots in Kosovo, the former Serb province with a majority ethnic Albanian population.
The underlying source of tension is Kosovo's 2008 declaration of independence from Serbia. The latter does not recognise the move and has encouraged Kosovo's Serb minority to remain loyal to Belgrade.
Shaqiri scored again in Saturday morning's (AEDT) match in Qatar but did not make the two-handed gesture on this occasion.
Serbia are already being investigated by FIFA after the team hung a controversial flag in their changing room before they lost to Brazil at this World Cup.
The Kosovo football federation filed a complaint with the world governing body after photos showed a version of the Serbian flag with a map that depicted Kosovo as part of the country and included the slogan "there will be no surrender".
8.45AM: URUGUAY PLAYERS CONFRONT REFS AFTER WC EXIT
By Jonathan Lehman, NY Post
Yellow card for … stalking the refs.
Uruguay players accosted the officials, grabbed them and followed them into the tunnel in an ugly scene following their match that resulted in the team's World Cup ouster.
Several of the players were issued symbolic post-match yellow cards for their behaviour.
It was not clear precisely what provoked the reactions — apart from facing the bitter end of their World Cup run. Late in Uruguay's 2-0 win over Ghana, chasing a third goal that would have swung the goal-differential tie-breaker to advance in their favour over South Korea, Uruguay striker Edinson Cavani was tripped up in the 18-yard area, but no penalty was awarded. Cavani, Diego Godín and Jose Maria Gimenez were a few of the players involved in the altercations.
South Korea scored a dramatic tie-breaking goal in stoppage time of its match with Portugal to take the spot over Uruguay as the Group H runner-up.
8.10AM: LAST 16 LOCKED IN AS KOREA, SWITZERLAND ADVANCE
Last-gasp South Korea reached the World Cup knockout phase in dramatic fashion on Friday to set up a last-16 match against mighty Brazil as Switzerland edged a bad-tempered encounter with Serbia to progress.
With the clock ticking down at Education City Stadium, the Koreans knew they needed one more goal against Portugal to leapfrog the South Americans and Hwang Hee-chan delivered in stoppage time to secure a 2-1 victory.
The Korean players stood in a huddle watching the final minutes of the Ghana v Uruguay match on a mobile phone as they waited for their place in the last 16 to be confirmed.
Uruguay, leading 2-0, needed one more goal to go through but fell agonisingly short despite piling on the pressure, crashing out of the Qatar tournament on goals scored.
Cristiano Ronaldo's Portugal topped Group H despite their defeat and will next face Switzerland, who beat Serbia 3-2 in a bad-tempered match.
8.05AM: CAMEROON STUN BRAZIL BUT EXIT WORLD CUP
Vincent Aboubakar headed in a stoppage-time winner and was then sent off as Cameroon claimed a memorable 1-0 victory over favourites Brazil at the World Cup on Friday, but still failed to go through to the last 16.
Aboubakar, who had come in to captain Rigobert Song's team, connected with a cross from substitute Jerome Ngom Mbekeli to break the deadlock in the 92nd minute at Doha's Lusail Stadium.
He was booked for removing his shirt in the wild celebrations that followed and, having already been cautioned, had to leave his teammates to see out the remainder of the game.
They did so to record a famous win but Switzerland's 3-2 win over Serbia at the same time meant the Swiss advanced from Group G along with already-qualified Brazil.
Having won their first two matches in Qatar, Brazil topped the group and advance to a last-16 tie against South Korea when their many key players who were rested for this game will return.
7.05AM: KOREA THROUGH, TEARS EVERYWHERE
By Adam Peacock
Everyone was in tears.
South Koreans were crying, all over the place. Son Heung-min, the idol, wept openly. Fans draped in South Korean flags, bawled. Their video analyst, perched high in the stands next to the media, was shaking, tears flowing from behind his glasses.
Football, for the third night in a row at this World Cup, had turned the masses into a mess.
Entire societies, otherwise no way connected, had been tipped off their emotional axis by the actions that take less than a second of a famous stranger in boots.
Korea was joyous. Uruguay, despondent. The rest of us, just awestruck.
*****
It bubbled to a crescendo like the famous Ernest Hemingway description of bankruptcy. Gradually, then suddenly.
This was a night money can't buy.
In the 86th minute, level with Portugal at 1-1, the Koreans needed a goal, but nonsensically remained s conservative as an Amish priest. They needed a goal, but didn't dare throw numbers forward.
Their coach, Paulo Bento, watching from the stands after giving the referee's a fearful spray in their defeat to Ghana, had a plan. Just one chance. Bring Portugal on to them, and rely on Sonny.
Sonny is Son Heung-min, the Spurs star who is bigger than K-pop in Korea. Sonny picked up the ball after a failed Portugal set piece and drove forward from halfway. Mat Leckie-esque, only Sonny didn't shoot. He waited, waited, all that was needed was that flash.
Boom, there it was, through the legs of his Portuguese watchers, Sonny found Hwang Hee-Chan, who found the back of the net.
Delirium. Tears.
*****
20 kilometres away, there was still 10 minutes to play, which meant for the Koreans there was 10 minutes that felt like 10 years, as Uruguay searched for that split-second flash.
Uruguay, up 2-0 over Ghana, needed one more goal to topple the Koreans on the tie-breaker of goals scored
It wouldn't be the villain. Luis Suarez, as controversial as any footballer in recent times, stirred the pot before their decisive game with Ghana. 12 years ago he turned into a volleyballer to deny Ghana a certain goal. The resultant penalty was missed, Uruguay went on to win.
Suarez didn't apologise in Doha, offering, "Not my fault, I didn't miss the penalty."
There are many buses that transport fans around this event. One named karma had Suarez in its headlights. He sat on the bench, in tears, watching the last 10 minutes unfold. Uruguay huffed and puffed and found nothing.
Back at Education City Stadium, the Koreans were in a circle near half way, watching the game on their phones. Their lives had flipped from video in normal time to slomo. Time inched along.
Uruguay'slast thrust came to nothing and full-time was whistled.
Six seconds was all it took for the vision to reach the Korea huddle. They exploded, water bottles sprayed everywhere, then they sprinted as one, 50 metres to their fans to start the party.
A happy party, full of tears.
6.05AM: GHANA HAPPY TO END URUGUAY'S WORLD CUP
Ghana defender Daniel Amartey admitted his team were determined that if they could not qualify for the World Cup knockout stage, they would at least prevent Uruguay from doing so.
The South American side triumphed 2-0 but both sides were eliminated due to South Korea's last-gasp 2-1 win over group winners Portugal.
The bad blood between Uruguay and Ghana dates back 12 years to the infamous Luis Suarez handball that denied Ghana an extra-time winner in the 2010 World Cup quarter-finals.
Suarez was sent off but Asamoah Gyan missed the subsequent penalty and Uruguay triumphed in the shoot-out.
Once South Korea scored in stoppage time in Qatar, Uruguay realised they needed another goal to reach the last 16 while Ghana needed two.
But the South Americans missed out on goals scored even though they were level on points and goal difference.
"I just told my teammates that we need a goal now but they need a goal now so we have to defend for ourselves so that if we can't go, they don't go," Amartey said.
Asked if it was important to deny Uruguay a place in the last 16, Amartey said: "For me, yes.
"It was tough because you can see their centre back, everybody comes (forward). Uruguay needed one goal to go through and you can see we defend four against five or three against two but we managed to defend."
Amartey denied the Ghanaians had revenge on their minds for what happened in 2010, pointing out that no one in the current squad, except captain Andre Ayew, was even at the South Africa World Cup.
And he admitted the team did have some regrets after Ayew missed a penalty minutes before Uruguay opened the scoring in the first half.
"It's football, it happens. If we score that penalty I think we kill them but we miss the penalty and you can see the game changed," he said.
Ghana coach Otto Addo said his team were fighting until the bitter end.
"For us it was about trying to score," he said. "I know that anything can happen, and even if it's the last minute, if you get the ball one more time you can score."
GERMANS MOCKED ON QATARI TV AFTER SHOCK EXIT
By Joe Barton
Germany's anti-homophobia stance has been openly mocked on Qatari television following the four-time World Champions stunning group stage exit, with hosts covering their mouths and waving goodbye.
The Germans were sent packing after finishing third behind Group E, despite their final game 4-2 victory over Costa Rica – with Japan, who beat Hansi Flick's side in their opening clash, and Spain advancing.
Before their earlier defeat to Japan, the German players staged a protest over FIFA's banning of the rainbow OneLove armband.
EXPOSED: HOW AUSTRALIA OBTAINED SECRET DANISH PLANS
On the eve of the World Cup the game's governing body threatened to book players – such as the seven European captains, including Germany's Manuel Neuer – who were planning on wearing the OneLove armbands, which promote diversity and inclusivity.
Same-sex relationships and the promotion of same-sex relationships is criminalised in Qatar, a Muslim-majority country with Islam as the state religion.
In protest, the Germans had covered their mouths – a reference to being silenced by FIFA – for their pre-match photograph before the Japan game.
"Human rights are non-negotiable," the German federation said in a statement at the time.
"That should be taken for granted, but it still isn't the case. That's why this message is so important for us.
"Denying us the armband is the same as denying us a voice. We stand by our position."
And local TV presenters didn't let the German actions be forgotten, mimicking the mouth-covering as they laughed and waved goodbye in a post-match show once their group-stage exit was confirmed.
Originally published as FIFA World Cup 2022: Live scores, results, latest news from Qatar
FIFA World Cup 2022: Live scores, results, Ronaldo insulted by South Korea, Graham Arnold responds to rumours Source link FIFA World Cup 2022: Live scores, results, Ronaldo insulted by South Korea, Graham Arnold responds to rumours