Australia
Great Aussie Debate: 50,000 people reveal secrets about their lives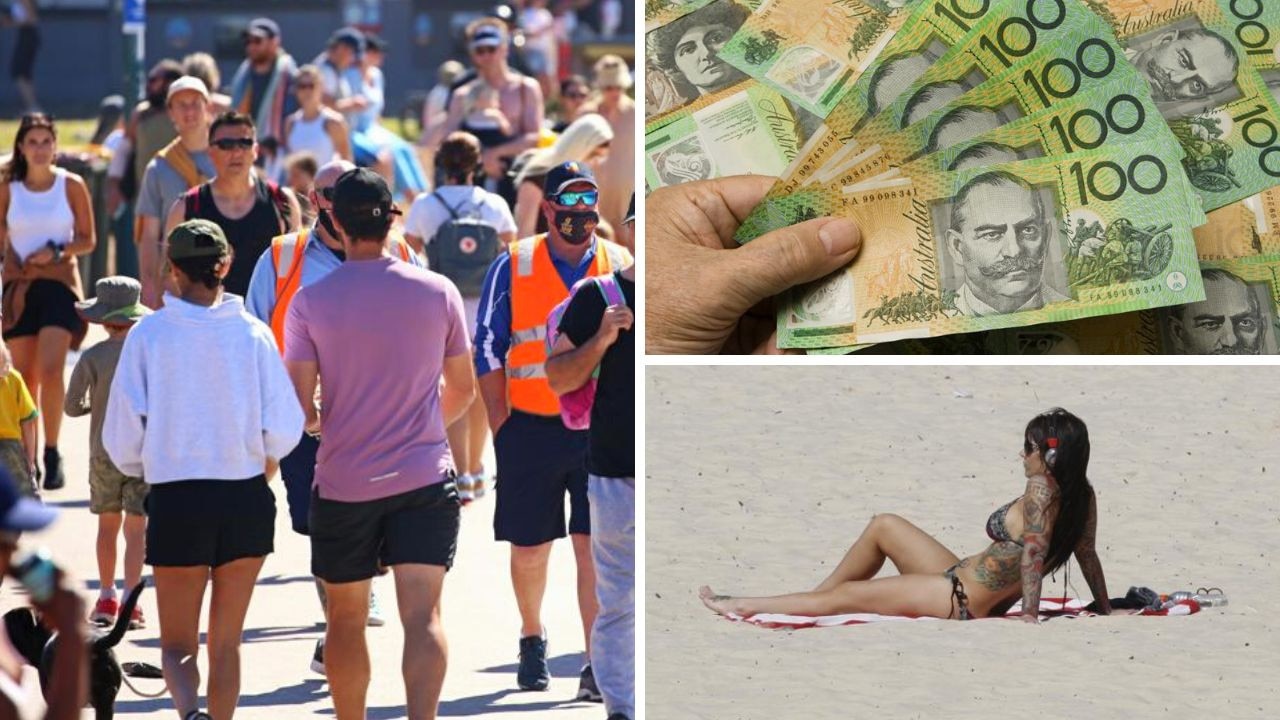 Australians have opened up about what their lives are really like, revealing their opinions on a range of topics and answering the burning – and sometimes uncomfortable – questions that everyone wants answered.
More than 50,000 Australians took part in news.com.au's Great Aussie Debate survey in July.
Participants answered 50 questions, revealing their opinions on everything from work, politics and dating, to using your phone on the loo and wearing shorts in the office.
Their answers have resulted in a snapshot of how the average Aussie thinks, feels and lives in 2023, with some results more surprising than others.
This is how Australia answered:
MONEY
With the cost of living crisis, rising inflation and soaring rents and house prices, everything to do with money is at the top of mind for Aussies.
One of the questions asked was what salary you need to earn to be considered rich in Australia in 2023.
It turns out that figure is anything over $250,000 – or an average of $303,000 – with more than 55 per cent of the people surveyed choosing this option.
NSW residents had the highest expectation for what is considered rich out of all the states and territories, with an average answer of $312,000.
However, it turns out just being "rich" isn't enough for Aussies to quit their jobs, with the average worker needing a considerable amount more to consider handing in their resignation.
On average, Aussies believe you need to win $18.5 million in the Lotto to quit your job.
Women believe you need a higher amount, with the average female saying you need $19.7 million, while the average male puts the number at $17.4 million.
This figure jumped exponentially when looking at the answers from 18-29, with younger Aussies saying you need at least $33.5 million.
Those in the 60-69 age group were slightly more conservative, putting the number at $11.1 million.
Participants were also asked to reveal how much money they have in savings and, while many are feeling the pinch of the current economic situation, there are plenty of people that have back up funds available.
Of the Aussies who took the survey, 23.6 per cent – or 12,000 people – have more than $50,000 in their savings account.
The results showed that men were more likely to have savings of $50,000 and above – 32 per cent – compared to 20 per cent of women.
WORK
How Aussies work has changed dramatically in the past few years, with the pandemic meaning that working from home is now an expectation for many employees, rather than a perk.
It is clear that Australians love the flexibility that comes with remote working – but just how much work are they really getting done? Well, now we know.
The majority of Aussies, 29.7 per cent, said their productivity depended on how they were feeling on the day.
However, almost the same amount of respondents (29.2 per cent) claimed they were "much more productive" when working at home.
A smaller number of people, 22.4 per cent, admitted they were less productive, with people over the age of 60 most likely to select this option.
The survey also asked participants whether they had ever 'quiet quit' their job, completing only the bare minimum requirements for their role and refusing to do overtime, while still bringing in their full salary.
However, it appears the majority of Aussies think jumping on the quiet quitting train is too risky, with 44.4 per cent saying they have never quiet quit and that it "does your reputation too much harm".
But there was still a significant amount of Aussies who admitted to doing it in the past, with 11,000 of the 50,000 respondents saying they had quiet quit before and 4500 saying they were quiet quitting right now.
POLITICS
Politics has always been a contentious topic and people often feel strongly one way or another on political issues.
The upcoming Indigenous Voice to Parliament is the biggest political debate happening in Australia right now.
The Great Aussie Debate survey showed 36.4 per cent of respondents don't support the Voice because they believe there is a better way to solve Indigenous issues.
A further 29.2 per cent of people said they were voting No because they were against the concept, 22.8 per cent said they would be voting Yes and 11.6 per cent were not yet sure.
The majority of people surveyed – 35.1 per cent – believe Australia is a racist country, but claim it is "better than it was 10 years ago".
However, 32.4 per cent say Australia is not racist and it is no better or worse than it was a decade ago.
With the recent death of Queen Elizabeth, the debate around whether Australia should become a republic has been reignited.
Surprisingly, 46.7 per cent of Aussies say they are happy to stay in the Commonwealth, compared to 28.9 per cent who believe it is time for us to become a republic, while a further 15.3 per cent of people say they "don't care".
GENERATIONAL DIVIDE
It is no secret that different generations often have different views. The biggest generational divide is between Gen Z/Millennials and Baby Boomers.
At the moment, one of the most contentious topics between these generations is on home ownership and who "had it harder" when getting into the property market.
No matter what side of the debate you are on, there is no denying young Aussies face very different circumstances than their parents and grandparents.
When respondents were asked whether they aspired to own a home, the majority said they already owned a home. Over 70 per cent of people aged 60 and over chose this option.
Gen Z and Millennials were far less likely to already own property, with just 26 per cent saying they owned their own home.
People in the 18-29 age group were more likely than other Aussies to say they wanted to own a home but had accepted they will "never be able to afford it" and therefore "don't think about it".
Aussies' drug habits were another surprising area where the generational divide really showed.
People in their 40s were most likely to have used cannabis, with 47 per cent admitting to this, whereas Aussies in their 30s were most likely (28 per cent) to have used cocaine.
When it comes to the drug meth, Aussies in the 40-49 age bracket were most likely (13 per cent) to partake in that drug.
Another major point of contention, particularly between Boomers and Gen Z, is whether or not it is acceptable to use your phone on the toilet.
People aged 70 and over are least likely to use their phones on the loo and young Aussies are most likely, with 30 per cent compared to 86 per cent admitting to the act.
Of the 18-29 age group 19 per cent think it is OK to use your phone on speaker in public, compared to 9 per cent over people aged 60 and over.
MEN AND WOMEN
Just like the different generations, the divide between men and women was also very pronounced on some of the questions respondents were asked.
When asked if they feel unsafe walking home after dark, 40 per cent of women said they do and "constantly worry" about their safety, compared to just 9 per cent of men.
Of the people who claimed they have never felt worried about walking home at night, 38 per cent were men and just 7 per cent were women.
Women were also more likely to have experienced sexual harassment in the workplace, with 16 per cent experiencing this once, 24 per cent dealing with it on up to three occasions and 16 per cent having experienced this five times or more.
For male respondents, 8 per cent have experienced workplace sexual harassment once, 7 per cent one to three times and 3 per cent have had this experience five times or more.
Women are also more likely than men – 41 per cent compared to 13 per cent – to say they take care of more chores at home.
This is despite 35 per cent of women and 44 per cent of men agreeing that chores should be split evenly in their household.
Just six per cent of women and 30 per cent of men credit their partners for doing more of the household chores.
SEX AND DATING
As part of the survey, respondents were asked a series of optional questions about their relationships and sex lives.
More than 42 per cent of people answered these questions, with the majority (24.3 per cent) saying they have sex one to two times a month.
For 18.3 per cent of people, once a week was the norm, while 17.3 per cent said they have sex less than once a year.
The majority of Aussies, 58.2 per cent, said they would like to have sex more than they currently do, with 66 per cent of men and 48 per cent of women choosing this option.
More than 8400 respondents admitted to occasionally sending or receiving nude photos, while 13 per cent say they have received nudes but have never sent any.
More than half of Aussies think "ghosting" a person they are dating is "never OK, while 26 per cent believe it depends on the relationship.
HEALTH
Australia has a big drinking culture, with 37.6 per cent of people saying thy drink alcohol between once a week and two to three nights a week.
Slightly less people, 27.1 per cent, say they drink one a month or less, while 16.1 per cent say they never have alcohol.
Vaping and smoking are apparently far less common, with 81.4 per cent saying they don't do either.
Of the 9.6 per cent of people who said they smoke, the majority were in their fifties. While the 5.3 per cent of people who vape were most likely to be aged between 18 and 29.
It also seems that too many Aussies aren't getting enough sleep, with almost 25 per cent of people claiming there wasn't one night in the previous seven days that they had an uninterrupted sleep.
People aged in their thirties and fifties are most likely to have interrupted sleeps every night, while those under 29 were least likely.
And what about the sheets that people are sleeping in? Well it turns out that a whopping 26.2 per cent – or 13,000 respondents – only wash their sheets once a month.
Around 33 per cent do it once a fortnight, but the majority (35.9 per cent) believe anything less than once a week is "feral".
The majority of Aussies who took the survey revealed they are actively trying to lose weight, with 56.4 per cent working towards this goal.
Women were slightly more likely than men to be trying to lose weight, 62 per cent compared to 52 per cent.
Great Aussie Debate: 50,000 people reveal secrets about their lives Source link Great Aussie Debate: 50,000 people reveal secrets about their lives