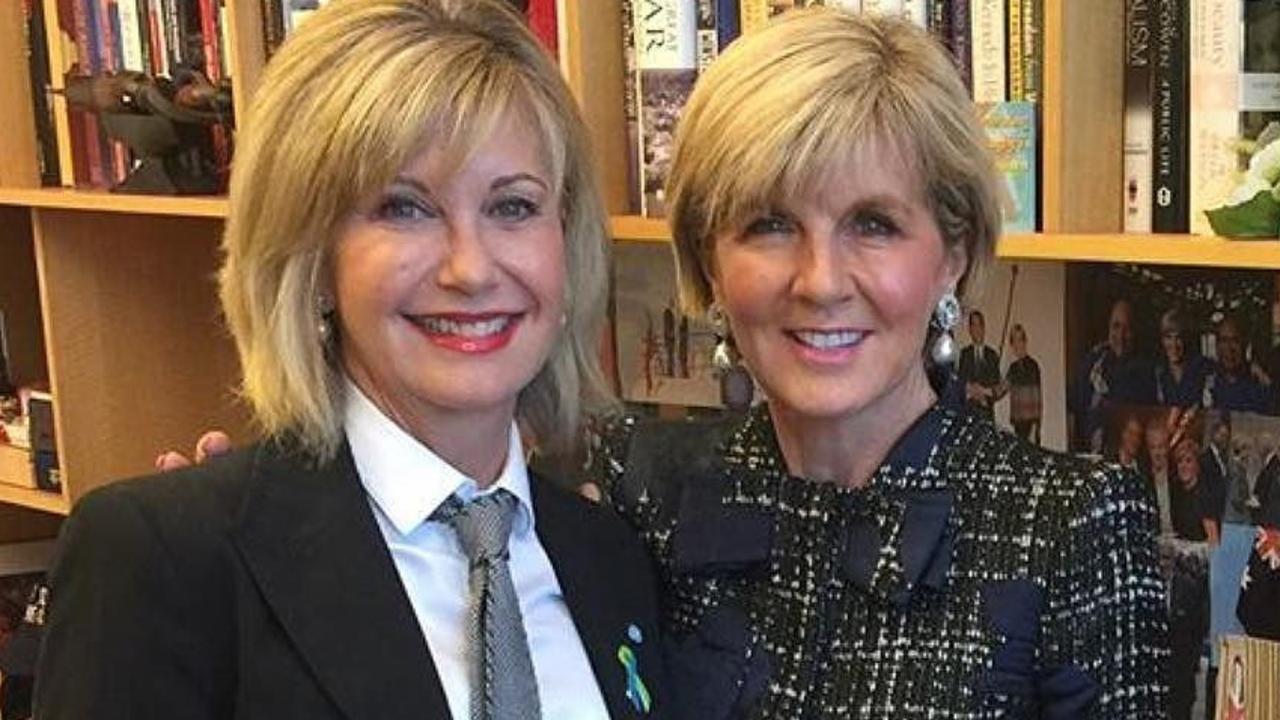 Olivia Newton-John is remembered as "gorgeous, determined, resilient and tenacious" by former Foreign Secretary and friend Julie Bishop.
Newton-John died in the United States on Monday after a 30-year battle with breast cancer.
"She was such a darling. Everyone loved her, just like I did," Bishop told Nine Network.
Bishop said she fondly remembers when the entertainer traveled to Canberra for her breast cancer advocacy in 2017.
Bishop said Newton-John was a "real force" to get things done.
"She was determined. She was resilient. She defended strongly even though she had been diagnosed with breast cancer," Bishop said.
"She came to the Houses of Parliament and went from minister's office to minister's office asking for more help with research on various health issues, especially breast cancer.
"I admired her resilience, determination, energy and tenacity."
Bishop said Newton-John had not lived in Australia but had a "huge impact" in raising awareness about Australia.
"I think she represented what everyone was thinking about Australia," Bishop said.
"Her glowing looks and outdoor lifestyle with a girl-next-door persona. She embodied everything that was good and great about our country."
Bill Shorten of the Labor Party, who met Newton-John on numerous occasions, said she had a "very powerful aura".
"But she was so humble. Really, it's amazing to be a movie star to me… when I met a real person, she was a very relatable person," Shorten told Nine Network.
"I remember her smile. Her smile was the best."
Acting Prime Minister Richard Marls said today was a "really sad day for Australia".
"This feels like the end of an era. The world feels a little empty without Olivia Newton-John," Murless said.
"By founding the Olivia Newton-John Foundation, which raised funds for cancer research, she left a huge legacy that benefits millions of people affected by cancer.
"On behalf of the Australian Government, I extend my condolences to her friends and family."
first published as Julie Bishop pays tribute to 'gorgeous and tenacious' friend Olivia Newton-John
Julie Bishop pays tribute to Olivia Newton-John
Source link Julie Bishop pays tribute to Olivia Newton-John