Entertainment
Meghan Markle joins Prince Harry for Invictus Games closing ceremony after being mysteriously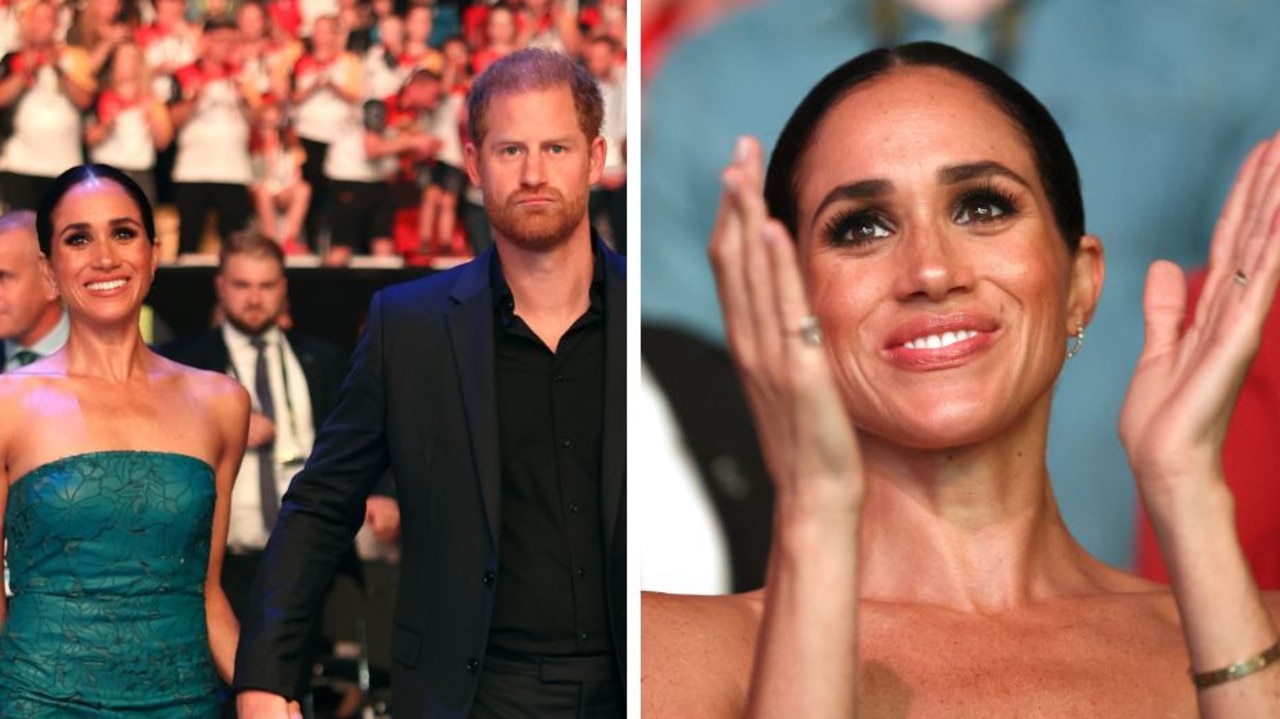 A glamorous Meghan Markle has joined Prince Harry in celebrating this year's Invictus Games at the closing ceremony in Dusseldorf.
The Duchess of Sussex, 42, was dazzling in a $1636 green Raylene dress from Cult Gaia, which featured laser-cut floral patterns, along with a pair of $1011 Aquazurra heels.
Meghan accessorised with $1145 Kimai diamond earrings, a $9600 Cartier bracelet and a $96,300 emerald cut diamond ring by Lorraine Schwartz.
She was pictured applauding and smiling throughout the event, at which an emotional Harry, 39, addressed the crowd in a heartfelt five-minute speech.
He began by thanking everyone for coming, and then spoke of how they had inspired millions.
"We've all witnessed the true impact sport has had on your recovery. But you will never truly know the impact your actions this week have had on millions of people around the world," he said.
"You have opened people's hearts, through your vulnerability, through your resilience and your sheer abilities. You have shown us that joy can emerge from struggle."
At times, Harry appeared to become emotional as he wrapped up the event.
Afterwards, Meghan was seen kissing his shoulder affectionately as he sat back down in the audience.
The couple left the arena prior to performer Rita Ora's final song in a bid to avoid the mass crowd exit.
Last month, Meghan was flagged to host a closing ceremony segment alongside German TV presenter Hadnet Tesfai – but according to German press, her name was mysteriously deleted from the official Invictus Games website in the days before it began, leaving only Tesfai's.
The Daily Mail reported that the official guide had initially suggested Meghan would "take to the stage" for the event to host a segment about the competitors.
No reason was given – and, as expected, Meghan remained in the audience during the ceremony.
The closing ceremony wrapped up an action-packed week for the couple, which included Harry's birthday.
On Friday, Harry and Meghan were seen passing a beer back and forth as they watched a volleyball final match while celebrating him turning 39.
The night before, the couple had gathered with some close friends for an intimate celebration at local brewery Schumacher, where they reportedly downed beers and dined on German cuisine including schnitzel, pork knuckle and mashed potatoes.
"They were very happy," an onlooker told The Mail, adding that Harry had been given a white chocolate cake for dessert. "He is a lovely man, and they were so nice."
This year, Harry kicked off the Invictus Games solo, addressing the crowd at the opening ceremony and attending events on his own until Meghan's arrival, four days after it began.
She arrived on Tuesday afternoon and hit the ground running, joining her husband in hosting a glitzy reception for 1600 Invictus athletes and their friends and family.
A smiling Harry watched on as Meghan gave a short, "off the cuff" speech, apologising for her earlier absence and explaining she had needed to get their two young children, Archie, 4, and Lilibet, 2, "settled" at home in the US before departing.
"Hi everybody. It is so special to be here and I'm sorry I'm a little late to the party," she told the guests.
"Like so many of you, you know this is about family and friends and the community that Invictus has created and Fisher House has created, and so I had to spend a little bit more time getting the little ones settled at home.
"Three milkshakes and a school drop off and I just landed a couple of hours ago and I am thrilled that the first event I can do for Invictus is here with all of you."
It's understood the couple flew back home to the US on Sunday to be reunited with their children.
Originally published as Meghan Markle makes glam final Invictus Games appearance alongside Prince Harry
Meghan Markle joins Prince Harry for Invictus Games closing ceremony after being mysteriously Source link Meghan Markle joins Prince Harry for Invictus Games closing ceremony after being mysteriously