Lifestyle
Pickled Magnolia: The first flowers of spring are edible and have a strong spicy kick.Australian food and drink
Magnolia flowers are the first flowers to open in spring in Australia. It blooms before the leaves appear on the tree and is conspicuous along the bare, artistically gnarled branches.
Native to the Northern Hemisphere, especially East Asia, magnolias prefer warm to cool climates. In Australia, it is most often found thriving in front gardens throughout the southern states.
Loved for heralding the arrival of warm weather, magnolia flowers are also edible. It's the petals that you eat, and the most delicious are the young petals when the flower is still in bud or has just opened.
Like most edible wild foods, the older it gets, the bitterer its taste.Magnolia x Soulangiana) most commonly used in cooking.
The petals have a very strong clove and ginger flavor and can be eaten raw, cooked, pickled, dried and made into teas. Chocolate browniesIt goes great with radicchio, goat cheese, red onions, fennel and oranges. They can be infused into simple syrups for use in cocktails and dessert drizzles, or they can be dried and ground into a powder to be used in place of dried ginger.
Before eating magnolia, it's a good idea to do a little extra research as to what kind of magnolia you want to use. this site gives an excellent overview of most of the more common species, but as with all foraging, the rules are: Exclude if in doubt.
How to pickle magnolia flowers
I saw a wonderful tree blooming in my local front yard, so I knocked on the door and asked the owner if it was okay to pick a few. They didn't mind at all, so they spent the night collecting enough buds and flowers to fill about four jars and putting them in the pickling solution.
Pickled magnolia petals have an incredibly powerful spice, ginger, and sometimes clove-like flavor.
It can be used in place of pickled ginger. You can dip it in tempura batter and fry it, or chop it up and add it to salad instead of dressing.
It only takes 2-3 days to pickle and will last 6-12 months in the refrigerator, making it a great preservative to try while the flowers are plentiful. A beautiful pink vinegar can be used in cooking when you want a nice sour taste.
Device: 1 large pickle jar
10-12 young magnolia flowers or large buds
250ml rice vinegar
1/4 cup white sugar
a pinch of salt
Gently wash and dry the flowers, removing the brown papery bracts and damaged petals around the buds.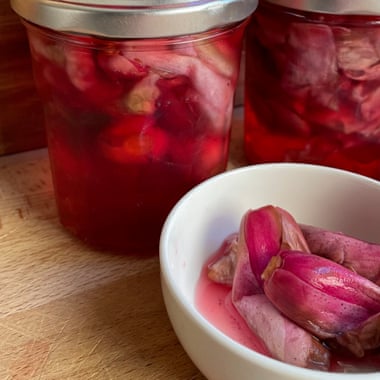 If using buds, cut the stem to the base of the flower. If using open flowers, remove the petals from the center.
sterilize large jars Then put the washed buds or petals in it. You can use tongs or a flat knife to squeeze out the buds. You can keep them underwater by rolling the individual petals into a rosette.
Heat vinegar, sugar and salt to a boil and simmer for 5 minutes.
Pour the hot vinegar solution over the magnolia until it is completely covered. Close the lid quickly while hot and invert the jar for 1 minute. This increases the likelihood that the air in the jar will heat up and seal better as it cools.
Allow the jar to cool to room temperature, then place it in the refrigerator. Allow to ripen for 2-3 days before opening and store in refrigerator.
Anna Matilda, aka urban nannauses permaculture principles to teach traditional skills, crafts and ways of life Within the framework of the modern world
Pickled Magnolia: The first flowers of spring are edible and have a strong spicy kick.Australian food and drink
Source link Pickled Magnolia: The first flowers of spring are edible and have a strong spicy kick.Australian food and drink