Australia
Premier League team news and transfer latest: weekend football countdown – live! | Soccer
Key events
Southampton: Club owners Sport Republic have become the first foreign investors to buy a Turkish club. The London-based investment firm, who own 80 percent of Saints, have purchased a 70 percent stake in Göztepe, who were relegated from the Super Lig last season. "Being the first foreign investors in Turkish football comes with extra responsibilities and attention," says Rasmus Ankersen, CEO of Sport Republic and the newly appointed chairman of Göztepe. "We know it will not be without challenges, but we are committed to our long-term vision of fulfilling the potential of Göztepe."
Göztepe have been champions of Turkey once, way back in 1950. Their best showing in Europe came in 1969, when they reached the semi-finals of the old Fairs Cup, losing to Újpest, who were subsequently defeated by Newcastle in the final.
Arsenal: More from Mikel Arteta, who is "very confident" of convincing Bukayo Saka to extend his contract with the Gunners. "I am very confident that we as a club and Bukayo, his family, his agent, everybody, are very much aligned in what we want to achieve. And now it is about putting it on a piece of paper."
Arteta hopes to sort everything out before Saka most likely departs for the World Cup with England this November. "I would like that to get done. I don't want the player or anybody distracted while we are in the middle of the season. But those things take time and they have to go through the right process, and I think the process has been really good."
Thanks Baz. Now then. Where are we? Ah yes. Manchester City: No news is good news for Pep Guardiola, who doesn't plan to do any more transfer business this window. City have already made five signings this summer, with Sergio Gomez this week following Julian Alvarez, Erling Haaland, Kalvin Phillips and Stefan Ortega to the Etihad. Is that it? "Apparently yes, but if there is a problem that we don't expect, maybe."
Guardiola is also hoping to keep hold of Bernardo Silva, who dreams of Barcelona. "He is our player and he knows our wishes as a club, me as a manager, his mates. What is going to happen I don't know."
Handover: That's all from me, but Scott Murray will be along shortly to bring you the rest of the day's piping hot news. Have a great weekend!
Erik ten Hag gets his chat on …
The Manchester United manager was one of eight top flight managers due to do their media briefings at 1.30pm and needless to say, he was asked about last weekend's horror show at Brentford.
"I was definitely not happy," he saide. "The basic stuff has to be good and that has to start with the right attitude. You need fighting spirit on the pitch and I didn't seen it from minute one. The players didn't play good, a lot went wrong. You don't have to talk about anything [tactical] when the attitude is not right."

Ten Hag was also asked about Un ited's rivalry with Liverpool, who they host at Old Trafford on Monday. "I know the rivalry," he said. "We are the rivals. We have to win every game but especially this game. It starts with yourself. Act as a team, follow the results and principles and from that you get confidence."
Brighton: Having won their opening game of the season at Old Trafford, Brighton had to settle for a point against Newcastle after squandering numerous gilt-edged goalscoring opportunities at the Amex Stadium. Graham Potter's side travel to West Ham on Sunday and Graham Potter has been bigging up midfielder Moises Caicedo ahead of game.
"Moises has always impressed us in terms of his quality, and as a person," he told reporters. "He's very humble and as a coach he's a delight work with."
On the subject of his new Ecuadorian left-back, Pervis Estupinan, who was brought in from Villarreal earlier this week, Potter had this to say. "Pervis is an attacking full-back, we've been aware of him and followed him for a while. He has attributes which will be useful for us and we're really looking forward to working with him. The initial signs are very good." Estupinan previously had a spell at Watford but never played for the club.
Arsenal: Bournmouth manager Scott Parker spoke of his admiration for the job Mikel Arteta is doing at Arsenal earlier this morning and the Arsenal boss has returned the favour ahead of the meeting between their respective sides at the Vitality Stadium tomorrow.
"He's really good," said Arteta of his opposite number. "I always admired him as a player and I know him personally really well. I like the way he presents himself. Best of luck, apart from tomorrow."
Arteta was also lavish with his praise of Gabriel Jesus, who opened his account for Arsenal with a brace against Leicester last weekend. "The biggest difference since I worked with him [at Man City] is his maturity," he said. "His language has improved so much and he has a different role here. I'm glad he's having a good time here.
"He has improved a lot of areas in his game because he has more experience. For me what makes the difference is his attitude. Every single training session and every single ball, that's what makes him the player he is. Top teams need top scorers and not just one, they need three. When they have those players you hit certain numbers."
Chelsea announce Casadei signing
Chelsea have completed the signing of the 19-year-old Italian midfielder Cesare Casadei from Internazionale for £12m plus £4m in add-ons. Jacob Steinberg has the lowdown …
Casemiro to Man United getting closer …
Carlo Ancelotti has confirmed that the Brazilian midfielder is leaving Real Madrid, saying "we wish him well in his next challenge". And what a challenge it's likely to be, with Casemiro on the verge of jumping into the flaming dumpster that is Manchester United for an expected fee of €60m (£50.7m) with add-ons. United have been looking to add some much-needed steel to their midfield and appear to have finally given up on their quest to sign Adrien Rabiot or Erik ten Hag's longtime target Frenkie de Jong.
Southampton: Following their horror run-in to the end of last season, when they just five points from the final 36 available, Southampton have lost won and drawn the other of their two games in the current campaign. They visit Leicester City tomorrow in search of a much-needed win and manager Ralph Hasenhuttl says they need an upturn in their form away from home.
"We had seasons where we have been horrible at home and unbelievably good away," he said. "Last season was the opposite, with a long unbeaten run at home and then away we were struggling, with two or three good games, but this is not enough. We know we need to do more there. We must show our fans from the first moment that we are willing to show a different face. New players are coming in and with every session and every day we are sitting together, working together, this becomes a unit and this is good."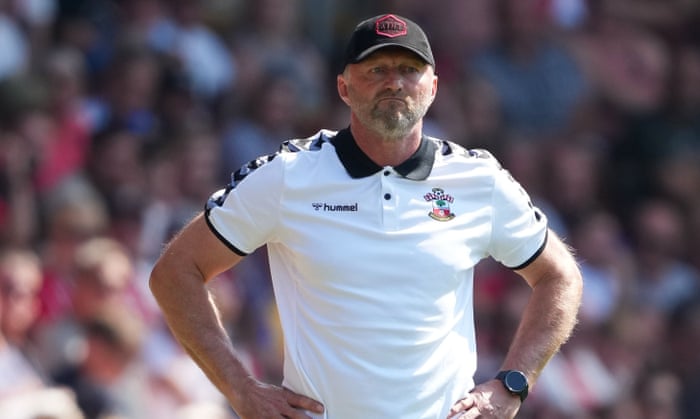 Speaking of Gary Neville: Here he is in conversation with his Sky colleague Geoff Shreeves, getting extremely agitated and exercised over the subject of potatoes and the awfulness of roast turkey. While I couldn't disagree more with him on the subject of spuds, he has a point about the blandness of Christmas dinner.
In other punditry news: Jamie Carragher has replaced the Gary Neville "clown face" avatar he's been using for the past week at his fellow Sky Sports pundit's request.
Liverpool: Jurgen Klopp took a swipe at Aston Villa striker turned Talksport contrarian Gabby Agbonlahor during his press conference this morning. Andy Hunter, our man on the Merseyside beat, has the latest.
Aston Villa: Steven Gerrard has been getting his yap on before heading to that there Big London, where his team are scheduled to play Crystal Palace at Selhurst Park tomorrow afternoon. Villa beat Everton last weelend but lost centre-back Diego Carlos to a long-term achilles injury.
"It's certainly a blow to lose a player of his importance," he said. "He had successful surgery yesterday, so it's important that we look forward and try to be positive. We'll give him all the support he needs, he still has a part to play. I want him to be involved in the dressing room and to show his leadership skills."
Gerrard did not rulre out the possibility of signing a replacement centre-back to fill in for the sidelined Brazilian. "It's something we are analysing," he said. "We still have three fully fit centre-backs and Kortney Hause is back in full training. We have time to decide if we need more support in that area." Tyrone Mings, Ezri Konsa and Calum Chambers are all available for selection in the heart of the VIlla defence at Selhurst Park tomorrow.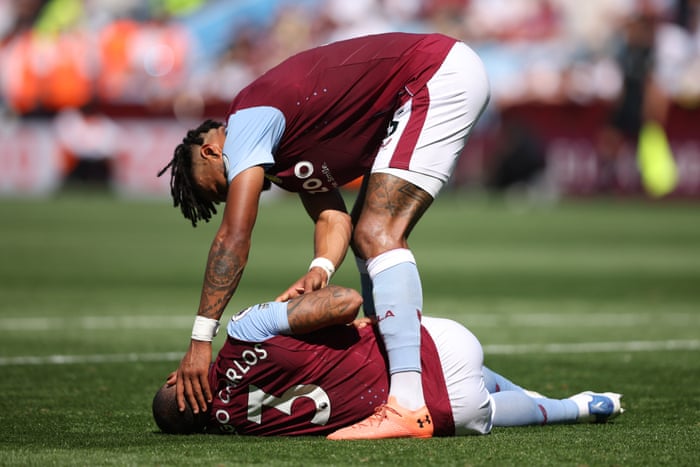 Bournemouth: Scott Parker's side host Arsenal tomorrow and the young manager has the unenviable task of figuring out how to nullify the threat of Gabriel Jesus, who scored two goals against Leciester City last weekend.
"Gabriel Jesus is a brilliant signing, an amazing signing really," he said. "Mikel had the player at Manchester City and he's a top forward, an incredible centre forward. He's probably got every facet to his game as a number nine: can drop in, can link play, is also a threat on your backline as well, endless work-rate in terms of pressing and leading the line from that sense. It's a real challenge for us at the weekend to try and keep him quiet, he's a big player for them."
Parker was equally effusive in his praise for his opposite number at Arsenal. "What Mikel has done in a short space of time is fantastic," he said. "The progression they've made in terms of signings has enhanced them even more. I seriously see them as a team that are going to be right up there this year. They're a technical team with huge quality all over the pitch.
"We'll embrace that, we're ready for that and we'll do the work we can to try and nullify that and try and make it uncomfortable as much as we can, while also understanding the challenges that we're going to face and the problems they're going to cause. We have a big challenge ahead of us."
Newcastle United: To nobody's great surprise, Eddie Howe has dismissed the notion that midfielder Bruno Guimãraes might be off next summer. Reports from Spain in the past 24 hours suggested Guimãraes, who has been a huge success since signing for Newcastle in January has caught the eye of Real Madrid.
"No, absoluterly not," said Howe, upon being asked if the Brazilian is for sale. "No, absolutely not. "We're trying to build a squad here that we feel can take the club to be successful over the next few years, and we want to build that squad and enhance the group, not take away our best players."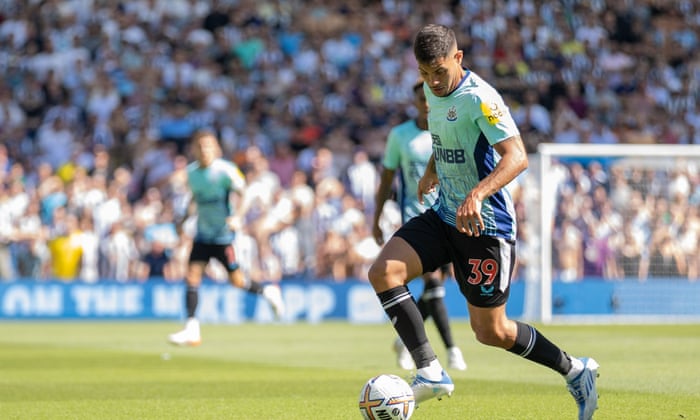 Gibbs-White completes Forest move
Done deal! Nottingham Forest have confirmed the signing of Morgan Gibbs-White from Wolves on a five-year deal. The newly-promoted club will pay an initial fee of £25m, plus up to £17m in potential add-ons.
Newcastle United: For all his excellent qualities as a manager, Eddie Howe has an absolutely dismal record against Manchester City. During his time at Bournemouth and Newcastle, Howe has sent teams out to face City on 12 occasions and all have returned to the dressing-room beaten … by an aggregate score of 39-5. On Sunday, his Newcastle team face the Premier League champions at St James' Park and Howe has been speaking to the media ahead of the game.
"The results were hard on us but I thought they were tighter than they look on paper," he said of Newcastle's 4-0 and 5-0 reverses at the hands of City last season. "The home game, there were bits of our performance that were very good but you need a bit of luck and to be clinical and we probably weren't that.
"We'd love a very good performance. This is the ultimate test. These games against City and Liverpool are the real barometer of our quality. We want to narrow that gap between us and the top teams in the division."
In nine matches under Howe against the traditional Big Six in the second half of last season, Newcastle won one, drew one and lost seven. If they are to break into the cabal, as some suggest they might with their Saudi backing, they will have to do much better in this campaign.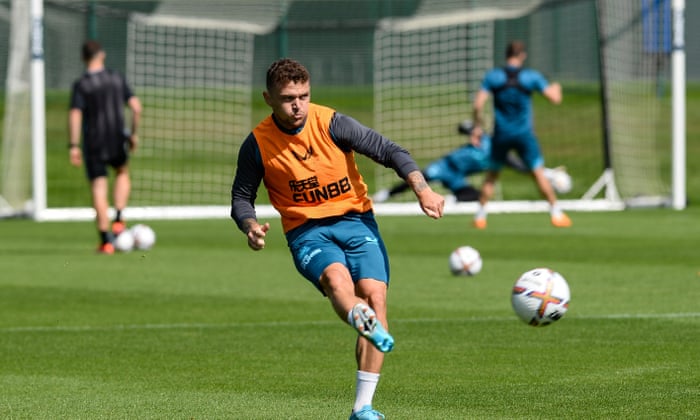 Nottingham Forest: Nottingham Forest boss Steve Cooper insists an "exciting challenge" lies ahead after his newly promoted club's well-documented summer trolley dash. Wolves midfielder Morgan Gibbs-White is on the verge of becoming their 16th summer signing after the clubs agreed a £25m fee, which could rise to over £40m.
"Well we're enjoying it that's for sure and we're certainly facing up to it because it's a reality," said Cooper, speaking before his teamn's trip to Everton tomorrow. "We're not seeing it as a negative and not seeing it as a disadvantage because if you see it like that then you're already on a downer with it. So we're enjoying it."
Gibbs-White, 22, will be reunited with Cooper after spending the first half of the 2020-21 season on loan at Swansea. Forest completed their 15th summer signing last weekend following the arrivals of Emmanuel Dennis, Cheikhou Kouyate and Remo Freuler, who could all be in contention for starting places tomorrow. Jesse Lingard, Dean Henderson and Taiwo Awoniyi had been among the club's new arrivals earlier this summer.
"Quite rightly I get asked every week by people about the amount of players coming in and I completely understand that. It's the right question to ask," said Cooper. "But we had no alternative. It was inevitable. We were getting prepared for it for a long while and we're still in that process. All we can do is keep trying to build layers day by day, in the way that we work and behave."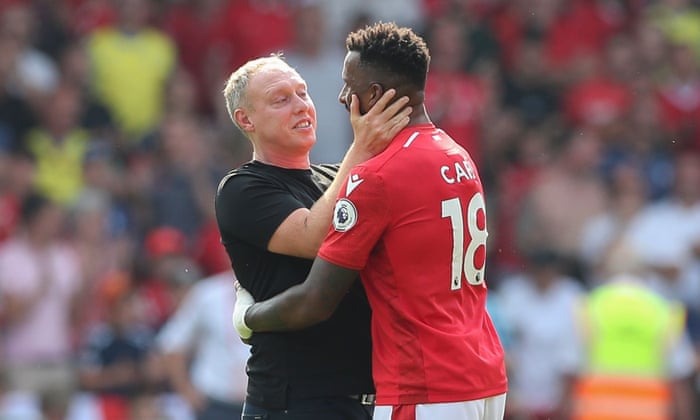 Jurgen Klopp has been talking …
The Liverpool manager had the press pack up bright and early for his weekend briefing ahead of his team's Monday night match at Old Trafford. He confirmed that Roberto Firmino has returned to fitness and is available for selection. Klopp also addressed the sending-off of Darwin Nunez on his Anfield debut for an impetuous butt to the head of Crystal Palace defender Joachim Andersen on Monday night.
"Of course we spoke to Darwin and he was very disappointed with himself," he said. "The things that the centre-half did, he's not the only player in the world doing these kinds of things. We've never had a situation like this before while I've been here as far as I know, so I'm not an expert in these talks but it was obvious that he knew. He apologised. We all make mistakes."
As you might expect, Klopp also dismissed the notion that his players might have it easy against a Manchester United side lining up on the back of a total humiliation at the hands of Brentford last weekend.
"United away will never be easy so we try to do our absolute best," he said. "Of course. I would prefer to play them after they won 5-0, definitely, but that's how it is. We drew two games, so is it better to play us in a situation like this? I don't know. We have to deal with all the situations in the game and at this moment nobody knows what will happen. The whole world will watch it, it's on Monday so let's see how these heavyweights deal with the situation."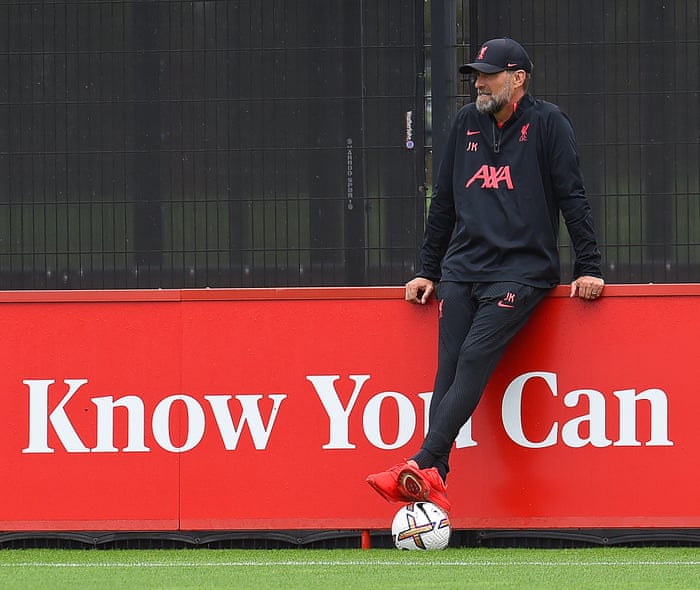 This weekend's top flight fixtures
Tottenham v Wolves (Saturday 12.30pm)

Everton v Nottingham Forest (3pm)

Leicester City v Southampton (3pm)

Fulham v Brentford (3pm)

Crystal Palace v Aston Villa (3pm)

Bournemouth v Arsenal (5.30pm)

West Ham v Brighton (Sunday 2pm)

Leeds United v Chelsea (2pm)

Newcastle United v Manchester City (4.30pm)

Manchester United v Liverpool (Monday 8pm)
The weekend starts here …
And ends on, er … Monday night, what with the relegation six-pointer between Manchester United and Liverpool at Old Trafford being the pick of the Premier League fixtures. With nine top flight matches scheduled to take place before then, we'll have no end of team news, managerial chat and transfer tittle-tattle to bring you between now and stumps this evening, so don't touch that dial.


Premier League team news and transfer latest: weekend football countdown – live! | Soccer Source link Premier League team news and transfer latest: weekend football countdown – live! | Soccer