Australia
Real Betis v Manchester United: Europa League last 16, second leg – live | Europa League
Key events
52 min: Fred lashes over from distance.
51 min: Pellistri nutmegs Gonzalez down the right and skitters into the box. Miranda comes across to put a stop to his gallop just before he can shoot. That was very nearly something special.
50 min: Rashford makes good down the inside-left channel and tries to release Weghorst. The pass pings back to him so he takes a shot instead. Over.
49 min: Ruibal drags a speculative shot miles left of goal.
48 min: Miranda set that chance up with a fine dribble down the left. And he goes on another here, before standing one up to nobody in particular.
46 min: Within 30 seconds of the restart, Joaquin runs into a pocket of space in front of the United box. He could release Perez to his right, but opts for the shot instead. He curls towards the top right but sends the effort way too high. A very decent chance to give Betis the fast start they need if they're to launch any sort of comeback.
United get the ball rolling for the second half. No changes.
Half-time ad break. Sign up now! Sign up now! Sign up now? Sign up now!
HALF TIME: Real Betis 0-0 Manchester United (agg: 1-4)
How on earth is this goalless? United won't care too much; they remain three goals up and are now 45 minutes closer to the quarters. It's been great fun.
45 min +2: Fernandes swings the resulting free kick into the mixer, and United nearly score. United should have scored. The ball drops to Pellistri, who swivels and whips a shot towards the bottom left. Weghorst extends a leg hoping to poke home from a yard out. He misses. The ball comes off the post, Rui Silva fingertips it off the line, and Rodriguez hammers clear! What an end to the half that would have been.
45 min +1: Casemiro drives down the left only to be flipped into the air like an old sock by Joaquin. No booking for the Betis captain. Pellistri must wonder what he's done wrong.
45 min: Rashford cuts in from the left and tries to work some shooting space, only to become indecisive at the crucial moment. He's crowded out.
43 min: Juanmi has a bash from the edge of the box. Maguire bravely throws himself in front of the ball to block. That shot was shifting.
42 min: De Gea takes his sweet time over a restart, much to the crowd's pantomime displeasure.
41 min: Joaquin swings it in. United half clear. Juanmi tries to make space to shoot on the edge of the box, but is eventually crowded out.
40 min: Betis probe at speed, this way and that. Malacia suffers a rush of blood and clatters Ruibal, 30 yards out on the right. A free kick in a dangerous position.
38 min: Ruibal sashays in from the right and into a pocket of space. He can't decide whether to cross towards Perez or aim for the top-left corner, so manages to do neither. Goal kick.
37 min: Fernandes slips a pass down the right to release Pellistri into space in the Betis box. The debutant whips a cross to the near stick. Rui Silva gets in ahead of Weghorst to claim.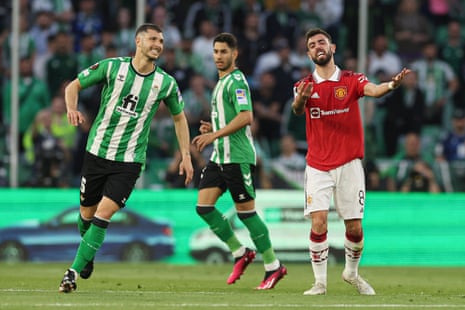 35 min: Rashford and Pezzella rut like stags near the corner flag over bugger all. The referee comes across and tells them both to act their age. To be fair, it all blows over quickly, and Rashford walks away smiling.
34 min: Ruibal goes down theatrically after Malacia slides in on him. It was a foul, and possibly a booking, but the over-the-top response might have tested the referee's patience and saved Malacia there. There was certainly more reason to book Malacia than Pellistri, put it that way.
32 min: Ruibal slides a glorious pass down the inside-right channel for Juanmi, who only has De Gea to beat. He can't do it, though. De Gea starjumps and blocks brilliantly, then makes himself big as Juanmi meets the rebound and tries to loop a header goalwards. The ball drifts wide. That's superb goalkeeping.
31 min: Credit to young Pellistri for not kicking off about that, and accepting his fate stoically. You'd pay good money to see how Fernandes would have reacted.
29 min: Pellistri goes flying into a tackle with González. He looks to have won the ball and taken a knock in doing so. The referee doesn't see it that way, though, and books him. That is beyond harsh.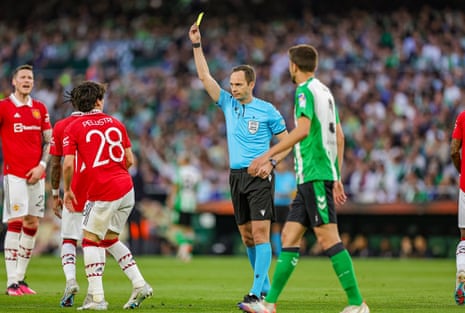 28 min: United have done well to settle things down after that early Betis storm. They appear much more in control now.
26 min: Betis deal with the corner, then say goodbye to Abner, who can't continue as a result of the whack taken by Li'l Abner. Miranda takes his place.
25 min: Malacia slaloms down the left and cuts back dangerously from the byline. Betis hack clear. United come back at the hosts. Wan-Bissaka heads across goal from the right but can't quite find Rashford. Sabaly is forced to knock behind for a corner.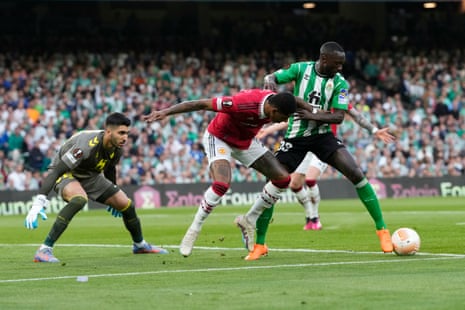 23 min: Juanmi and Perez combine down the left. Then Perez crosses into a box unpopulated by Betis players. De Gea claims and immediately feeds Fernandes, whose long pass sends Rashford clear. Rashford enters the box but before he can shoot is muscled off the ball by Sabaly. That's top-drawer defending, and the fact the flag then goes up correctly for offside changes that not one jot.
21 min: Pellistri probes down the right before cutting back to Casemiro, who whips in a cross. Rashford goes for goal in a singular fashion, whipping his torso to the left and chesting the ball fiercely. It flies straight to Rui Silva, and turns out he was offside anyway.
19 min: Abner is good to continue for now. After the restart, Fernandes takes a swipe from 25 yards. Over the bar it flies. He demands a corner in his trademark style, but the referee isn't interested.
18 min: Wan-Bissaka tries down the right, but can't get the better of Abner, who clears. Abner then goes down. He might have taken a whack in his trouser arrangement.
17 min: Rashford dribbles into the Betis box from the left but immediately slips over. Sabaly saunters off with the ball.
16 min: Ruibal pearls a long pass down the middle and nearly releases Juanmi. De Gea is forced to race out of his box and hack clear just in time. Betis are giving this a proper go.
14 min: Some bagatelle in the United box leads to a Betis corner. De Gea plucks it from the air. The hosts are coming at their guests from all angles right now.
13 min: Joaquin beats a couple of challenges as he dribbles down the inside-left channel. He goes for the one-two with Perez. Had Perez been aware, United would have been opened up. He wasn't, though, and the move falls apart.
12 min: Joaquin aims a curler towards the top right. A slight deflection off the lunging Casemiro takes it past De Gea and off the outside of the right-hand post. Nothing comes of the resulting corner.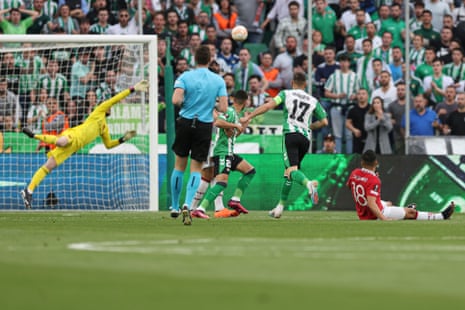 10 min: A free kick for United is flung into the Betis box. The hosts counter at speed and for a second they're three on two! Juanmi can't pick the correct pass, though, and another great opportunity is passed up.
9 min: A huge chance for Betis as Juanmi races down the inside-left channel after a long pass. He's got the beating of Maguire, but takes a touch to his left, making life harder for himself. He bundles a low shot across De Gea and towards the bottom right … only for the ball to sail inches wide of the post. So close!
8 min: The corner's hit long. Casemiro, who wins more than his fair share of attacking headers, eyebrows on towards Weghorst at the far stick. Weghorst is inches away from Keith Houchening one into the net, but doesn't connect with his diving header.
7 min: Wan-Bissaka, much improved under Ten Hag, wins a corner down the right. The fully recovered Fernandes to take.
5 min: Sabaly crosses from the right. Fernandes heads clear, but also manages to nut Juanmi on the shoulder. He felt that, and stays down for a while before gingerly getting back up. United then counter, Rashford nearly releasing Pellistri down the middle only to overcook the pass. Rui Silva claims.
4 min: Perez briefly threatens to bustle his way into a shooting position down the inside-left channel. The home side look up for this. An early goal would certainly give United something to think about.
2 min: De Gea gives Wan-Bissaka something of a hospital pass. The full back does well to return it to the keeper before Juanmi can nick it away. The Betis forward would have been clear on goal. Somewhere in the multiverse, it's already 1-1.
Real Betis v Manchester United (agg: 1-4)
Betis get the second leg underway. A fine atmosphere at the sunny Estadio Benito Villamarín. Within seconds, the full debutant Pellistri tears down the right only to overcook his cross. A low fizzer might have found Rashford. What a start that could have been!
The teams are out! Los Verdiblancos wear their green and white; the Red Devils are in red. Say what you see. We'll be off in a minute. "Outlier though that 5-0 defeat to Sporting 60 years ago is, I think time has gotten enough of a stomp on under that particular bridge and we can cheerfully disregard it," quips Bill Preston. "Needing to score quite a few, I think Betis will press heavily from the go, but stoic defending in the face of thrilling heroics will easily see United through."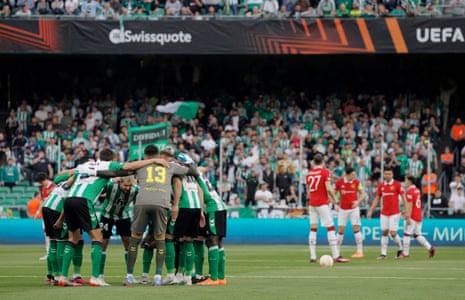 Manuel Pellegrini speaks to BT. "It is a difficult game … it is not only the three goals, it is Manchester United … they have spent a lot of money on important players … it is important for us not to play with the three-nil in our mind … to start nil-to-nil … we need to play a good game in defence and be clear in attacking … we will try to play a good game to try to reverse … we were happy [with our early play at Old Trafford] but after that we made a mistake … one minute changed all we did in the whole game … now we must try to do it at home."
Erik ten Hag talks to BT Sport. "[Pellistri] deserves it … he is training very well … Harry Maguire is training very well … it is about rotation … we know Harry can do the job, he is an outstanding player so he will do the job … [Pellistri] knows the principles, knows his job, and now it's about him … he knows his teammates and the tactics and what we expect from him … he can do it and he has proved it in many games and also for the national team and we see it every day in training … you can't go in a game when you are afraid of getting a booking [both Fernandes and Casemiro will miss the next match if booked this evening] … we play on the front foot … it is high pressing and aggressive … it can happen that you get a booking … but we have to win this game so you have to bring a strong team and Bruno and Casemiro belong in it."
Pre-match entertainment. A schadenfreude special for United fans.
Real Betis coach Manuel Pellegrini makes three changes to the side named for the 4-1 defeat at Old Trafford. Rui Silva replaces Claudio Bravo in goal, while Edgar González and Aitor Ruibal step in for Luiz Henrique, who drops to the bench, and the hamstrung Luiz Filipe.
Manchester United boss Erik ten Hag makes four changes to his starting XI from the first leg. In come Harry Maguire, Tyrell Malacia, Aaron Wan-Bissaka and, making his long-awaited first start for the club, Facundo Pellistri. Raphael Varane, Diogo Dalot and Luke Shaw drop to the bench, while Antony is ill.
Real Betis: Rui Silva, Sabaly, Pezzella, Edgar, Abner, Rodriguez, William, Ruibal, Juanmi, Joaquin, Ayoze.
Subs: Bravo, Martin, Ruiz, Iglesias, Canales, Henrique, Willian José, Guardado, Rodri, Miranda, Felix Garreta, Dani Pérez.
Manchester United: De Gea, Wan-Bissaka, Martinez, Maguire, Malacia, Fred, Casemiro, Pellistri, Fernandes, Weghorst, Rashford.
Subs: Heaton, Butland, Lindelöf, Sabitzer, Varane, Dalot, Shaw, Sancho, Elanga, McTominay.
Referee: Srdjan Jovanović (Serbia).
Last week this happened …
… so Manchester United are very much on the brink of the quarter-finals. One word of warning, though. While they've won 20 of the previous 25 European ties in which they've won the first leg at home, one of the five failures sticks out like a sore thumb: in the 1963-64 European Cup Winners' Cup quarter-finals, they beat Sporting 4-1 at Old Trafford only to lose the return in Lisbon 5-0. That remains their heaviest defeat on the continental stage. Betis are battling against history all right, but that's some outlier. Kick-off is at 5.45pm GMT, 6.45pm in Seville. ¡Esta encendido! It's on!


Real Betis v Manchester United: Europa League last 16, second leg – live | Europa League Source link Real Betis v Manchester United: Europa League last 16, second leg – live | Europa League