World
Russian man boards train for military service and says goodbye in tears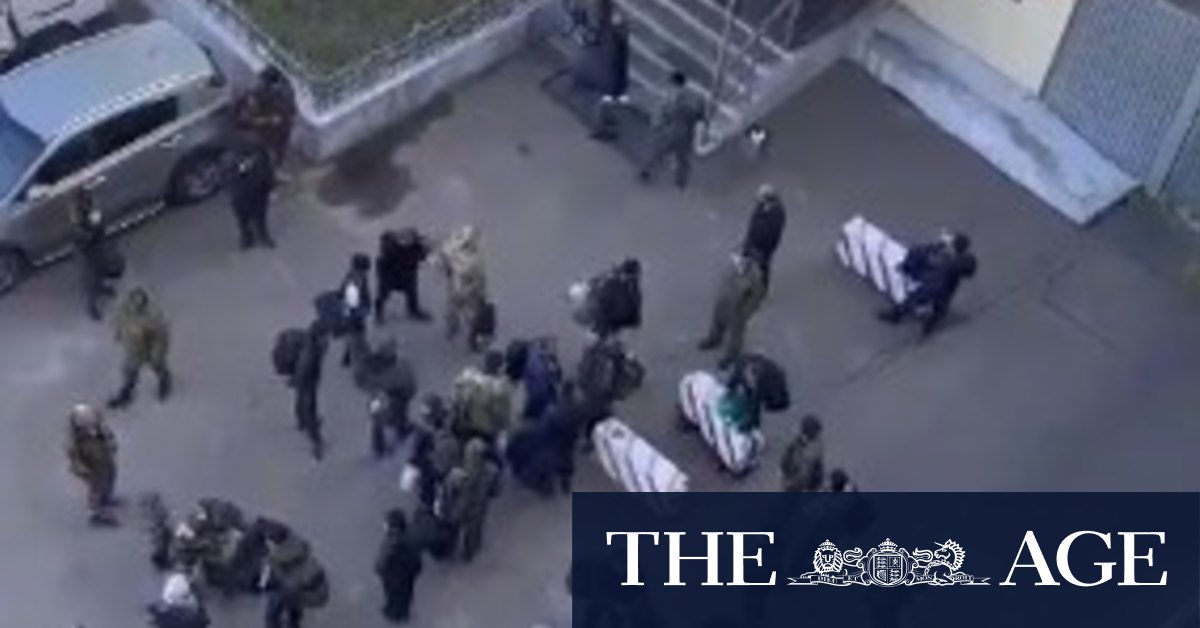 OVD-Info said in a statement that it "received information from 15 police stations that the detained man had been served a summons to the military registration and enlistment office."
Kremlin spokesman Dmitry Peskov refused to deny reports that some protesters had received the draft, saying only that "this is not against the law." could not immediately be reached for comment, nor could the Recruitment Office.
Reportedly, journalists were also ordered to enlist.
Russian TV channel Dozhd said SOTA news site journalist Artem Kriger was given a draft subpoena after he was arrested while covering anti-mobilization protests in Moscow.
On Thursday, following President Putin's mobilization order, some Russian men rushed to the border, causing a surge in traffic at border crossings with Finland and Georgia, and prices for air tickets from Moscow skyrocketed.
Loading
About 10,000 volunteers will take part in Russia's military operations in Ukraine on Thursday, without waiting for call-up documents issued under partial mobilization, Russian news outlets quoted the Russian General Staff as saying. I appeared for
On Wednesday, Putin announced Russia's first public mobilization since World War II. His defense minister said Russia aims to recruit 300,000 experienced professionals for military operations in Ukraine, which has recently suffered a serious setback.
In addition to mobilizing, Putin effectively announced plans to annex four Ukrainian provinces, saying on Wednesday that Moscow would support a referendum to annex them to Russia. He also threatened to use nuclear weapons to defend his country.
UN Secretary-General Antonio Guterres said at a Security Council meeting on Ukraine on Thursday that talk of a nuclear conflict was "totally unacceptable".
Loading
He also effectively warned Russia not to seize its territory, saying that "the annexation of its territory by another country resulting from the threat or use of force is a violation of the UN Charter and international law." .
Ukraine and its allies have dismissed plans for referendums in Luhansk, Donetsk, Kherson and Zaporizhia provinces from Friday to September 27 as a "pretense" to justify illegal land grabs.
On the ground, Russian forces fired nine missiles in the city of Zaporizhia, hitting a hotel and a power plant, said regional governor Oleksandr Starkh. At least one person died, he added, while others were buried under the rubble. Zaporizhia is located about 50 km from the nuclear power plant of the same name.
In the southern Russian-controlled city of Melitopol, also in the Zaporizhia region, an explosion hit a crowded market. The city's deposed mayor said it was prepared by occupation forces to kill three soldiers and accuse Ukraine of acts of terrorism. accused of trying to cause confusion on the eve of
In further violence, Russian-installed separatists said at least six civilians were killed and another six injured in a missile attack on a market in central Donetsk on Thursday.
A corpse lay in the street next to a wrecked bus surrounded by debris and twisted metal. A firefighter hugs a woman who lost her daughter in her car.
Finnish border
Traffic arriving at Finland's eastern border with Russia "intensified" overnight after Putin ordered a partial military mobilization, according to the Finnish Border Guard, which remained elevated on Thursday but was brought under control. there were.
At about 1:15 p.m. local time, three lanes stretched between 300 and 400 meters each at the Vallimer border crossing, about a three-hour drive from Russia's second-largest city St. Petersburg, a border official told Reuters. Told.
This crossing is one of nine on the 1,300 km border between Finland and Russia, the longest in the European Union.
Defense Minister Antti Kaikkonen said on Wednesday that Finland is closely monitoring the situation in neighboring countries, following President Putin's order Wednesday on mobilizing for war in Ukraine.
Reuters When reporter
Russian man boards train for military service and says goodbye in tears
Source link Russian man boards train for military service and says goodbye in tears