Australia
Tory leadership: Truss receives boost as former minister defects from Sunak camp – UK politics live | Politics
Key events
The Rishi Sunak campaign are saying that Liz Truss's policy on providing help to people with energy bill is now "as clear as mud" following the latest comments from her supporter James Cleverly. (See 10.11am.) These are from the i's Hugo Gye.
Labour to propose extra measures to address energy bills crisis 'very, very soon', says Bridget Phillipson
Keir Starmer is reportedly on holiday at the moment, and the parliamentary Labour party has been largely absent in recent days from the public debate about that the government should be doing about soaring energy bills. Instead people like Gordon Brown, Ed Davey and Martin Lewis have emerged as the most vocal critics of the govenrment.
But Bridget Phillipson, the shadow education secretry, told BBC Breakfast this morning that the party would be proposing extra measures "very, very soon". She said:
We will hear further very, very soon about additional measures that Labour will put in place to make sure that families get the support that they need.
She also claimed that, if Labour had been in power, it would already have taken steps that would have helped. "We would not have got to this point," she said. She explained:
We've known that this has been coming and we think we should cut VAT on gas and electricity bills to deliver immediate support to families and pensioners.
Truss's economic policies will lead to recession and Labour government, says former Tory leader Michael Howard
Lord Howard, the former Conservative leader and a Rishi Sunak supporter in the leadership contest, has joined those Tories saying Liz Truss's economic policies would be "suicidal" for the Conservative party. Dominic Raab, the justice secretary, said this in a Times article pubished yesterday, and Sunak himself made the same point during the hustings in Darlington. In an interview on the Today programme, Howard said:
I really do agree with Dominic Raab that the method that Liz Truss is proposing would be suicidal. We've seen it before in the 1970s, it led to a recession and the Labour government, and I didn't want to see it again.
Howard, who served in cabinet under Margaret Thatcher, said that Truss's plans were similar to those of Anthony Barber, chancellor in the early 1970s under Edward Heath. Barber cut taxes to inflate the economy, but the so-called "Barber boom" is now remembered as an economic disaster because it fuelled inflation. Howard explained:
Anthony Barber, who became chancellor after the tragic death of Iain Macleod, cut taxes and increased borrowing, which is exactly what Liz Truss is proposing. The outcome of what Anthony Barber did, which was exactly what Liz Truss is proposing, was higher inflation, even higher inflation, more and more borrowing, recession and inevitably leading to a Labour government.

Margaret Thatcher learned the lessons of those years. She did not countenance unfunded, irresponsible tax cuts, she hated inflation, she hated the thought of more borrowing and she took action, direct action, to deal with the problems.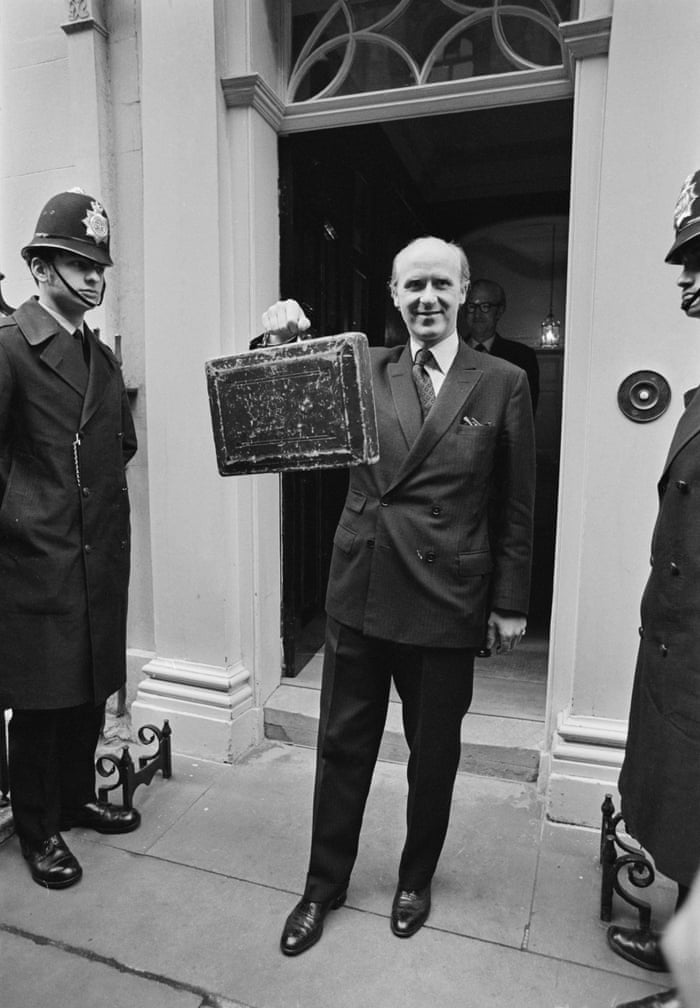 The Liz Truss camp claims the defection of Chris Skidmore (see 9.28am) could be the start of a "bigger exodus" of MPs from the Rishi Sunak campaign. A Truss campaign spokesperson said:
We're in talks with others from camp Rishi and Chris coming over could trigger a bigger exodus of MPs from Sunak to us. Rishi's flip flopping and on the economy is clearly upsetting a lot of his backers. Our supporters like Liz's optimistic vision for the future, her Conservative plan for the economy based around tax cuts, and her credentials as a leader who will stand up to dictators like Putin and prioritise national defence.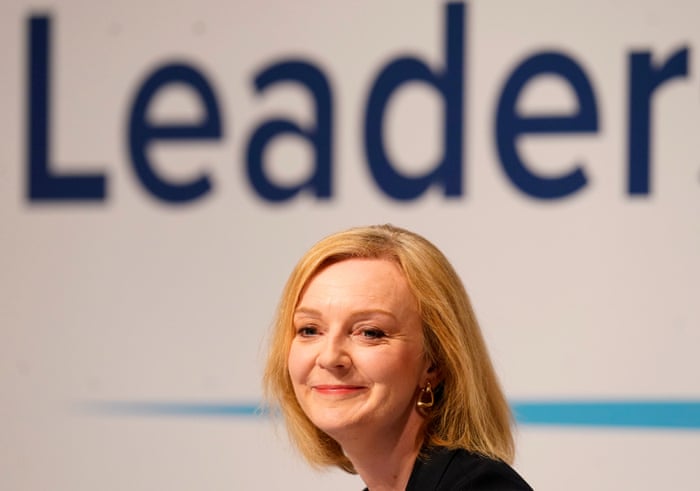 Truss 'is looking at targeted help' for people with energy bills, says leading ally James Cleverly
James Cleverly, the education secretary, was doing a media interview round this morning. He was speaking both as a member of the government, and as a support of Liz Truss for next Tory leader. This created some tension; at one point he was talking about what the government is doing now about energy bills, while at another point he was explaining why a full response would have to wait until the leadership campaign was over.
Here are the key points.
Cleverly confirmed that Nadhim Zahawi, the chancellor, and Kwasi Kwarteng, the business secretary, are holding a meeting with energy company bosses tomorrow. The ministers will discuss increasing the scope of the windfall in the light of rising energy profits. Cleverly said:
The chancellor of the exchequer and the business secretary are actually calling in the leaders of those big energy companies to knock some heads together and basically hold them to account about what they're going to do with those profits.

The increase in energy costs has been driven by the war in Ukraine and a global crunch, this is affecting everyone pretty much across the world, everyone in the developing world is seeing those energy bills go up. What we need to do is make sure that we have a short, medium and long term plan, so the chancellor and the business Ssecretary are getting those energy companies in as part of the short-term response.
My colleague Alex Lawson has more on tomorrow's meeting here.
In order to bring about changes to tax systems or to financial support systems, we need to have votes in the house, that needs to go through a proper scrutiny process.

It is not as simple as recalling parliament to have an emergency debate on something like military action, which is a very simple one-question yes or no answer. An emergency budget needs to be a comprehensive and by definition, therefore, a complicated thing, it's not just one day sitting, it's an extended process of debate in parliament, and that is best done when Parliament has come back in September and that's what Liz has committed to do.
He insisted that Truss would bring forward "targeted help" for people needing help with energy bills in the emergency budget she is planning for the autumn if she becomes prime minister. In recent days Truss has refused to explicitly commit herself of offering extra targeted support to people struggling to heat their homes. She has not ruled it out (and she has resiled from the firm 'no handouts' position she set out in an FT interview last week), but she has repeatedly stressed that her priority is cutting taxes. In an interview on the Today programme, Cleverly said Truss would hold an emergency budget. He would not say what would be in it, but when it was put to him that tax cuts would not help people on benefits, or very low earners, he replied:
She has said that she will look at support packages for people that need it most. So, for the people who won't benefit directly from tax cuts, she is looking at targeted help. For those people who do pay tax, what she has, quite rightly, is to make sure that we don't take any more money from them than we really need.
This is quite different in tone, and a bit more committal in substance, from what Truss was saying at the Tory hustings last night. She avoided making commitments on "targeted help", but Cleverly says she is "looking at" it. From the interview it was not clear whether this was an intentional shift, or whether Cleverly was just reflecting the widespread assumption at Westminster that, whatever Truss is saying now, she will have to offer people targeted support with energy bills in the autumn because the alternative would be social catastrophe.
(This may be a good example of how leadership campaigns can be poor guides to future policy. Truss is campaigning in opposition to a policy she will probably end up implementing within months. In the campaign three years the main policy difference between Boris Johnson and Jeremy Hunt was Johnon's insistence the UK would have to leave the EU by the end of October 2019. Johnson won, and the UK was still in the EU at the start of 2020.)
Truss receives boost as former minister defects from Sunak camp
Good morning. Last week my colleague Aubrey Allegretti reported on how the Liz Truss team were hoping to get endorsements from Conservative MPs who had committed in public to backing Rishi Sunak. This sort of public vote-switching by MPs in a leadership contest is rare, because the MP involved looks duplicitous and indecisive and because MPs tend to know the candidates very well, which means they don't change their minds easily. The story suggested the Truss camp might have been getting over-confident in their briefing.
But (as usual) Aubrey was absolutely right, and in an article for the Daily Telegraph, Chris Skidmore, the former universities minister, has explained why he is defecting from the Sunak camp and backing Truss. He blames Sunak's "constantly changing position", especially on the economy. He says:
The status quo cannot be an option. Initially, I had backed Rishi Sunak during the MPs' stage of the contest. Yet over the past few weeks, I have grown increasingly concerned by his campaign's consistently changing position, especially on the economy, to chase votes. I am convinced that we need a bolder, more positive approach to the UK's future.

Above all, we need a leader who will unite the party. Liz Truss has demonstrated that she has the leadership and personal ability to bring us all together. We cannot afford to be seen as a divided party, and I now believe that Liz is the best person to unite us and the country in meeting the challenges we face.
At this stage in the contest, endorsements from MPs probably have no direct impact at all on members as they decide how to vote. But MPs tend to be quite astute observers of where the political wind is blowing and so, even though Skidmore is hardly a household name, his defection represents a significant morale boost for the Truss camp. There are now so many Tory MPs trying to clamber aboard the bandwagon that the campaign resorted to announcing the latest endorsements as a big job lot.
Truss and Sunak are both doing major TV appearances later today. In the meantime pressure continues for both to make firmer commitments on what they will do about rising energy prices. My colleague Julia Kollewe covers some of the latest developments on that story on her business live blog.
Here is the agenda for the day.
12pm: Nicola Sturgeon, Scotland's first minister, is interviewed by the broadcaster Iain Dale at an event at the Edinburgh festival fringe.
12.30pm: Suella Braverman, the attorney general, gives a speech to the Policy Exchange thinktank on equalities and rights.
5pm: Liz Truss takes part in a People's Forum for GB News in Leigh, Greater Manchester. Alastair Stewart is presenting.
7pm: Rishi Sunak is interviewed by Nick Robinson on BBC One's Our Next Prime Minister.
I try to monitor the comments below the line (BTL) but it is impossible to read them all. If you have a direct question, do include "Andrew" in it somewhere and I'm more likely to find it. I do try to answer questions, and if they are of general interest, I will post the question and reply above the line (ATL), although I can't promise to do this for everyone.
If you want to attract my attention quickly, it is probably better to use Twitter. I'm on @AndrewSparrow.
Alternatively, you can email me at andrew.sparrow@theguardian.com


Tory leadership: Truss receives boost as former minister defects from Sunak camp – UK politics live | Politics Source link Tory leadership: Truss receives boost as former minister defects from Sunak camp – UK politics live | Politics