Australia
Zambrero takes Aussie burritos to Ireland, Britain and the United States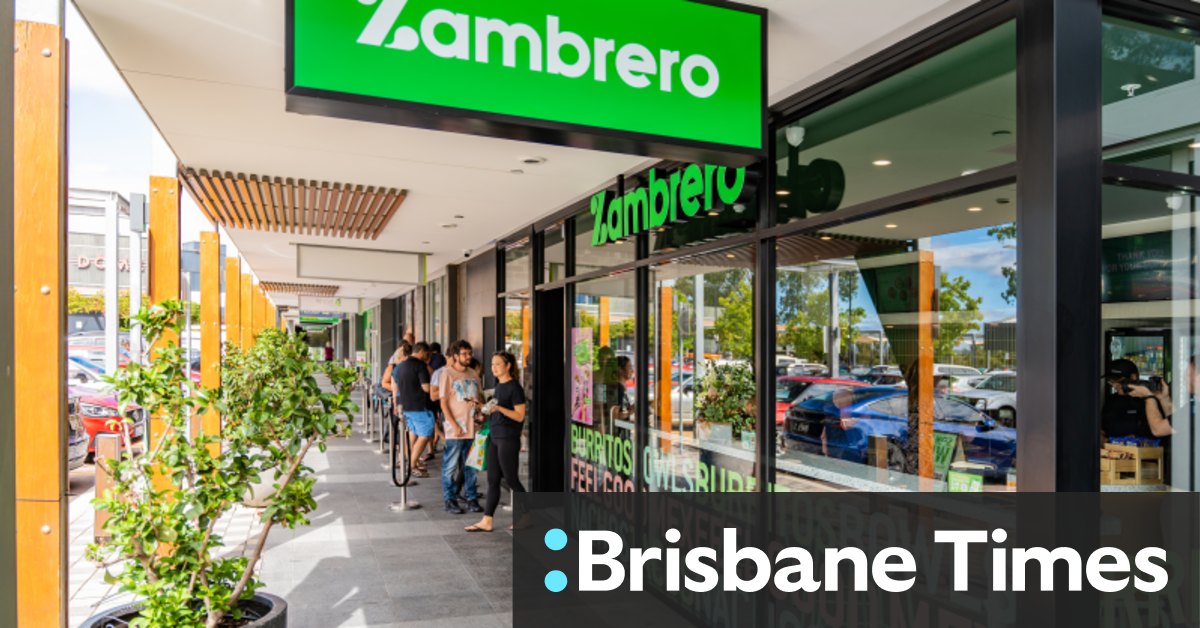 Homegrown
Closer to home, its aspirations are no less ambitious: Zambrero has plans to open about one restaurant a week, with a goal of reaching 300 in Australia. To court customers, it is eyeing real estate in Australia's biggest cities in populous areas such as Sydney's northern beaches.
Loading
But it faces a fierce rival in Guzman y Gomez, which not only has a strong brand and loyal customer base but is not shy about its own ambitions to expand rapidly, float on the ASX soon and conquer the US market. Meanwhile, smaller competitor Mad Mex, which has about 70 stores, has recently installed a new chief executive with a "ruthless focus on operational efficiency".
Kenny claims they're not paying too much attention to their competitors. "We're really focused on ourselves," he said. Part of the solution, the chief executive believes, is simply to build out. "Presence is important," Kenny added, pointing out that the overall popularity of Mexican food has increased in the past two decades.
"The reason [Sydney and Melbourne] are so important to us and such big growth opportunities is because as soon as we put restaurants there to make it available to customers, it's our job to attract those customers into becoming frequent users.
"Yes, people are loyal to certain brands, and it's our job to try to attract them from those brands."
Zambrero will also be fighting other food outlets and restaurants for hospitality workers. Kenny highlighted staffing as the Mexican food chain's biggest challenge, not just in Australia but around the world, but said there were signs that the worker shortage was beginning to ease as Australia received the largest influx of migrants in history.
"We're currently opening a restaurant a week across the world, which is quite frantic when you think about it. Ensuring that we have enough staff and the right staff to maintain that growth is the most important thing," he said.
"I think everyone's experienced challenges. Now we're starting to see that soften. But still, I think it's important to ensure that we continue to strive to be an employer of choice."
Despite cost of living pressures on household budgets, which at Guzman y Gomez has led to a decline in order values as customers flock to cheaper offerings, Kenny said the business had not seen a significant drop in sales, which he described as "steady". He declined to provide sales or revenue figures.
"People talk about fast food and [quick-service restaurants] as being kind of counter-cyclical in a downturn market … recession-resistant. My view is that whilst that might have been happening in the past, we don't know if that's actually going to proceed to the future. So to me, I am cautiously optimistic about our business," Kenny said.
"Customers are more picky with their choices. They have less tolerance for poor product or service. For us, if we ensure we deliver a great product all the time, that experience will hopefully lead us in good stead to take advantage of the market going forward."
The Business Briefing newsletter delivers major stories, exclusive coverage and expert opinion. Sign up to get it every weekday morning.
Zambrero takes Aussie burritos to Ireland, Britain and the United States Source link Zambrero takes Aussie burritos to Ireland, Britain and the United States